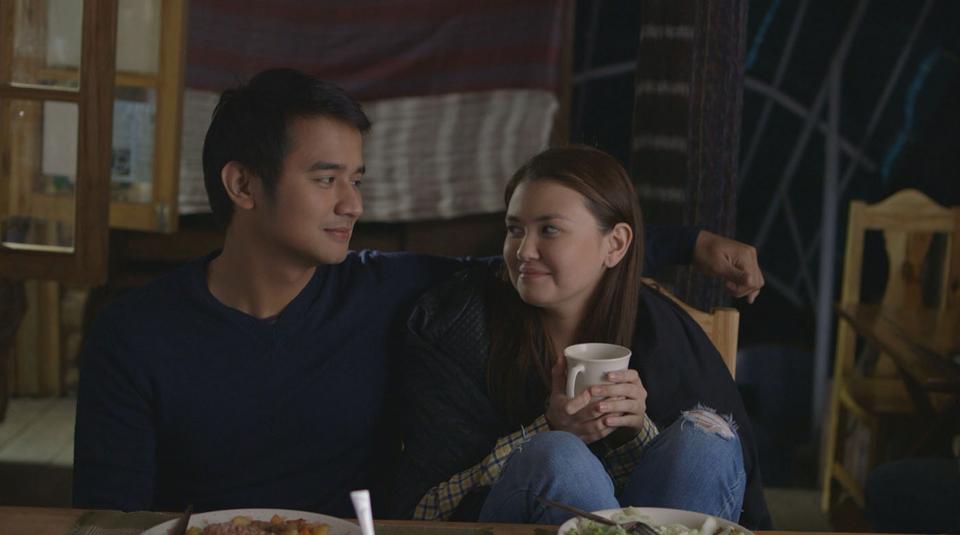 Relive Heartbreaking Memories With These Quotes From "That Thing Called Tadhana"
Part of Cinema One Originals 2014, That Thing Called Tadhana becomes the movie for the hopeless and hopeful people. It's a kind of movie that you'll definitely watch over and over again—whether in movie theater or in a DVD copy, if there is.
Tadhana is a striking comedy film because of the witty banter between the two characters. However, it is also filled with deeper and more poignant scenes and kilig moments.
The movie also features quotable quotes that we can't miss. Characters naturally exchange the lines, and thus it becomes more realistic. Their dialogue, I assume, are unforgettable because they are something that we can relate to. It's the statements we say to our friends who undergone break-up; and also the lines we heard from the people who try to console us during our heartbreaking moments.
Through these quotes, the movie didn't fail to remind us that love can be a wonderful thing.
1. "Bakit, kapag sinabi ba niya kung bakit, may magbabago? Ang bottomline, hindi ka niya mahal." – Anthony
This particular line from Anthony slaps us with a harsh reality. You know it's true and it deeply hurts us. If you think about it, he's smart enough to get it right using logical reasons. Sure, we always crave for that so-called closure, but in reality, no closure is ALREADY THE CLOSURE.
We need specific answers to our Why's, but it will never bring back the things we always hope for. Even if we're able to find out the reasons they left us, things will never be the same. It is what it is. We need to deal with non-verbal closure and endure the accompanying pain, baby.
2. "Alam mo 'yung sabi ni F. Scott Fitzgerald? There all kinds of love in this world…but never the same love twice." – Anthony
It's a good thing that the movie used a literary reference to make a point. We've seen this quote several times on Tumblr, Pinterest, and the likes, but it's the first time that it actually makes sense because of its sincere delivery. Anthony nailed it. It's impossible that we can really give the same love to different people.
In this life, we will have a lot of chances to mingle with different types of people and each of them is unique. We experience various ways to show how much we love them, or how much we really care for them. Sometimes, love can be too familiar with us; however it will always be a different kind of love with each person we meet along the way.
3. "Alam mo yung sabi nila na "Kapag kayo, kayo talaga." Tangina, nakaka-gago yun. Bakit ko iaasa 'yon sa isang bagay na hindi ko naman nakikita? Kung mahal mo, ipaglaban mo. Habulin mo. Gawin mong lahat para bumalik siya sa'yo." – Mace
Chase your dreams, someone said. It's true most of the time. People need to work things out if they want to achieve anything—whether it's  success at work, personal growth, or someone we want to be with.
Effort and time are the two things you're willing to give just to be with someone you love. If that person decided to leave you, try your best to win him/her back because there's always a possibility of a second chance. Invest some more time to make things work between you and that person and rekindle the old flame you've been taking care of. Honestly, if you'll do some work, it will eliminate the WHAT IF question in your head because you took your chance—no matter what the result is.
4. "To the great people we will be." – Mace
Even if failures chase us every time we try to step closer to our goals, it always leaves something to ponder on. Although we cannot escape disappointments and failures over time, we always strive to be good on different things. We try our best and make an effort to make everything to be in our favour.
The good thing with the keep-on-trying attitude is that we make ourselves great in every step of the ladder. We always gain improvement every day, even if we're miles away from perfection. Kahit gaano ka pa ka-wasak, mabubuo ka pa rin ng unti-unti.
5. "Paano ba makalimot?" – Mace
Ha! This question is quite difficult. Ask people how they did it and you'll be surprised that there are bunch of answers to that. There's no concrete answer, and heck even a formula for moving on does not exist. Hindi kaya ng Math 'to.
Just like love, people move on with different ways. Different coping mechanisms are being created just to heal the wounds people left us. It doesn't matter if it takes a lot of time or just a window period, what's more important is, you're able to pick up the broken pieces of yourself and able to stand and smile again.
Yes, it's difficult to move on because of various reasons, such as false hopes and clinging to memories, but eventually, you don't have any choice but to continue living. Yes, it's like hell in there but you will have a choice to bounce back to life.
Remember that love and pain are inevitable but it will always be part of our growth. It makes us human, after all.
Do you have other favorite quotes from the movie That Thing Called Tadhana? We'd love to hear it, share them below!
[Photo credit: That Thing Called Tadhana Facebook Page]
Wandering mind. Exercising her feet sometimes for travel. Moderate coffee drinker. 90's music fan. Film enthusiast. Sleepy.