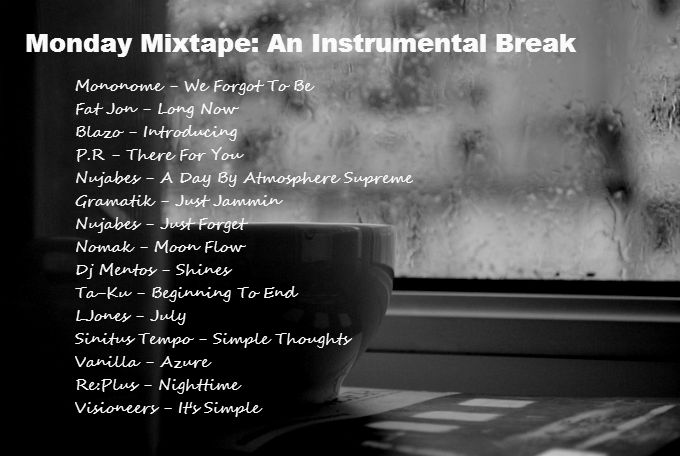 Monday Mixtape: An Instrumental Break
Since it's the rainy season again, we are taking you on a different level of mood and emotion through music. No, the music listed below doesn't have any lyrics at all, requiring you to use your imagination and make a story out of it. Rainy season means more sleeping time and bumming around when the non-stop rain hits our places, so it is necessary to equate it with some good music that will take us to another dimension. When it rains and we have to stay at home, food, movies, books and sleep are not the only option but finding a new set of music will do, accompanying you to daydream and lull you to a good sleep.
This playlist is the first of its kind on our Monday Mixtape edition, hoping that you will appreciate other music genre and expand your playlist even further. The songs here are considered as treasure because not everybody listens to it, so you have all the reasons to be lucky. Hey, instrumental music ain't bad. That's what you're going to find out when you start to hit the play button for these 15 tracks.
Let's go on a trip of listening to a collection of downtempo, hip hop, trip-hop, electronic, jazz-hop, jazzy music.
1. Mononome – We Forgot To Be
2. Fat Jon – Long Now
3. Blazo – Introducing
4. P.R – There For You
5. Nujabes – A Day By Atmosphere Supreme
6. Gramatik – Just Jammin
7. Nujabes – Just Forget
8. Nomak – Moon Flow
9. Dj Mentos – Shines
10. Ta-Ku – Beginning To End
11. LJones – July
12. Sinitus Tempo – Simple Thoughts
13. Vanilla – Azure
14. Re:Plus – Nighttime
15. Visioneers – It's Simple
Want to listen without interruption? Hit the play button of the Youtube playlist.
Wandering mind. Exercising her feet sometimes for travel. Moderate coffee drinker. 90's music fan. Film enthusiast. Sleepy.