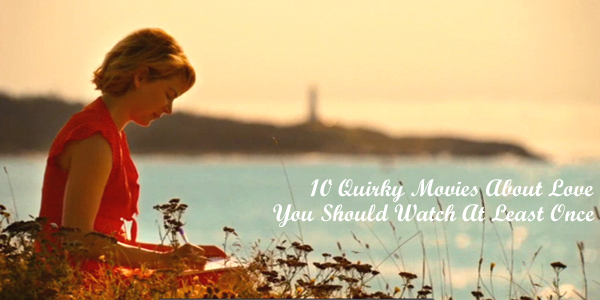 10 Quirky Movies About Love You Should Watch At Least Once In Your Life
Tired of re-watching (500) Days of Summer over and over and over again? These movies might just be what you need to give you all the feels. Sometimes, all you need is a breath of fresh air—a love story told in a relatively different way, with a nice cinematography to boot.
Eternal Sunshine of the Spotless Mind
Don't we all wish we can just erase the memories of the person who broke our hearts overnight? Well, a part of us wants that. But, at the end of the day, thr bad things are actually the ones that build you.
Wicker Park
Personally, I think this is one of the most emotionally exhausting films I've watched. But it's worth it really.
Take This Waltz
The third party story is familiar, but this movie gives you depth and a whole new feast of feels with the actors' fine performances.
Two For the Road
Love movies like Blue Valentine and Revolutionary Road? You might love this film, as well. One of the best movies about the married life and relationships in general, in my opinion.
The Before Trilogy
The beauty of Richard Linklater's Before Sunrise, Before Sunset, and Before Midnight is that sense of familiarity you have with the characters. Watch all three of them in one go, you'll know what I mean.
Lovely, Still
Because old people falling in love never fails to make a good love story. You're in for a nice surprise in the end, too.
Stuck In Love
Before you head to cinemas this June to watch The Fault In Our Stars, why don't you watch another great movie from its director Josh Boone first? Stuck In Love is guaranteed to make you all warm and fuzzy inside after watching the movie.
Eagle vs. Shark
Love turns a little awkward when two socially-challenged individuals fall in love.
Amelie
Don't let the French intimidate you, hehe. Seriously, Amelie has this spellbinding thing in it that I can't quite put a finger on. It's just difficult not to love it… and Audrey Tatou too.
Moonrise Kingdom
Ahh, young love. Don't let the characters' ages fool you into thinking this is just another love story.
Happy watching!
~
Photo: Astral Media
Ayessa is a total manang trapped in a 20-something's body. She grew up in South Cotabato, studied college in Laguna, and moved to Metro Manila to follow her delusions of becoming a writer. When she's not writing for Manillenials, Ayessa tries to update her blog and works as a profesh stalker for a teen magazine's website.