A Twitter User Gives the Best Hugot Lines Over Class Suspension
The life of a Filipino student during the rainy season can be difficult. Keeping your clothes dry, amid flooded streets and strong wind, is impossible. There's also the traffic and the crowd that makes the commute going to school so stressful. Then, when you finally arrived at school, the classes are cut-off and you have to walk on flooded streets again as you go home. That is why during strong rains, students always anticipate the suspension of classes- only to get disappointed.
But no one seems to be more disappointed with PAGASA and DepEd than Brandi Nicole, who went to Twitter to constantly question the agencies on plans to suspend the class. As if her caps lock status are not enough to convey her emotions, she even relate the class suspension to love. We give props to this girl for her logic and reasoning.
When she gives this brutally honest #hugot analogy.
When she questions the validity of using umbrellas.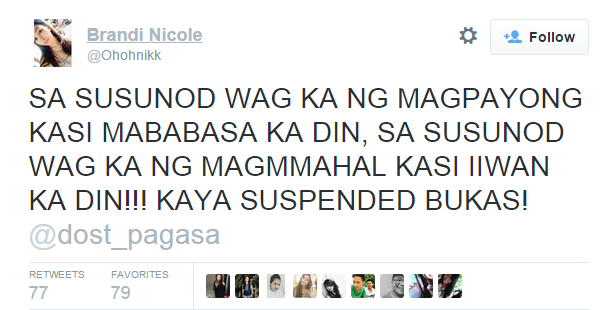 When she keeps hoping when everyone else are leaving her behind.
When she reminds us how sadistic people can be.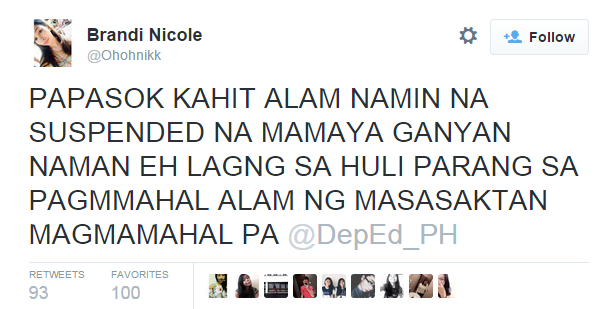 When she reveals her #feels about love, hope, and class suspension.
When she reminds us #WalangForever.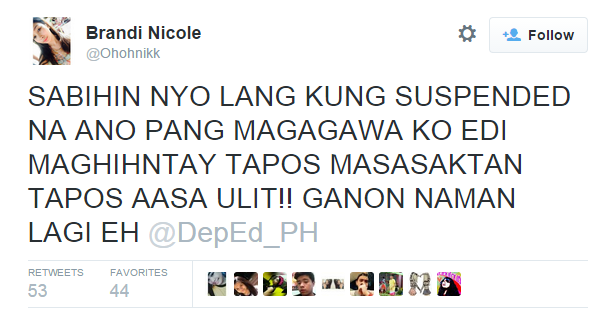 When she reminds us that letting go is easier than hoping and waiting for nothing.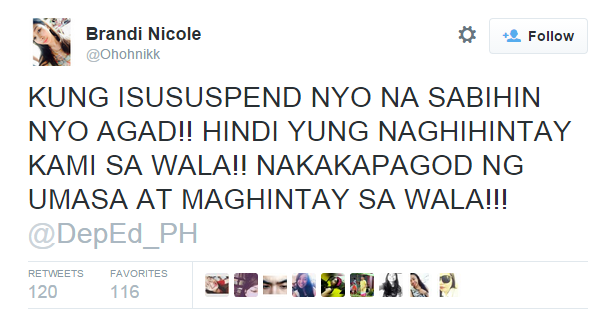 Government agencies are usually late in informing students about the suspension of classes, and it is driving people like Nicole to draw out these hugot lines. But if DepEd would respond to her questions, we think it would be: Aral muna bago love life.
Do you share the same sentiments? Share your thoughts on love and class suspension below.