Escolta Saturday x Future Market: 10 Local Handmade Crafts We Love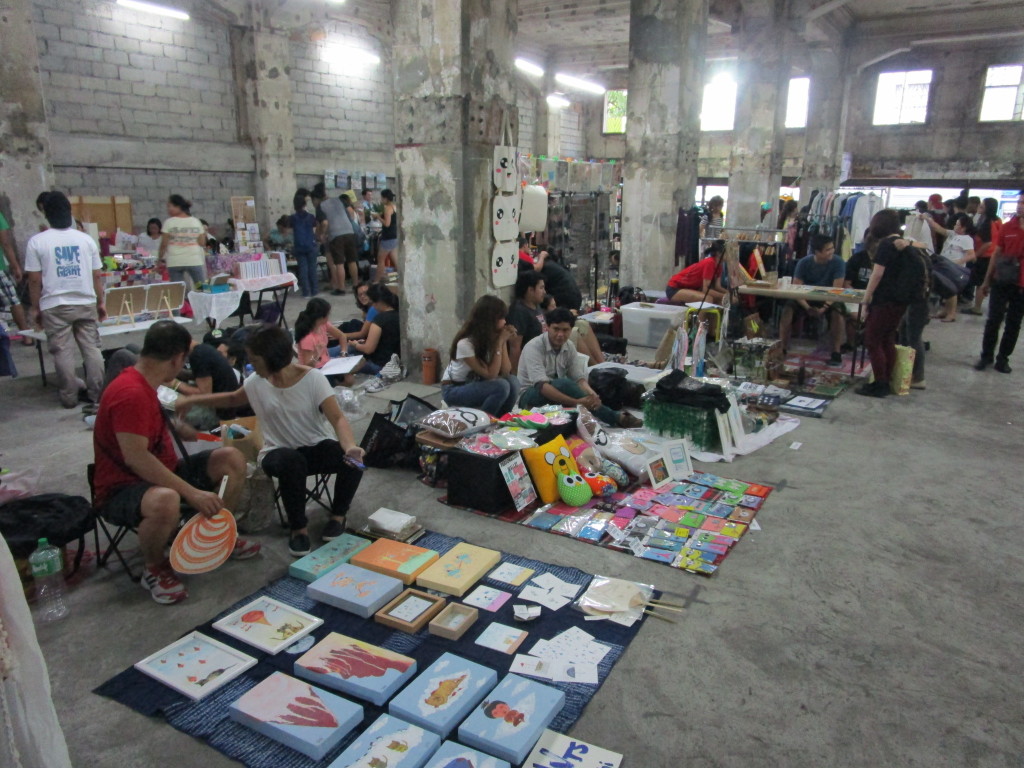 Reviving the former glory of Escolta is difficult. But thanks to the premier artists and craftsmen of the Philippines, the queen of the streets is slowly getting famous. Soon, she will get back her crown and rule the way it was during pre-war Manila.
Once a month, 98B COLLABoratory gathers some of the best artists in the country to stage Saturday x Future Market to sell second hand goods and handmade pieces. This is their subtle response to the consumerism and mass production, which is the very reason why Escolta lost its fame during the 1960's.
According to Marika Constantino, a co-director at 98B Collaboratory, "There's no soul anymore when it comes to the things that we buy or the things that we are bombarded with. Everything is so commercial. So we thought, why not create a venue wherein the spirit of creating is still there and buyers are able to get to know the people who are creating these things."
Last April 18, Saturday x Future Market took on Celeste Legaspi's Mamang Sorbetero as their theme for this month.
Here are some of the many things we loved:
1. One-liner Hugot Prints
Warning: Do not Leave Your Feeling Unattended. We hope that buying one of these witty prints from Linya Linya will keep our hearts from getting broken.
2. Kawaii Amigurumi Key Chains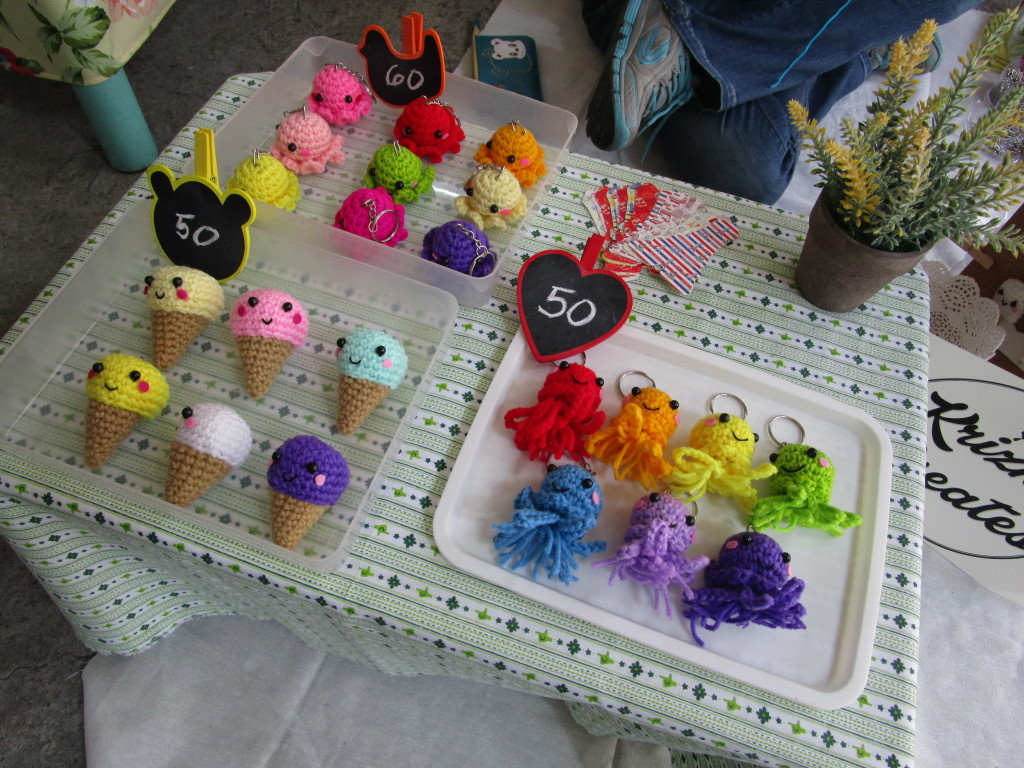 These ice cream and jellyfish amigurumis from Krizna Creates, stood out because they are painfully cute and colorful. They are perfect accessories for your bags.
3. Ingenious Bracelets Made From Bicycle Wheels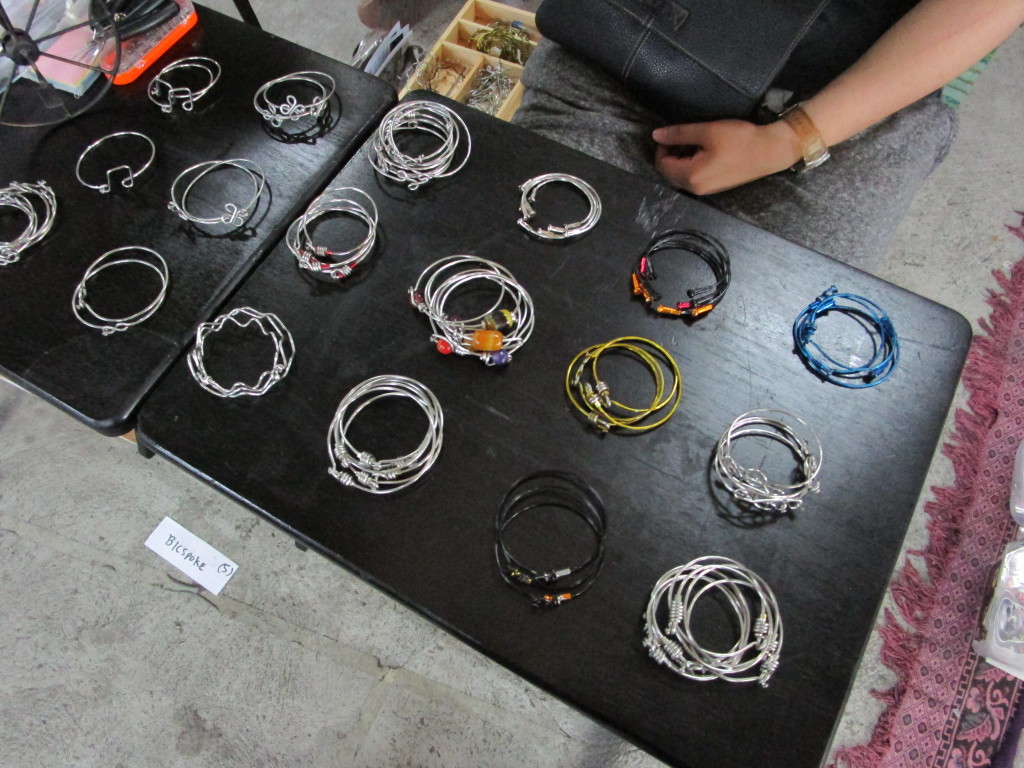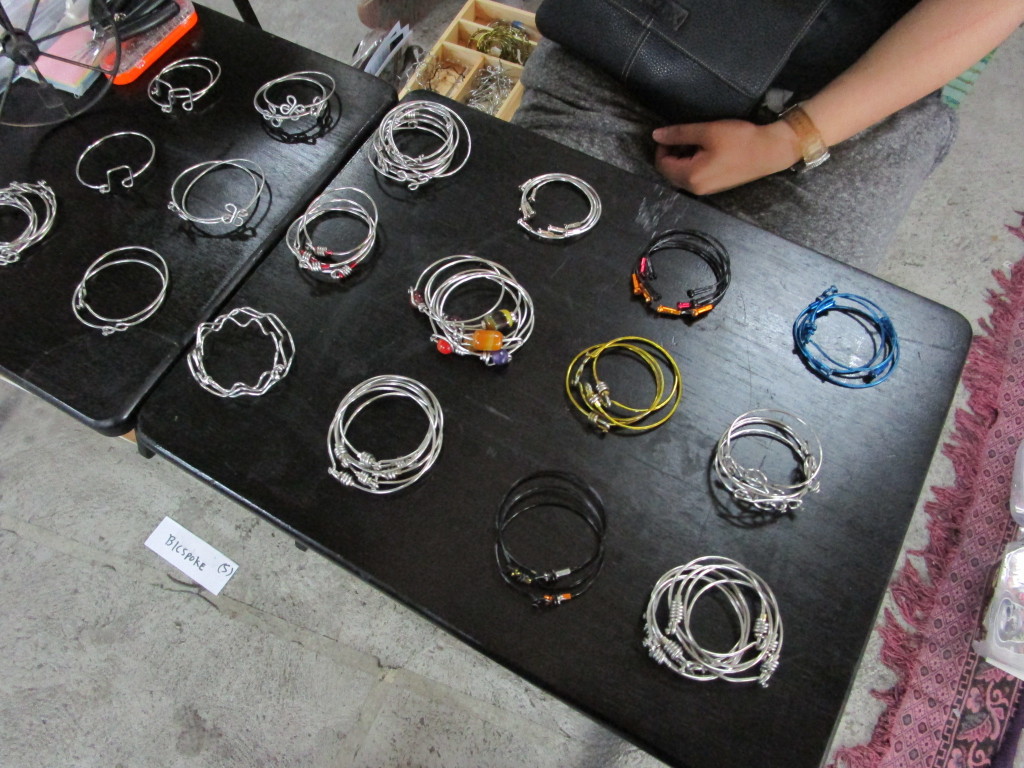 They're sturdy, fashionable, and stainless. We are wondering if we can turn the rods from our bicycle into bracelets? Nah, we will just buy from Bicspoke, our's would end up throwable than wearable.
4. Lovely All-purpose Pouch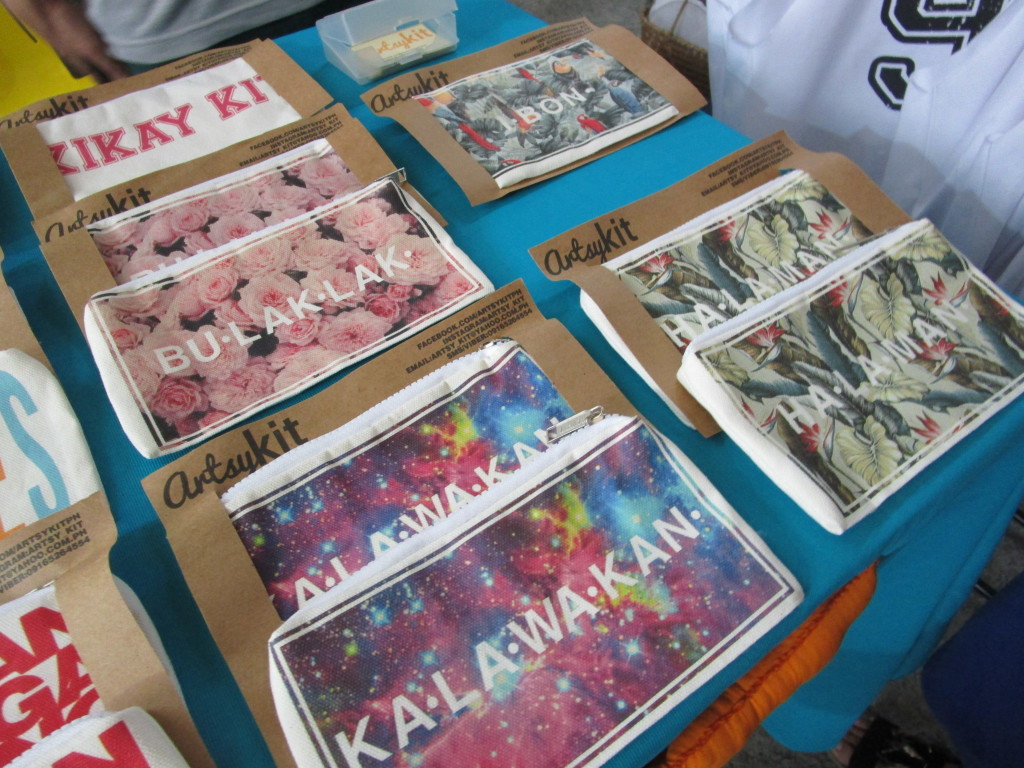 Pouches from ArtsyKit are great items to make things clean and organized. Plus, they teach owners proper phonology.
5. Clever Silk-Screen Aprons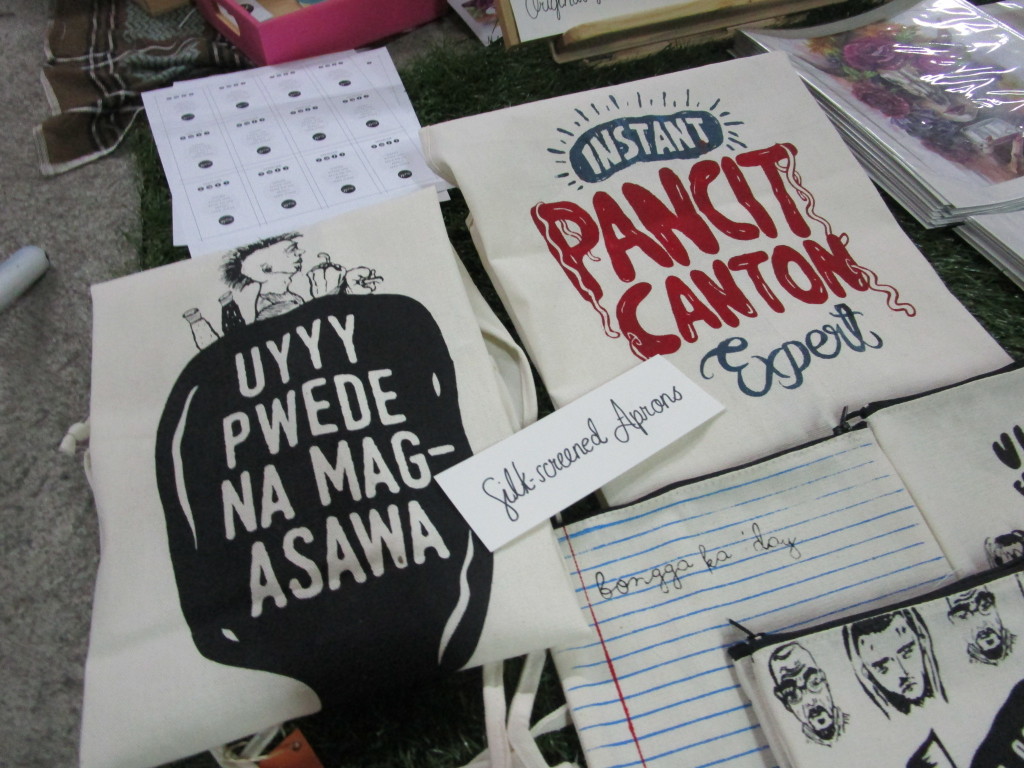 If we own aprons like these from Milk Collective, we'll probably wear them everywhere and not just in the kitchen.
6. Cute Bookmarks and Postcards
Moonshine Arts and Crafts also offer beautiful wood bracelets, but these cute prints grabbed our attention.
7. Pizza Pendant Made of Polymer Clay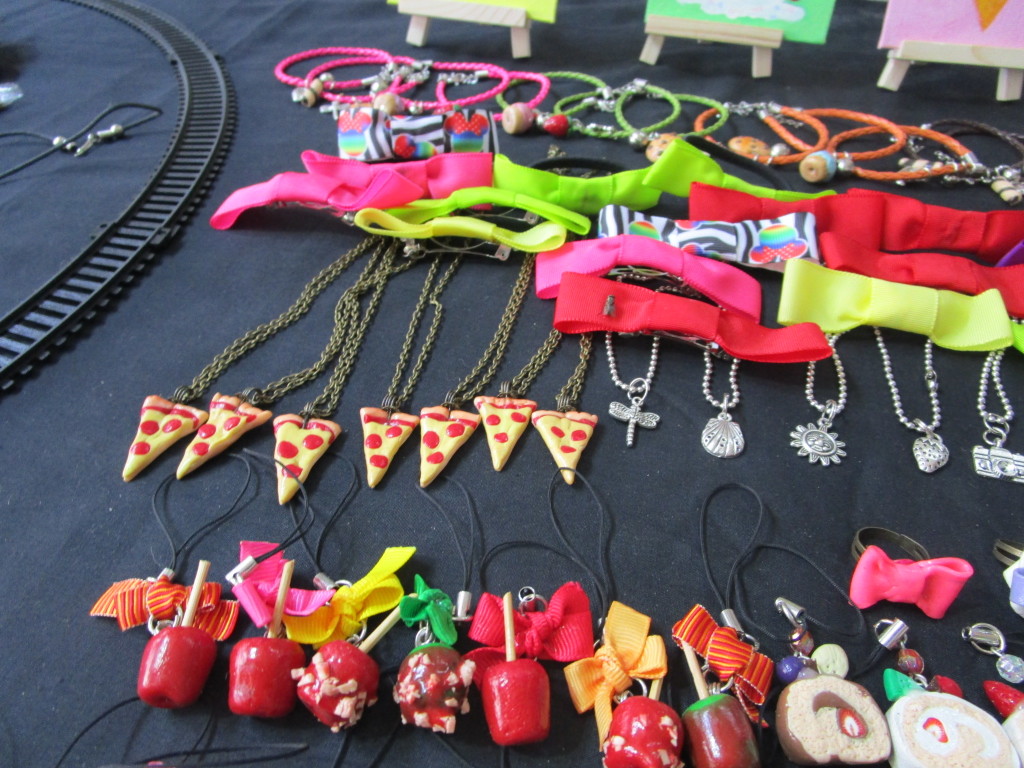 We love to eat pizza. We wouldn't mind wearing it if possible. Thankfully, there's these pizza slices made of clay.
8. Old Cassette Tapes Turned into Key chains
Now we have an idea on how to up-cycle the old tapes hidden somewhere in our house.
9. Fashionable Bags and Hats
Local fashion brands are starting to get recognized, just like these bags and hats from Harpoon. These designs will totally rock this summer. Too bad, the van in the picture is not for sale.
10. Gothic and Surrealistic Stickers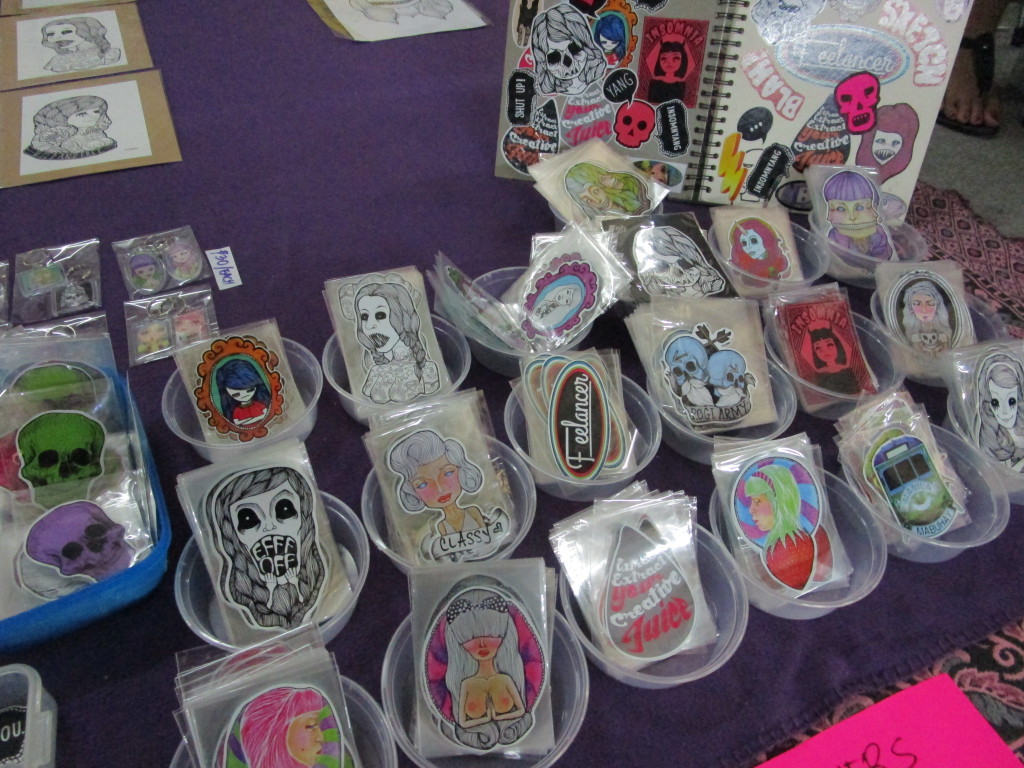 We are not sure where to use these stickers from Insomnyang, but they're too wicked not to be bought. Maybe the Extract Your Creative Juice sticker should go in front of our work station, to remind us to update the blog regularly. Yeah, a painful reminder to force us to work.
There are plenty items to choose from, If you missed the opportunity, you should follow 98B Collaboratory to know the details of the next Saturday x Future Market in Escolta.
Have you been to Escolta future market? Which stores did you like best? Share it to us!
Kimpy Olivar is a dreamer. He dreams of being a writer, artist, dancer, teacher, scientist, billionaire, philanthropist and more. He loves to think that he is deep, funny and cool, but often it is the opposite. Given the chance, he would like to build a time machine to unveil the secrets of the world.