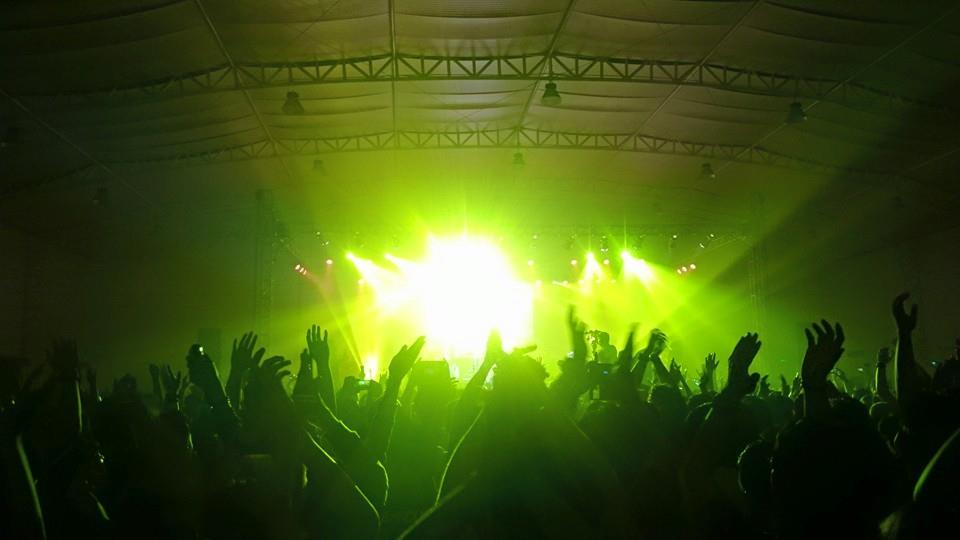 Farewell Gig Tale of a Not-So-Die-Hard Dubista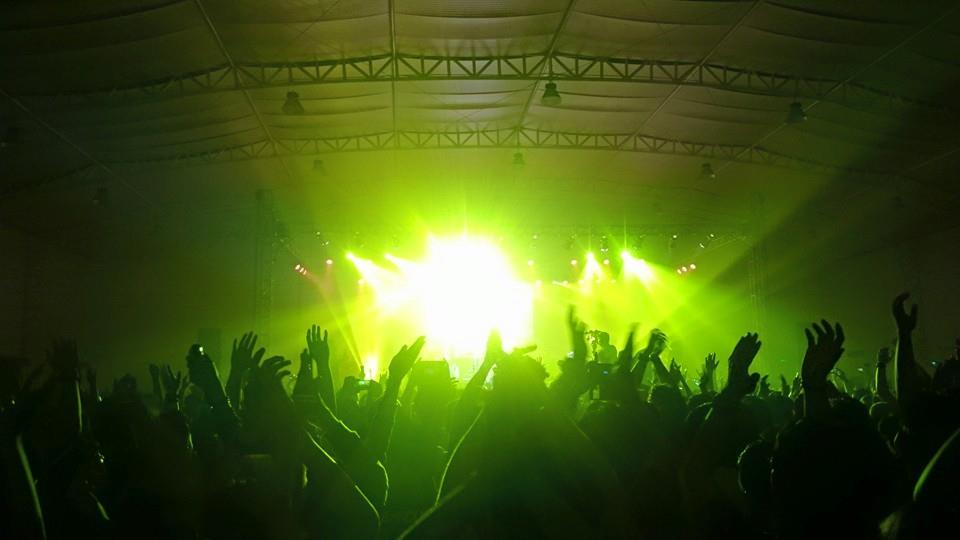 ("Arms raised tonight" (c) Timmi Bandian)
Well tonight I'm feeling emotional
Lonely here tonight
It's not helping me at all
It doesn't make it better that you're gone
It doesn't ease the pain at all
That you're gone
– Gone (Embrace, 2005)
It totally summed up the night.
Gone.
An intro to Urbandub Endless: The Farewell Concert
After 15 years, Urbandub finally decided to take a break for good. While it may still hurt the fans to see them go that night, former bandmates said that there might be a possibility of getting them together in the future.
It was April 1 when the band announced that they will be on indefinite hiatus. Fans and music enthusiasts took it as a joke just because it's April fool's day and so, everyone just shrugged it off. However, it's no April fool's joke as the band continually gave interviews to different music websites and had the last radio guesting on JAM 88.3 confirming their hiatus.
So, the 'giant sound of the South' gave a farewell gig to their fans last Saturday, May 9. A date that would be forever special among the Dubistas. It was the last time seeing them together in one stage, performing all their greatest hits from the six albums over the last 15 years.
Before the concert, a heavy downpour happened late in the afternoon. The sky was crying, I thought, empathizing with the fans as their favourite band would soon be taking the hiatus in a few hours. Honestly, their being "Gone" permanently didn't sink in until the last song of the Encore. I'm still in denial during those hours before the 8 P.M. concert schedule.
Setting priorities.
I totally get their reasons for leaving the band. Priorities, as Gabby Alipe (frontman) said in their last radio guesting on JAM 88.3. Of course, people change priorities over time and a break is badly needed after a long time of hard work. Family, business and new music adventure are among their priorities now. They need to grow as an individual musician and still spend more time with their loved ones.
Urbandub had their fair share of contributing big time to the local music scene. Solid ang mga kanta nila. Their music became part of every music lovers' lives. Every song on each album became everyone's staple on our playlist. Those greatest hits had become an anthem on every heartbreak and life's decision. And although most of their tracks speak loneliness and pain, it is still hauntingly beautiful to hear. I'm certain that their music is as addicting as my cup of coffee every morning; I cannot leave the house without having one.
The last night for Dubistas.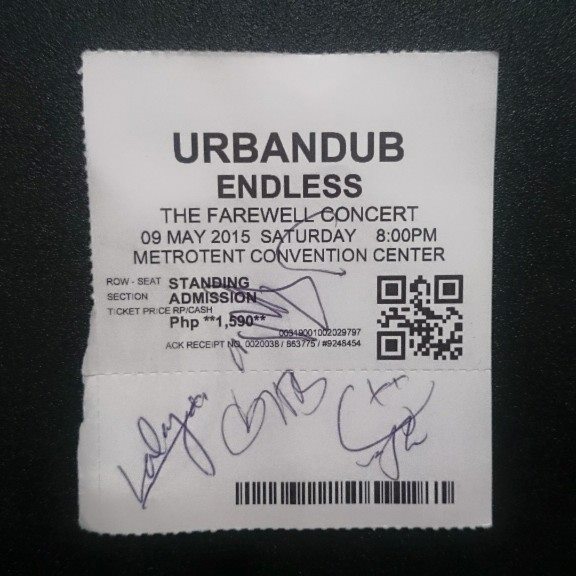 (Signed ticket by Gab, Lalay, John and Janjan (c) Timmi Bandian)
As I scanned the venue (Metrotent Convention Center, Pasig), I see a lot of Dubistas anticipating the farewell gig, hoping that it would be memorable and still dismissing the idea that it would be the last night they'll be seeing the Cebu-based band all together in one stage. Boy, it was indeed a great show and never had I expected that it would be a bittersweet concert, at least on my part.
As Janjan Mendoza (drummer) started to hit the drums for the second song, Soul Searching, I can't help but shed a tear. I started to have goosebumps and told myself to accept gradually that this would be the last. Deep inside, though it didn't show, I became emotional. I feel like breaking up with someone whom I have invested with feelings and time.
One of the highlights of the band's last gig was Lalay's (bassist) appearance again after giving birth to her first child. People were so happy to see her again on stage. Man, she's so cute and really did a good job. She even jumped on the stage! How cool was that, right? John Dinopol (lead guitarist) as always gave his best shot during the show. As for Gab, he's awesome. As always. You can see the smile (and that killer dimple) on his face every time people sing along with their music.
Almost everybody knew the lyrics on each song and they sang along wholeheartedly. It was awesome, hearing fellow fans singing along with your favorite songs. All of us are united to show our support and love for the band and their music. It was crazy and dreamlike but a memorable night.
The crowd got crazier when Urbandub finally sang First of Summer. Everyone raised their arms when "Arms raised tonight" came. We automatically did it while we started to sing the whole song. We knew the lyrics from the heart and it was too easy for us.
Summer is over.
Urbandub Endless: The Farewell Concert Setlist! @urbandub #Dubistas #UrbandubEndless #Urbandub pic.twitter.com/otthyzoANo

— // MCA MUSIC // (@mca_music) May 9, 2015
As their 15th song, Guillotine, ended and the lights went out, I can't help but say to my friends: 'Yon na 'yon? Bitin! Eto na ba 'yong last talaga? No, stay pa tayo meron pa 'yan.
T***ina, ang lungkot pala talaga. It totally sunk in, Urbandub no more.
But lo and behold, they've come back for the encore. We all knew that they will come back. Urbandub IS kind to their fans and they wouldn't let us down and just leave us wanting for more.
Their encore had six songs. The last three are among my favorites: Sailing, Cebuana, and Gone.
I thought that Sailing would be the last song since I assumed that the band wanted to leave a good vibe song for the night. But I was wrong. It totally made sense that Gone became the last on the setlist.
Gone.
Urbandub is now gone.
Fangirl hormone.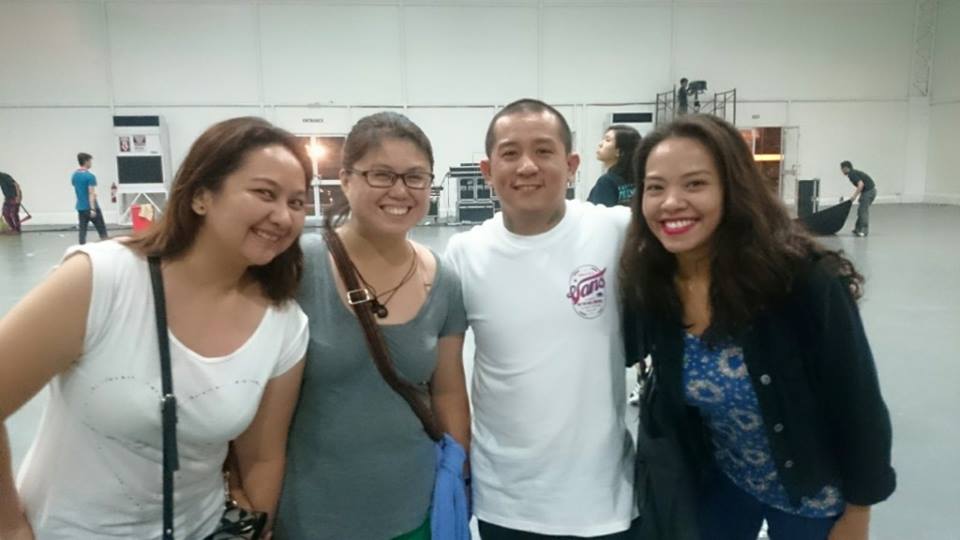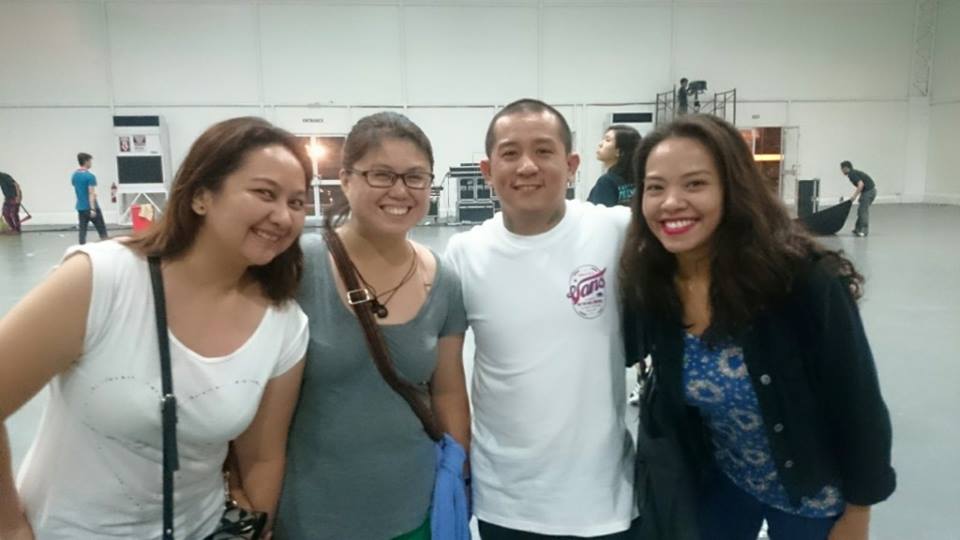 (All smiles with Gabby Alipe. (c) Timmi Bandian)
However, because we only had regular tickets for the concert, we didn't have the chance for the meet and greet with the band. But that didn't hinder us to go beyond what we could do that night. Bouncers were too strict and can't remember how many times they tried to shoo us away. But my friends and I didn't lose hope. The fangirl hormone kicked in and we gave in easily. When almost everybody went home, we decided to wait until past midnight. When the bouncers went home ahead of the band and other production staff, we took it as an opportunity. Fellow fangirls/boys saw the chance and went inside the venue, we followed them and viola, we had the chance we have been waiting all night. Though we weren't able to have a group photo with Urbandub, we're still happy to have a photo op with each of them. Plus, we were able to ask them for a signature to our concert tickets!
My friend Timmi was right, "Regular tickets, Super VIP perks because patience is a virtue."
Urbandub IS truly accommodating and Gab even apologized if the rain became a hindrance to get to the concert venue. Indeed, it a was cool, awesome and great night spent with your favorite local band.
Last message.
But thank you, Urbandub, for the wonderful music and I am forever grateful to your craft for becoming part of my endless musical interest. Lastly, thank you for leaving this important message: Choose life.
Wandering mind. Exercising her feet sometimes for travel. Moderate coffee drinker. 90's music fan. Film enthusiast. Sleepy.