89 Things You Should Do Before the Year Ends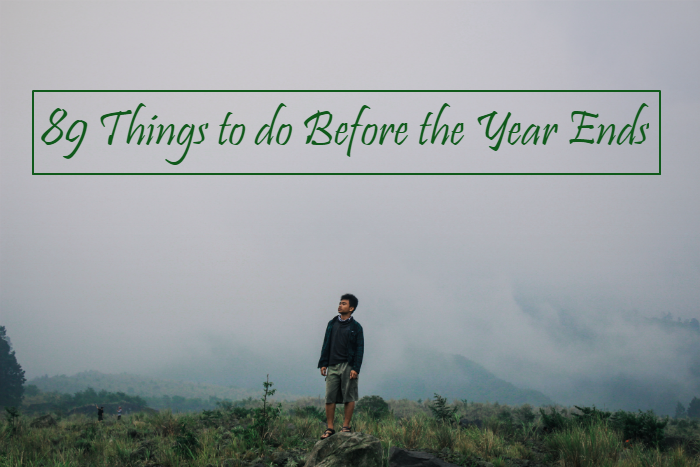 There are 365 days in a year but when it comes to accomplishing things, we always tend to do them when there are already a few days left. That is no surprise, we are millennials after all! This of course results to not finishing them all no matter how important they are.
Sometimes we are just too busy to remember the things we need to do, or maybe we did wrote them at the beginning of the year but misplaced it somewhere. OR maybe, just like me, you are just too lazy to accomplish things. Ha!
So, why not create a checklist before the start of the year and begin crossing them one by one? That would motivate you to do more and hopefully your coming year will be more productive than before.
To help you, here are 89 suggestions you can add to your bucket list of things to do before the year ends:
Health:
Have an annual health check-up– health is wealth, guys! Remember that.
Have your eyes check– all those time in front of the computer can affect your eyes.
Get a new eye glass– something functional and stylish, maybe?
Visit the dentist– have your teeth cleaned!
Check your medicine cabinet– throw those expired drugs, you won't finish the year if you don't.
Update your health card– upgrade if you need to.
Enroll in a Gym– Or just be more physically active. How about a jog twice/thrice a week?
Asses the food you eat– try to avoid unhealthy food and drinks, JUST TRY the best you can.
Decrease caffeine intake- 2-3 cups per day is okay but more? Pretty sure that's unhealthy.
Meditate– Clear your soul and mind.
Pamper yourself with a massage– With all the stress you get from working with your toxic boss, you truly deserve this.
Home:
Clean your room– do not just mentally note it down, you should actually do it. Your room is for people not for pests and mice.
Throw away old items– pro tip: If you are not using an item for more than a year, it is time to throw it away.
Donate old items– if you think your clothes, bags, books, and toys are still usable donate them somewhere. Others might use it more than you do.
Clean your shoes and bags– take care of your shoes and bag as well. Wash them, shine them or whatever. Just make sure they are kept clean.
Wash your curtains– curtains are often neglected when cleaning. Put on new ones and your room will look so much livelier.
Update your disaster preparedness kit– it's best to be ready.
Inspect fire extinguisher– ensure gauge has enough pressure and it is within reach.
Clean the bathroom and the kitchen– don't forget the tile grout!
Trim garden plants– plants have lives, try not to forget trimming or watering them.
Finish your Goodreads Reading Challenge– You set them every first month of the year but you don't seem to follow them.
Take your pet to the vet– to keep them healthy.
Finance:
Review your debts and credits– it's adulting 101.
Pay your debts– or you'll have more debt in the coming year, they say.
Inquire for an insurance plan– better be ready for the future.
Upgrade your savings plan/ retirement plan– if you already have one, why not upgrade it especially when you have better salary than when you opened it.
Get ready for a 52-week Money Challenge– this weekly money challenge is difficult yes, but it teaches you the importance of saving money.
Asses your spending habit- write down the things that are keeping you from saving money, then asses if these things are important. Usually they are not.
Start a part-time job– admit it you need extra money.
Travel/ Food:
Plan a realistic travel bucket list– because you always overestimate yourself… and your budget.
Visit Christmas pasyalan around Manila– first stop: Ayala Triangle!
Climb a mountain– an easy mountain to climb if you are a beginner, and a new mountain if you've been doing this of years.
Try our Laguna bucket list– and do 45 activities in this beautiful province.
Visit museums with friends– check out these must visit historical museums near Manila.
Visit more local destination– and have fun with your friends.
Visit at least one foreign country– or two if you have the money.
Embark on a road trip to Manila– and check out these scenic destinations.
Visit Baguio– because Baguio City during this season look surreal.
Visit an amusement park with your friends- it looks more festive during the holidays!
Have a solo travel– solo traveling can be fun too, you know.
Go to the beach– explore the beaches near Manila.
Have a photo walk around Manila– and take awesome street photographs.
Have a food crawl around Manila– Maginhawa? Kapitolyo? Katipunan? So much food hubs in manila to choose from.
Visit every new restaurant in town– now's your chance to visit new restaurants you skip visiting because of the long lines.
Dinner with Highschool/ Elementary buddies– make time to catch up.
Start a travel journal– for people who loves art and travel.
Buy a new camera– because it's a must for every traveller.
Personal:
Have a movie marathon– LOTR, Harry Potter, or Star Wars, maybe?
Watch your favorite TV series– okay if you don't like movies then Game of Thrones, How to Get Away with Murder, or Stranger Things, perhaps?
Watch all movies of MMFF– and support local movies.
Check out a Korean Drama- watch the best Korean dramas like Signal, Master's Sun or Misaeng.
Watch asian rom-com movies– so you can have other movies to choose other than Love Actually.
Finish an art project– or maybe the coloring book you bought last year?
Volunteer– it is nice to give back.
Update your music playlist– or update your Spotify plan.
Redeem that Starbucks planner- finally, after days of pestering your friends to buy overpriced coffee, you'll finally have yours!
Have your future read– true or not this is a fun activity to try.
Update your photo album– photos should not just be stored online, print them and compile them on a photo album or scrapbook.
Buy a new make up– and change those dirty sponges and brush.
Skills/ Growth:
Learn a skill– driving, swimming, photography…so many to choose from!
Attend combat classes– so you can protect yourself in case of emergencies.
Cook a dish for someone– not the usual fried rice and egg, surprise someone with your extraordinary cooking flair.
Learn a language– impress your friends with French, Japanese or German.
Attend self-development seminars– any maybe expand your network.
Check out free online courses– there's so many online classes to expand your knowledge.
Start a blog– to share all your personal and travel stories
Asses your career– is it time to find a new job?
Write your resignation letter– or just print it, because we know you already wrote it. Ha!
Update your LinkedIn account– make your profile as detailed as possible so recruiters can easily find your account.
Play a video game– and learn awesome lessons in life.
Relationship:
Greet every people in your contact list– Say Happy Holidays!
Forgive your enemies– and say sorry to the people you hurt.
Say I love you to your parents– you should do this more often
Buy gifts– this is given.
Be more sociable– and meet new friends
Have a special date with your special someone– be thankful for another year to share love with someone.
Pray– visit the church and say thanks for all the blessings.
Watch spoken word performances– these spoken word performances would leave you either elated or heartbroken.
Move on from your ex- it's hard but it's a must.
Flirt with someone– why not if you're single?
Say thank you to your pets– for not leaving you even when you're BF/GF did.
Digital Life:
Change passwords– and don't use PASSWORD as your password!
Unfriend/unfollow people in social media- you don't personally know most of them, so de clutter your feeds with negative posts from people you're not close with.
Block people– block negative people online if you need to.
Clean your email– delete all the spam and unimportant emails.
Clean your phone inbox– delete all the messages, you don't need to save them.
Update phone numbers– contact your friends if the numbers registered on your phone still works.
Delete some of your social media accounts– Managing too much is impossible. You don't update most of them, anyway.
Take a break from the digital world– sometimes too much digital information makes you overwhelmed and stressed. A break would help your wellness.
So there! Of course everything in this list is a stretch given that you are very busy buying gifts and preparing for the holidays. But it is good to know that the next year is coming and you still have more time to uncheck everything or add new ones.
Bookmark this page and see if you'll be able to do them!
Kimpy Olivar is a dreamer. He dreams of being a writer, artist, dancer, teacher, scientist, billionaire, philanthropist and more. He loves to think that he is deep, funny and cool, but often it is the opposite. Given the chance, he would like to build a time machine to unveil the secrets of the world.