A Rainy Season Style Guide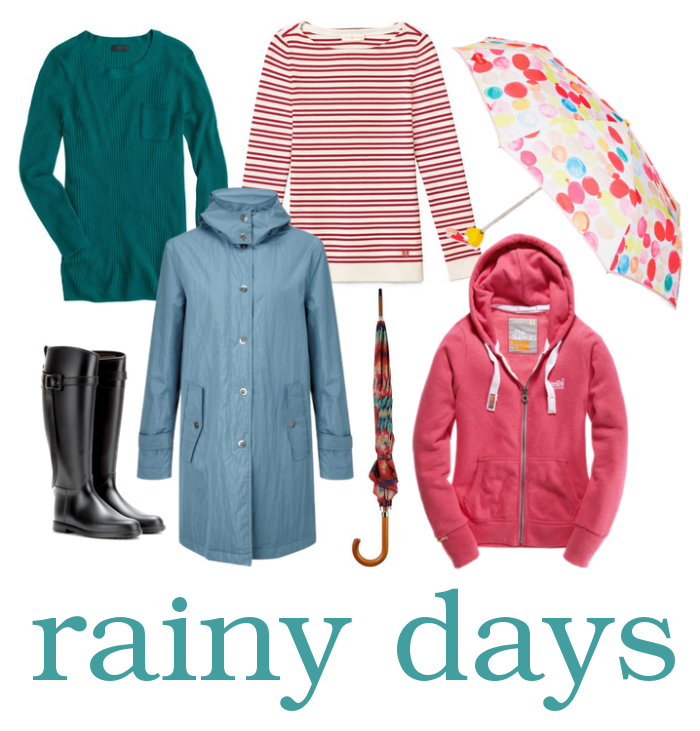 A rainy weather is a simple way to ruin our day. Getting soaked in the rain especially while you're on your way to work or school is not funny. Aside from the uncomfortable wet feeling, we might get sick that could cause us to absent from work or class.  Unfortunately, we can't stop the rain from falling, but we can keep ourselves dry and avoid getting a day ruined.
With the June gloom we've been experiencing recently across Manila, we should definitely prepare, not just the things to keep us dry but also some outfits that can make this dull season cozy and chic.
Umbrella
A rainy day's in-demand accessory is a life saver. An umbrella may not be enough to keep you dry but it is better than nothing. Get yourself a quality umbrella that can resist wind and last until all the typhoons in the Philippines have passed. To make it stylish, choose an umbrella that features unique prints or something in a bright color that are sure to stand out from the sea of dull umbrellas on the street.
Rain Coat
If you want an overall dryness despite a heavy rain, it is possible with a rain coat. The problem is, it can be sort of pricey. It is a lot more expensive than an umbrella. But keep in mind that this is a good investment that is harder to break and safer to bring during rainy season. You can still flaunt your style underneath the rain coat. You can wear a pair of colored jeans if you go for a simple or traditional rain coat.
Coat, Sweater, and Jacket
To keep you warm and dry while the rain pours on, wear a coat, a sweater or a jacket. These three are necessities especially on cold, wet days. Rummage on your wardrobe and take out all the coats, sweaters and jackets you can still wear and protect you from the rain. A coat and sweater can be paired with leather leggings for a warn feel. While jackets can be partnered with tees, jeans, and a pair of sneakers.
Rain Boots
Most are okay with head to foot dryness, but some prefer head to toe dryness. In that case, you need to get waterproof boots. Thankfully, we have a wide array of stylish rain boots to choose from. Nowadays, rain boots are not only used to keep your feet dry, it can also make you look stylish. There are different stylish rain boots in different colors and sizes, so you're sure to find one that will suit your style.
Hat
The wind and rain can easily make your hair frizzy and make you look like a mess. To avoid this distress, throw on a hat. Hats are pretty good cover up for your messy hair during the wet weather days.
You can spend as much time as you want out in the rain and not get wet and avoid ruined days and dull, cold feelings by having these things.
What are your rainy day style essentials? Sound off in the comments below!
Joycy wants to explore more of life through lots of reading and traveling. She pondered the idea of being a part of this blog as she is no-good with responsibilities but she is loving the idea of sharing good thoughts and showcasing and elaborating her ability to write. If she is not writing and auditing websites, she is probably somewhere – surfing and wandering.