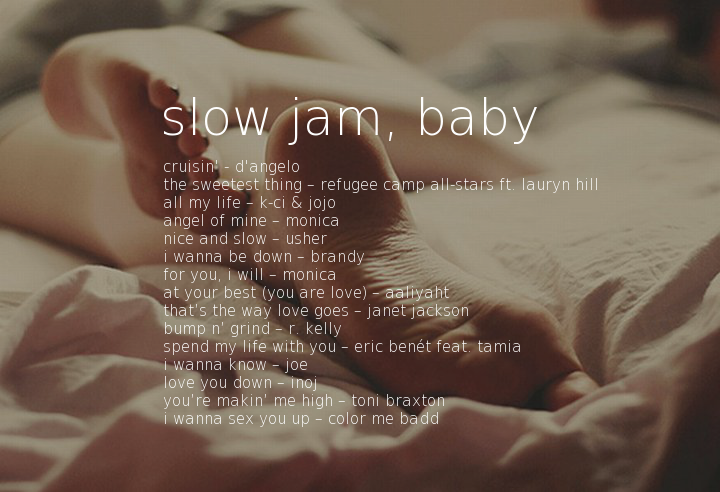 Monday Mixtape: Slow Jam, Baby
Whenever you wanna be sweet with someone or just wanna take things slowly, a good dose of slow jam music can make a difference. Slow jam music is as good as when you're just bumming around with someone you like.
Because rainy season is all over again and the weather is too invitational (sometimes), it's better to listen to these tracks to give you a chill ambiance and have a cup of wine or a bottle of beer perhaps.
Some of the songs are familiar to you because they're from the '90s and people are still drooling over these tracks.
1. Cruisin' – D'Angelo
2. The Sweetest Thing – Refugee Camp All-Stars ft. Lauryn Hill
3. All My Life – K-Ci & JoJo
4. Angel Of Mine – Monica
5. Nice And Slow – Usher
6. I Wanna Be Down – Brandy
7. For You, I Will – Monica
8. At Your Best (You Are Love) – Aaliyah
9. That's the Way Love Goes – Janet Jackson
10. Bump N' Grind – R. Kelly
11. Spend My Life With You – Eric Benét feat. Tamia
12. I Wanna Know – Joe
13. Love You Down – Inoj
14. You're Makin' Me High – Toni Braxton
15. I Wanna Sex You Up – Color Me Badd
If you wanna listen continuously to the slow jam tracks, visit my Grooveshark playlist.
If I missed some slow jam songs that are worth listening to, you can share it below.
Wandering mind. Exercising her feet sometimes for travel. Moderate coffee drinker. 90's music fan. Film enthusiast. Sleepy.