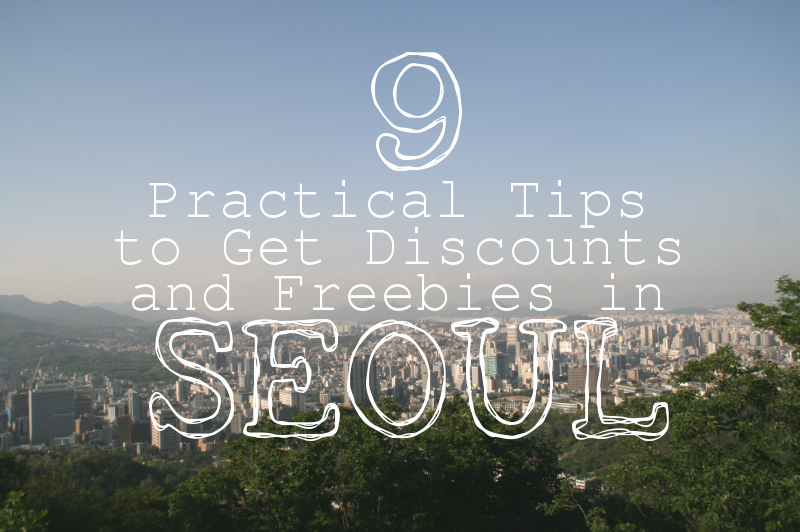 9 Practical Tips to Get Discounts and Freebies in Seoul
Traveling to Seoul, South Korea doesn't come cheap, but it doesn't have to cost you a fortune.
Despite being a first world country, there are numerous ways to achieve budget traveling when going around the metro. The Seoul government makes it easy because they seem to be insistent to make things more efficient and cheaper not just for the locals but for the tourists as well.
You will spend a lot in Seoul, but there are tricks you can do to make sure that you don't go over-budget. Besides, some of the fun things you can do in the land of BB Cream is free or you can get for a discount. Below are nine easy ways to make sure that you get to save as much as possible:
1. Use T-Money for time and money efficiency.
The best way to save on transportation allowance within Seoul is by using T-Money. It's a reloadable transportation card that you can use when riding the bus, subway and taxi. It can be bought in numerous convenience stores and vending machines in subway stations. Discounts come in free transfers when you ride the subway and the bus consecutively. Free transfer is even allowed from bus to bus, depending on the color of the bus. What makes it even better is that many convenience stores also accept it as form of payment. You can read more about the free transfer details here.
2. Seoul City Pass Plus come with discount coupons.
The Seoul City Pass Plus comes with a T-Money function. It can also be purchased in vending machines located inside subway stations. Before you throw away the box that comes along with it, check out the discount guide booklet inside. It's not just an ordinary instruction manual, because it also comes with discount coupons to some of the main attractions, stores and restaurants in Seoul such as N Seoul Tower and Lotte World.
3. Try on hanbok for free.
Along Insadong, a traditional market in Seoul, you'll see advertisements of photo studios offering hanbok fitting for a price. Though it's not that expensive to pay for the experience, you can actually try on hanbok fitting for free. Tourist information centers along Seoul offer hanbok fitting to tourists. The main headquarter of Korea Tourism Organization is also offering free hanbok fitting along with other cultural activities you can enjoy.
4. Head to Myeongdong for free makeup samples.
There are numerous shopping districts in Seoul, and Myeongdong is definitely not the cheapest. But it does have its perks and one of them is that there are tons of cosmetic stores in Myeongdong. It's actually not an exaggeration to say that there's one in every corner. You don't have to buy to receive freebies in cosmetic stores. They'll give you samples once you enter the store. So here's a tip: Bring a shopping bag with you when you go to Myeongdong and enter as many cosmetic stores as possible. Do a quick go-around the store without buying anything and tada! You have souvenirs for friends back home. Or you can keep them to yourself, of course.
5. Book free tours from students.
Joining tour groups isn't the cheapest option when traveling, but there's nothing like learning about the culture and traditions of a place from a local. Instead of regestering in expensive tour packages, many Korean college students offer walking tours for free. It's their way of practicing English and fostering cultural exchange so make sure to converse easily with them. You can try SeoulMate or Meteor Youth Voluntary Club.
6. Or book them from professionals.
The city of Seoul is so concerned with tourism that they provide free walking tours led by professionals. The tour options can take up to two to three hours around some of the most popular spots in Seoul such as Gyeongbok Palace, Namsan Park and Hanok villages.
7. Print out discount coupons online.
When planning for your trip, check out Visit Korea and Visit Korea Committee for discount coupons. The stores with discount coupons change from time to time so make sure to check the dates in which the coupons are still valid. Just print out the coupons and present them when paying for the service or product. In some cases, discounts in stores are only available in specific branches. It's worth the effort to print out the coupons since you can get as much as 20% off.
8. Consider riding the taxi.
Despite being a first world country, the taxi fare in Seoul is relatively cheap. Some even considers it as the cheapest taxi fare in the world. Don't worry about getting ripped of because they'll make sure to give you the exact change of your fare. Tipping isn't a common practice in Korea. If you're traveling in a group, it can be cheaper to ride the taxi instead of riding the subway if you're going somewhere near.
9. Avail the student, children and senior citizen discounts.
This is only applicable when you're traveling with kids and elderly. In most cases, the entrance fees of adults and children are displayed. But when it's not, make sure to mention that you're buying for kids. The entrance fee for senior citizens aren't displayed but they get the best discounts. Sometimes, they pay the same price as children. In Trick Eye Museum, senior citizens get 50% off. What's great about Seoul is that they don't ask for I.D.'s at all. Just always remember to be honest in your transactions.
If you're traveling to Seoul anytime soon, I do hope you'll keep these tips in mind. Watch out for other ways to save even ₩1,000, and don't forget to share it with your fellow travelers.
Can you share other ways to avail discounts and freebies in Seoul?
Jane Galvez is a ditzy daydreamer and wannabe writer from Makati. She enjoys good sci-fi and cheesy YA. You can read more of her musings on Oh My Janey. She's also a self-professed fangirl. She rants over here.