13 Horror Movies From Our Asian Neighbors
It's the Halloween season once again and one of the best ways to spend it is of course watching horror films that would totally scare the crap out of you.
This year, we may not have a long vacation just like before, but you can still make your Halloween nights scary and worthwhile by sitting on your couch and filling your weekend with this Asian Horror movie list.
If you're tired of watching stereotype Pinoy horror films, perhaps you might want to consider our neighboring countries' frightening and excellent creepy movie selections. You'll definitely love this list because these will not only scare you but will also give you a different flavor of entertainment.
1. Coming Soon (Thailand)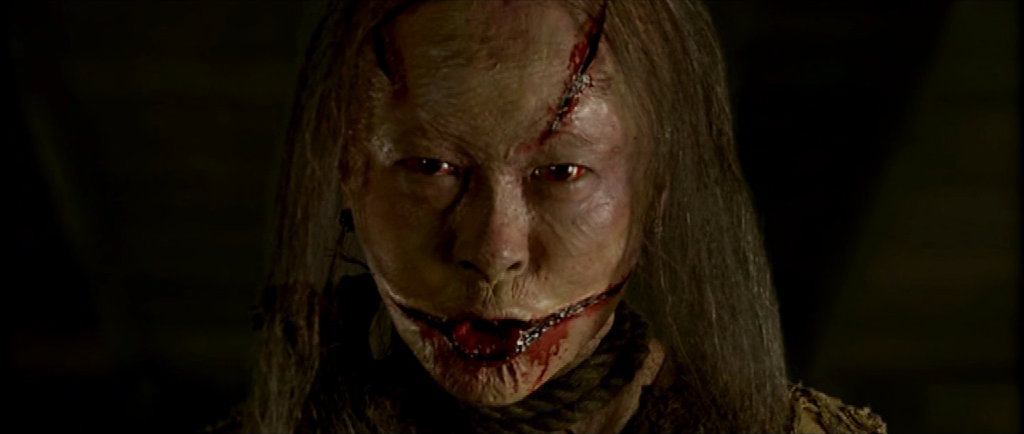 (Photo credit: GMM Tai Hub (GTH) Co. Ltd.)
Director: Sophon Sakdaphisit
Shomba is a character that creeps my nights for several days. I consider Coming Soon as one of the best Thai horror movies that I've watched. Shane is a theater projectionist. He is tempted to pirate movies in order to earn some money to pay his debt. He begins to pirate a horror film that was based on a true story of a vengeful spirit of a crazy village woman named Shomba. Shomba is believed to hanged herself after villagers discovered that she is abducting and blinding children. This is not an ordinary one because there's a terrible secret behind the haunted movie. Anyone who watch the movie will experience horrible things.
2. Laddaland (Thailand)
(Photo credit: GTH & Jorkwang Films)
Director: Sophon Sakdaphisit
I can't remember how many times I screamed while watching this film. This GTH project did not fail to startle and scare me. Yes, I almost had a heart attack as I watched the terrifying scenes in this movie. Thee is a father who always struggles to provide for his family. He works so hard just to be a good husband to his wife, Parn, and a father to his children, Nan and Nat. He buys a house in Laddaland, an upscale housing development with large and beautiful homes, hoping they would have a happier family life and thinking that it might change his relationship with his children. However, after a few days of staying in the place a Burmese woman was brutally killed in their neighborhood. Since then, the family encounters a series of horrifying and direful paranormal events that drives the family to the edge of insanity.
3. Pee Mak (Thailand)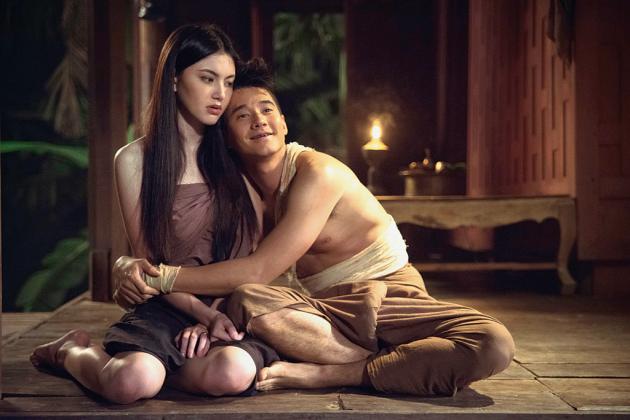 (Photo credit: GMM Tai Hub Jorkwang film)
Director: Banjong Pisanthanakun
This is a Thai horror-comedy movie that I also recommend for horror and non-horror film fanatics. This will not only frighten you but it will also make you laugh so hard your stomach starts to hurt. This is a classic ghost story that is an adaptation of the Mae Nak Phra Khanong legend of Thai folklore. During King Mongkut Era, Mak has to leave his pregnant wife, Nak, to serve in the war against the foreign invasion. He was injured during the battle but he was able to saved Ter, Puak, Shin, and Aey, who later become his bestfriends. When his military service is over, Mak invites his friends in their home in Phra Khanong town to introduce his wife and newborn baby, Dang. Meanwhile, there's a rumor in the village about Nak being a ghost, but Mak refuses to believe it.
4. Last Summer (Thailand)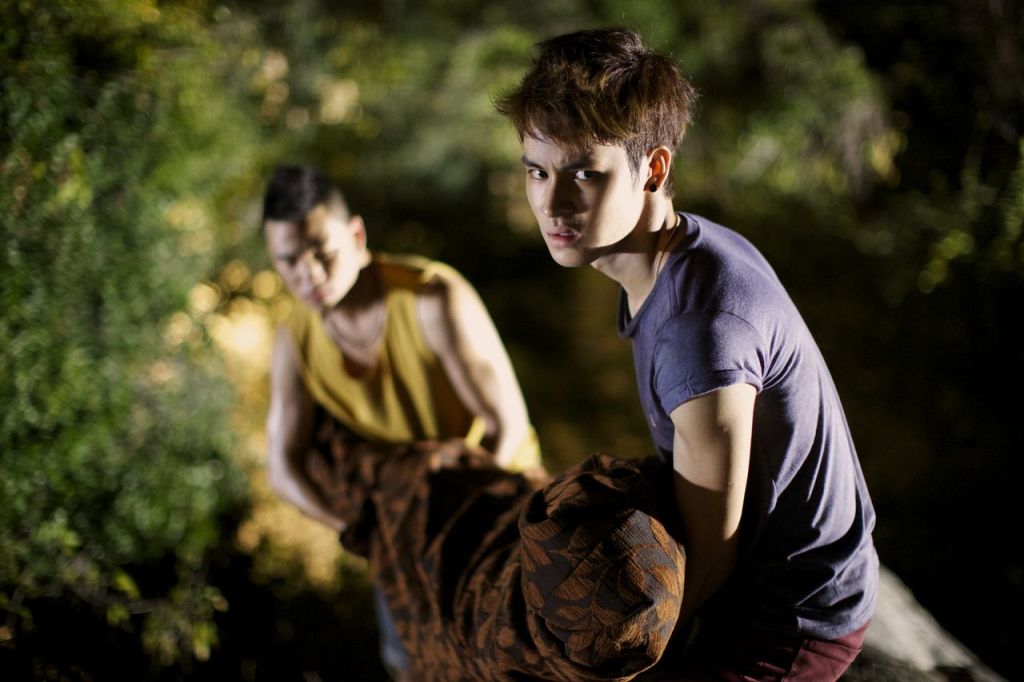 (Photo credit: GSC Movies)
Director: Kittithat Tangsirikit, Sittisiri Mongkolsiri and Saranyoo Jiralak
Last summer is a three-act story that is created by three directors who each take a segment that focuses on one main character, Joy. Joy is a budding actress and popular student in school who has a best friend named Meen and a boyfriend, Singh. Joy, Meen and Singh, together with his friend Karn, go to the beach house of Singh's family without anyone's knowledge.
Everyone is enjoying their time together until the night of the party. Joy dies tragically because Singh and Karn drugged her. The first part of the movie focuses on Joy's death and how Singh and Karn get rid of Joy's corpse. No one survive except Meen. The second part of the film is Meen's story that tells how she betrayed her best friend. Lastly, the story is related to Joy's brother, Ting, and her mom. Out of the three stories, my favorite is Meen's part. I like how the director used the "friendship, envious and betrayal" concept between the two girls to showcase more depth in the story.
5. Art of the Devil (Thailand)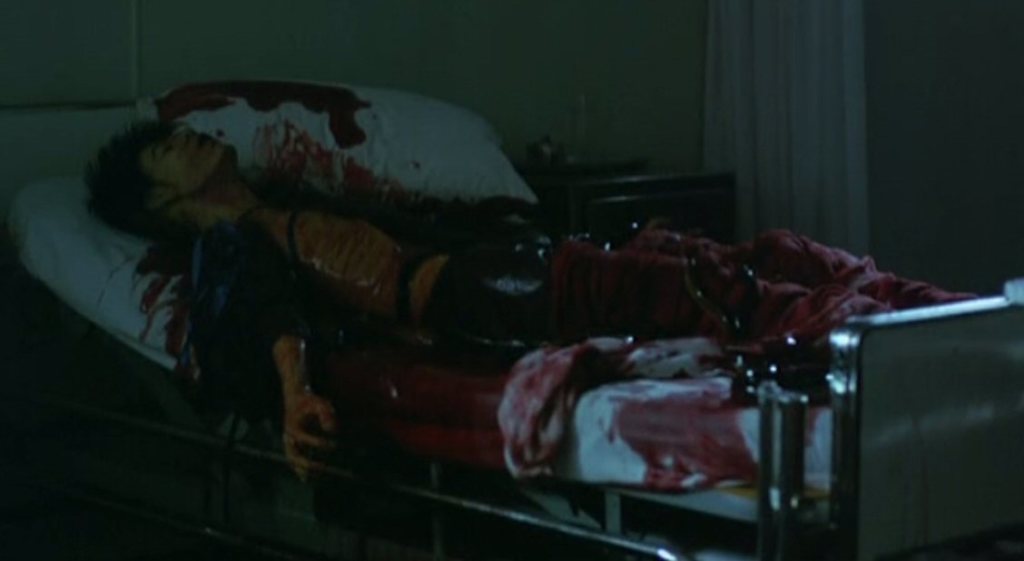 (Photo credit: Five Star Production)
Director: Tanit Jitnukul
As far as I can remember, this movie is the very first T-horror that I've watched. After that time, I started to like watching Thai films. Art of the devil has two titular sequels but both have different stories and characters. The first one tells a story of Boom who got pregnant to a married man, Prathan. After Prathan finds out about the news, he gives Boom a large amount of money and asked his friend to gang-rape her. Prathan tells Boom to leave his family alone. Boom got angry and goes to a witch doctor to  cast a black magic curse on Prathan's family. After all of them died tragically, Boom thought she will reap her ex-lover's wealth but Prathan's first family claimed the inheritance. Using the black magic again, Boom tries to kill the other family again.
6. Sick Nurses (Thailand)
(Photo credit: Sahamongkol Film International)
Director: Piraphan Laoyont, Thodsapol Siriwiwat
This vengeful ghost story is about Doctor Tar and a group of nurses who sell dead bodies and organs in the black market. When one of the nurses, Tahwaan, discovered that Dr. Tar has no intention of marrying her and he's having an affair with her sister, Nook, she threatens them to spill the illegal act to the authorities. Before doing it, the rest of the nurses murdered her. Tahwaan's ghost comes back for revenge and killed the others.
7. R-point (Korea)
(Photo credit: Cinema Service)
Director: Kong Su-Chang
R-point will take you in a different dimension of a traditional Asian horror film. For me, this is no ordinary horror screenplay. I love everything about this film from the story, actors, execution, cinematography to the effects. R-point proves that a horror movie doesn't need to have those creepy and nasty creatures in order to scare the viewers. A group of Korean soldiers is assigned to search and rescue a troop of soldiers who went missing after being stationed in R-point, a non-conflict region in Vietnam. Lieutenant Choi Tae-In accepts the mission and leads the eight soldiers to the said place. As they do their mission, they encounter paranormal events and mysteries in the place and each soldier starts to die in different horrible ways.
8. Chilling Romance (Korea)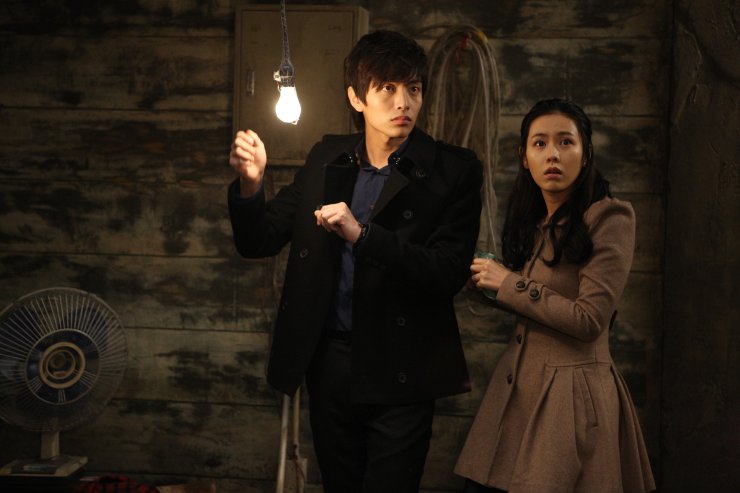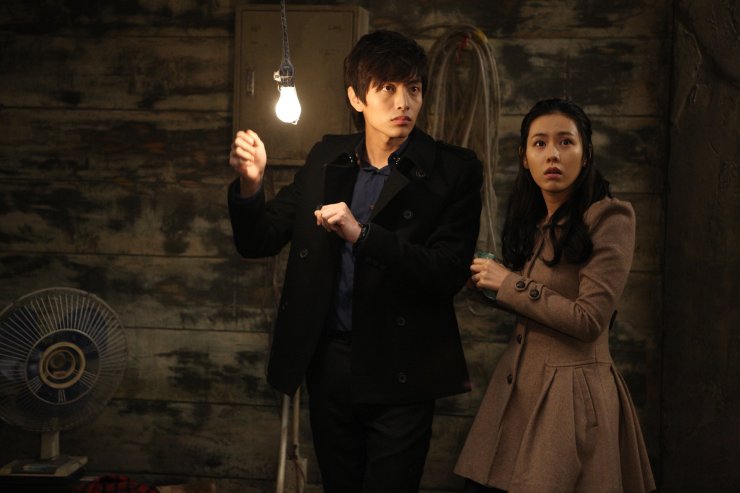 (Photo credit: CJ Entertainment)
Director: Hwang In-Ho
Chilling romance is a unique find that has a good combination of romance and creepiness that will keep you stuck on your seat. Spellbound, also known as Chilling Romance, is a South Korean horror romantic comedy film. Yeo-Ri has an ability to see dead people and most of the time the ghosts appear when she has company. She decided to isolate herself from other people due to the unexpected things happening around her. But Yeo-Ri's life changes after a street magician named Jo-Goo approaches her and offers her a job. A budding romance grows between the two despite of the grumpy ghost of Joo-hee, Yeo-Ri's best friend. Joo-hee died when they're still young and she never leaves Yeo-ri since then.
9. Acacia (Korea)
(Photo credit: Show East)
Director: Park Ki-Hyeong
If you're looking for a film that has psycho-thriller and horror movie elements, Acacia is a good pick. The story is about a married couple named Mi-Sook (wife) and Do-Il (husband) who seem to be unable to conceive a child. After several failed attempts of having a baby, the couple decided to adopt Jin-seong, a six-year-old boy who is obsessed with drawing pictures of trees and believing that a dead acacia tree is his dead mother. When Mi-sook finally becomes pregnant, Jin-Seong started to act strange. When Jin-seong goes missing on a rainy nightm a series of events started to unfold which leads to the reason of his disappearance.
10. A Tale of Two Sisters (Korea)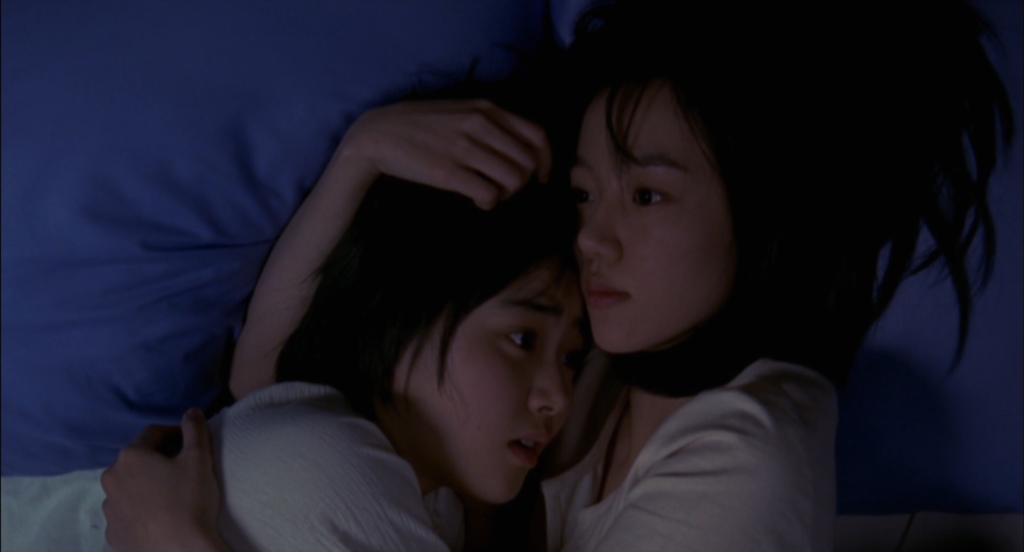 (Photo credit: B.O.M. Film Productions Co.)
Director: Kim Jee-Woon
The story is based on an old Korean folktale, Janghwa Hongryeon jeon. A Tale of Two Sisters is about two young girls named Su-Mi, the elder sister, and Su-Yeon, the youngest in the family. Su-Mi has a stronger character compare to Su-Yeon who is very timid when it comes to their family problems. After their mother passed away, their dad married another woman, Eun-Joo, who becomes the step-mother of the two girls. Things started to go wrong after their father brings her new partner in their house. Despite of the disapproval, the two sisters have to endure living with their evil stepmom for their father's sake. Eun-Joo continuously harasses Su-Yeon while Su-Mi tried to protect her sister. As the sisters try to unravel the truth of their mother's death, Su-Mi was disturbed by strange and violent visions and she was convinced that her stepmom was keeping a dark secret.
11. Premonition (Japan)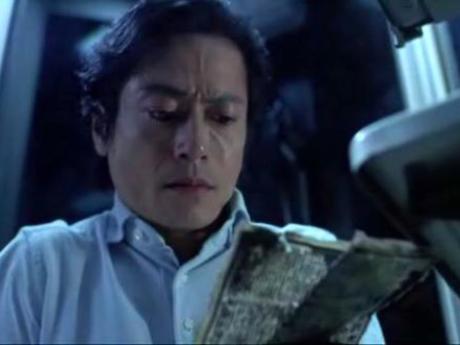 (Photo credit: Toho Company)
Director: Norio Tsuruta
Premonition or Yogen is based on Jiro Tsunoda's manga entitled Kyoufu Shinbun ("Newspaper of Terror"). It a chilling tale of Professor Hideki Satomi who picks up a scrap of newspaper that predicts the future, including the tragic premonition of his daughter's death, Nana, in a car crash. After Nana's death, Hideki and his wife, Ayaka, get divorced. Years later, Ayaka is doing research about paranormal people who claimed to have encountered an evil newspaper which foresees the future. She finds out that there are people cursed to perceive deaths of people but without power to save the victims just like Hideki.
12. Dark Water (Japan)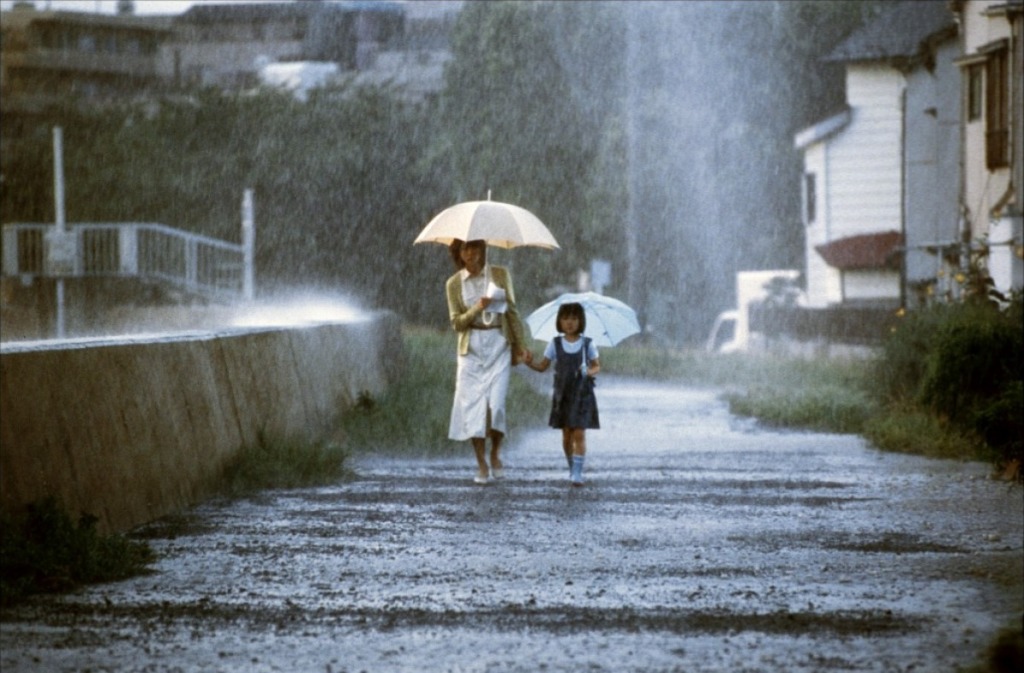 (Photo credit:Toho Company Ltd.)
Director: Hideo Nakata
From the maker of the Ring, Dark Water is yet another one of those creepy-little-Japanese-girl horror movies. This film will definitely not disappoint you because it is indeed creepy, and it is one of many Japanese movies that has been remade in other countries. Dark Water is a supernatural-psychological-drama-horror about a mother named Yoshimi Matsubara who is in the midst of divorce with her husband fighting over the custody of her daughter Ikuko. Yoshimi and Ikuko moved into an old run-down apartment which has a ceiling leak. Yoshimi complained to the old man who managed the building but he did nothing to fix it. As the leak gets worse, Yoshimiri went to the above apartment and she found out that the former tenant of the house was the family of a girl named Mitsuko Kawai who was abandoned by her mom and gone missing a year ago.
13. Ghost Inside (China)
(Photo credit: China Film Group)
Director: Herman Yau
This Chinese film tells the story of a young mother, Lin Xiaoyue, who escaped with her from her abusive husband. Lin, together with her daughter, moved into a new apartment which is allegedly haunted by the ghost of a woman who threw her child out of the window before committing suicide.
Which one of these movies is your favorite? Can you recommend other scream-inducing horror movies?
Jinky is a moody human being, an Asian & hollywood films/series buff, travel enthusiast, hopeless romantic gal, bookish, and a dreamer who has so many frustrations in life.