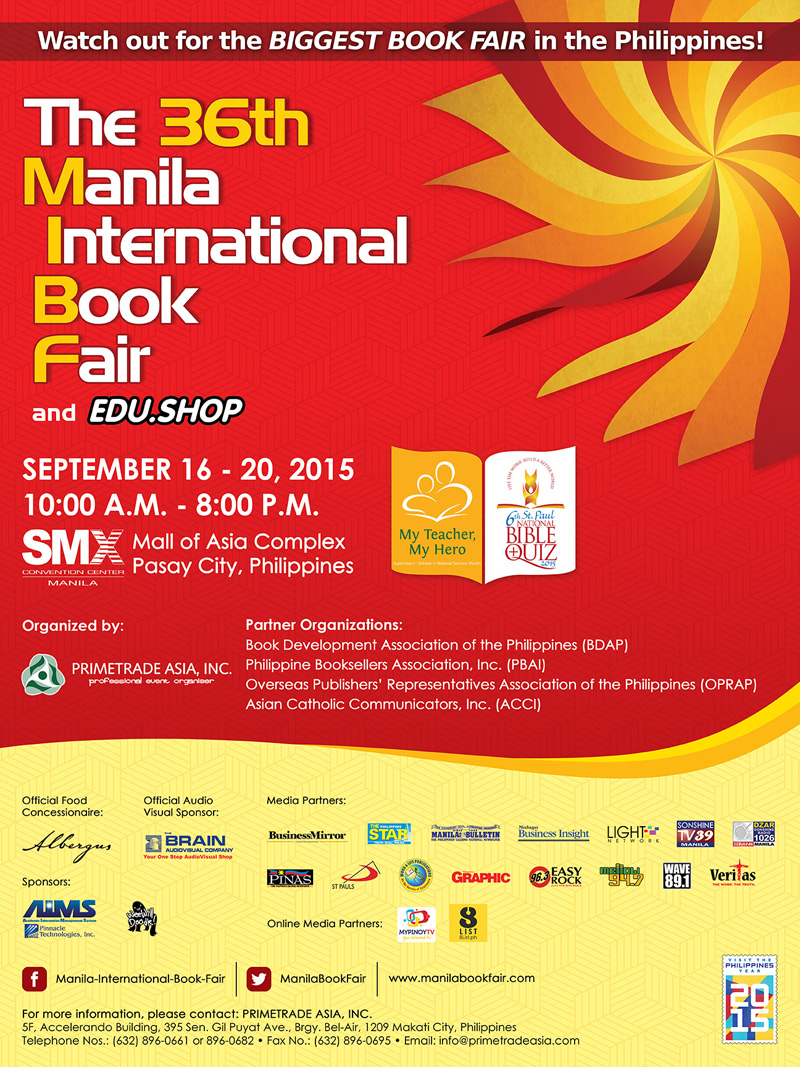 7 Obvious Reasons Why You Should Attend the 36th Manila International Book Fair 2015
Bookworms, rejoice!
Get ready the to empty your pockets because the boon of our existence and the cause of many sleepless nights reading is finally here. In less than a month, the 36th Manila International Book Fair will finally befall upon us. And us, mere mortals, will obviously flock to the event with our to-read list in hand.
From September 16 to 20, 2015, the 36th Manila International Book Fair will be held at SMX Convention Center, Pasay City. Organized by Primetrade Asia, Inc., in cooperation with Asian Catholic Communicators, Inc., Book Development Association of the Philippines, Philippine Booksellers Association, Inc., and the Overseas  Publishers Representatives Organization of the Philippines, the MIBF brings Christmas a few months earlier to book lovers.
It's the biggest book fair in the country, and that alone is enough for this to be such a big deal for every bibliophile breathing.
1. The event aims to spread the love for reading, which is coincidentally your goal in life, too.
Not all your friends will understand your passionate love for books, so to join an event where majority of the people share the same interest can be exhilarating. An estimate of 100,000 visitors flock the five-day event, and with these hundred thousand visitors, you promote the love for reading.
2. More than 200 exhibitors are joining the event.
From bestselling novels to textbooks to graphic novels to religious publications, there's something for everyone at MIBF. With over 200 exhibitors and more than 400 booths to explore, there are plenty of options to choose from. (For the full list of exhibitors, click here.)
(Photo credit: http://chiisai-hope.tumblr.com)
3. Geek out over fan signings, book launches and other literary events.
The five-day event will be packed with seminars, workshops, and meet-ups that choosing just one activity to participate in will be close to impossible. Sit and learn by attending the Gabay Saysay: Basic Tour Guiding for Local History on September 16 and National Book Store's Solving Math Word Problems Quickly and Effectively on September 19. Participate in Vibal's Chikiting Books Storytelling Session on September 17 or Precious Pages Corp.'s Lampara Story Writing Workshop. How about joining the Annual Wattpad MeetUp on September 20?
4. It's the gathering of the biggest bookworms in the country.
Of course you should be there to witness happenings during the event. Be it as simple as book hoarding or attending book launches, you'll be with your people, who also live and breathe the stories that fill up your soul.
5. Promos, discounts, and freebies abound!
With hundreds of exhibitors joining the event, you'll have no time to think which stores offer the best discounts. While the standard discount can range from 10 to 30%, you can get up to 80% discount on books from generous booksellers. Yes, 80%! How can you think of missing out on this event?
6. MIBF will also host two co-located events for tech geeks and anime nerds.
SMX becomes the place to be that week as MIBF hosts two more co-located events. Digitech Manila Conference and Expo will take place on Sept. 17-18, while anime lovers have the time to marvel at the Best of Anime even from Sept. 19 to 20.
7. Because books, duh.
You don't even need seven reasons. You just hear "book fair" and you're ready to go.
(Photo credit: librariesinmotion.tumblr.com)
For more information, check out the official website at http://manilabookfair.com. Don't forget to follow them on Facebook and Twitter, too!
Jane Galvez is a ditzy daydreamer and wannabe writer from Makati. She enjoys good sci-fi and cheesy YA. You can read more of her musings on Oh My Janey. She's also a self-professed fangirl. She rants over here.