8 Fab Clothing Picks for Women this Summer
It's the month of April again and it only means one thing: summertime! Most people wait for this season to come because it's the ideal time to finally go on a vacation with family or friends and simply relax. Also, this is the perfect moment to hit the beach or have a time off from work and school.
The scorching heat of the sun can be truly annoying and irritating. This is the main reason why summer is meant to be spent at the beach while basking under the sun. However, not everyone wants to go to the beach and take a dip in the sea. You can still have the time of your life somewhere else while enjoying the heat with your loved ones.
Wherever you plan to go this summer, it is important that you wear fashionable yet comfortable clothes. Hence, here are some stylish summer clothes for all the ladies out there. These clothes are perfect for the hot Philippine weather:

Plain Shirt
You can never go wrong with a plain shirt wherever you go, especially during this hot season. It is one of the basic clothes that you can wear comfortably and it goes well with almost anything.
Romper
Kill everyone with style by dressing in your chic romper. There are various styles and designs of romper available and it's up to you to choose what pleases you.

Floral Dress/Skirt
It's about time to sport your girly side by dressing up with a flowy floral maxi dress or skirt. This outfit is perfect when you're at the beach or simply having a stroll somewhere.
Cropped Top
Go casual by wearing a cropped top and pairing it with your favorite shorts, jeans, or skirt. It's summer anyway, so there's nothing to worry about exposing a bit of your skin!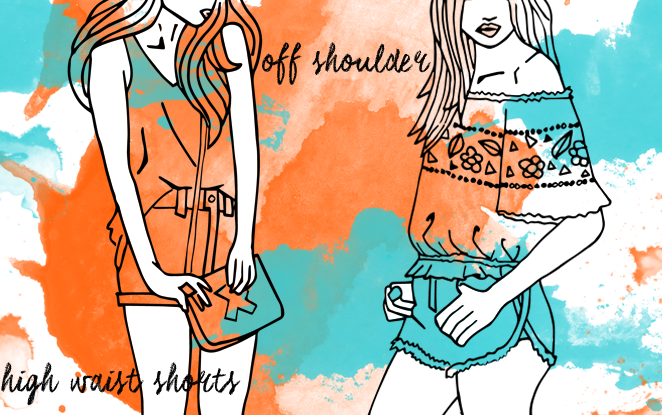 High-Waist Shorts
Show off your beautiful legs this summer by putting on your denim or black high-waisted shorts. A pair of this shorts should definitely be included in your summer wardrobe.
Off the Shoulder Top
Reveal your sexy shoulders by donning a trendy off the shoulder top. Team it up with well-fitted bottom and you're good to go!

Side-Slit Tunic
Bring out that edgy look of yours by sporting a side-slit tunic either partnered with shorts, leggings, or pants. This will certainly make you look summer-ready!
Jumper
Old-fashioned it might be, but overalls or jumpers are still a thing these days. Whether it's a jumper pants or shorts, you can rock your summer by wearing this trendy 90's outfit.
So, make sure these sleek and comfy clothing pieces are in your closet now. Simply learn how to mix and match your clothes and you'll surely become a show-stopper either at the beach, park, or anywhere you go this summer.
 Summer is here! Is your wardrobe ready?
Eunise is a full-time writer and an occasional traveler. She loves trying out exciting things and likes her coffee hot and black. Follow her on Instagram and Twitter!