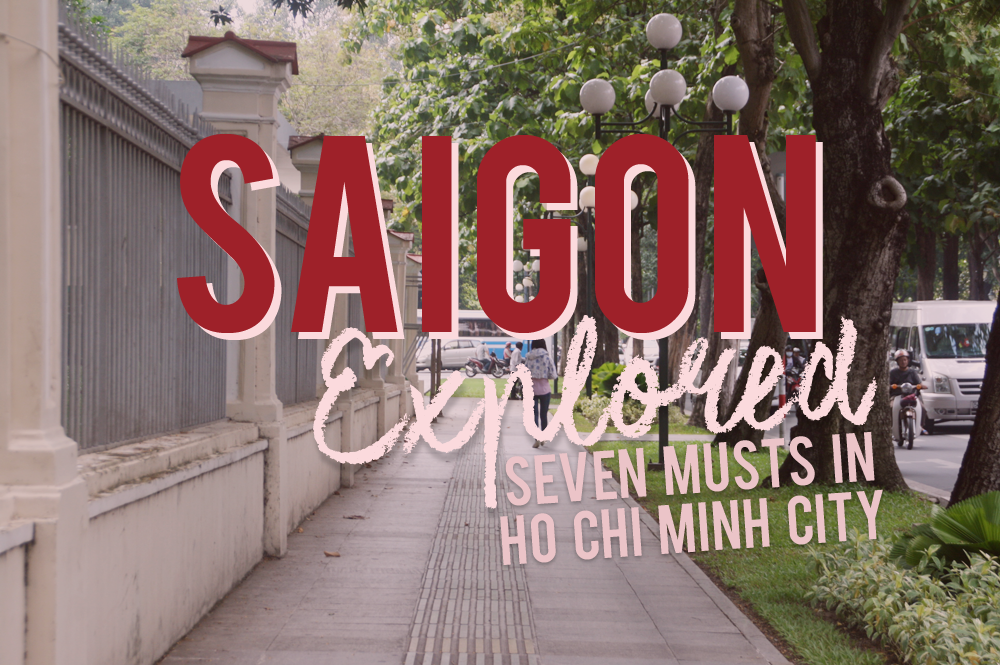 Saigon Explored: 7 Musts in Ho Chi Minh City
If it weren't for the different language and abundance of motorbikes, it's easy to mistake you're back here in Manila when visiting Ho Chi Minh City. But a walk down a narrow street filled with local restaurants selling pho, banh mi and spring rolls, you'll witness a city filled with refreshing and unique sites.
You don't need a big budget to see the best of the Ho Chi Minh. In fact, for less than a thousand pesos a day, you can able to explore the most amazing things Saigon has to offer.
1. Go on a food trip adventure
In recent years, Vietnamese food has been all the rave of foodies everywhere. This article isn't enough to list everything you need to try when you go to Ho Chi Minh. Suffice to say, pho is something you shouldn't miss. Try Pho Quynh located in the backpacker district for a pho, served with a delicious broth and beef that melts in your mouth. Also, don't miss the Lunch Lady, whom Anthony Bourdain featured in No Reservation.
Other recommended Vietnamese food are Bún Bò Huế (a spicy variation of pho), Bun Cha (grilled pork and vermicelli noodles), Banh Mi (Vietnamese sandwich), and Gỏi cuốn (spring rolls). For dessert, go for Che, a sweet beverage or pudding.
When looking for places to eat, restaurants that offer only one item on the menu is the way to go. It usually means that they have years of experience in perfecting the dish that you can't go wrong when you order it.
2. Drink Vietnamese coffee
No visit to Vietnam is complete without trying their coffee. As the second largest exporter of coffee in the world, you can see cafes everywhere you look. Be it a street-side store or a cafe chain, their coffee tastes great! Try the iced coffee or Ca phe da, a dark roast coffee brewed with a French drip filter and mixed with condensed milk, during mid-day to fight off the heat. For as little as 12,000 VND, you can already drink this heavenly concoction.
3. Watch the A O Show at the Opera House
For a more cultural appreciation, watch the A O Show directed by Tuan Le, a performer who has graced stages in Saigon, New York, Berlin and Germany. The former Cirque de Soleil circus performer crafted a show that has deep roots in Vietnamese tradition and culture. A theatrical performance with no script but only uses music and acrobatics, A O Show creatively fuses art and Vietnamese culture. Through dance and stunts, the performers uses traditional everyday items such as bamboos and basket boats. There are moments when you'd feel like you're watching a magic show, as all the performers seem to float in mid-air.
4. Hang out at one of the parks at night
There are numerous parks scattered around the city. Going for a nighttime stroll in one of the parks is a great way to do people-watching. It's also a good time to try their street food since there are tons of street vendors selling food.
At night, parks come alive as this is the time where you see people playing badminton and parents bringing their kids to the playground. According to a tour guide, Vietnamese live in cramped houses with a number of families. So to avoid the stifling rooms, they enjoy hanging out outside.
5. Haggle like crazy at the Ben Thanh market
The Ben Thanh market opens from the morning till around 6PM. When darkness falls, the street market comes alive. Here's where you can buy pasalubong for your friends and family. If you love their coffee, you can buy your own French drip and ground coffee. Also, make sure to try the halal iced coffee they sell in the market. You can haggle when shopping, but be careful since the sellers can be pretty aggressive.
6. Sign up for a free walking tour with Saigon Hotpot
College students who want to improve their English formed Saigon Hotpot to tour travelers in their home. They offer a variety of tours and even let you experience a traditional Vietnamese meal. And yes, they don't ask for any payment. You only need to pay for you and your tour guide's entrance fee and travel allowance.
By simply booking through email, they can inform you if they're available and pick you up at the hotel on your specified date. Though they do it free of charge, make sure to give them a token of appreciation such as snacks from our home country for their efforts. They also accept donations to their charity, but personal payment or tips aren't accepted.
7. Take a day tour to Cu Chi Tunnels
Located at the outskirts of Ho Chi Minh City, a trip to the Cu Chi Tunnels can be more educational than all your Vietnam War museum visits combined. Here, you'll be shown the different kinds of booby traps during the war, and the tour guide will walk you through the daily lives of the Vietnamese who lived underground. At the end of the tour, you'll also have the chance to walk through a 100-meter tunnel, which was stifling but worth every squat.
Three days are more than enough to tour around Ho Chi Minh and have a delicious taste of their delicacies. With a minimum budget, Saigon is yours to explore.
Do you have other Ho Chi Minh recommendations? Share them in the comment section below!