8 Official Movie Trailers of Metro Manila Film Festival 2014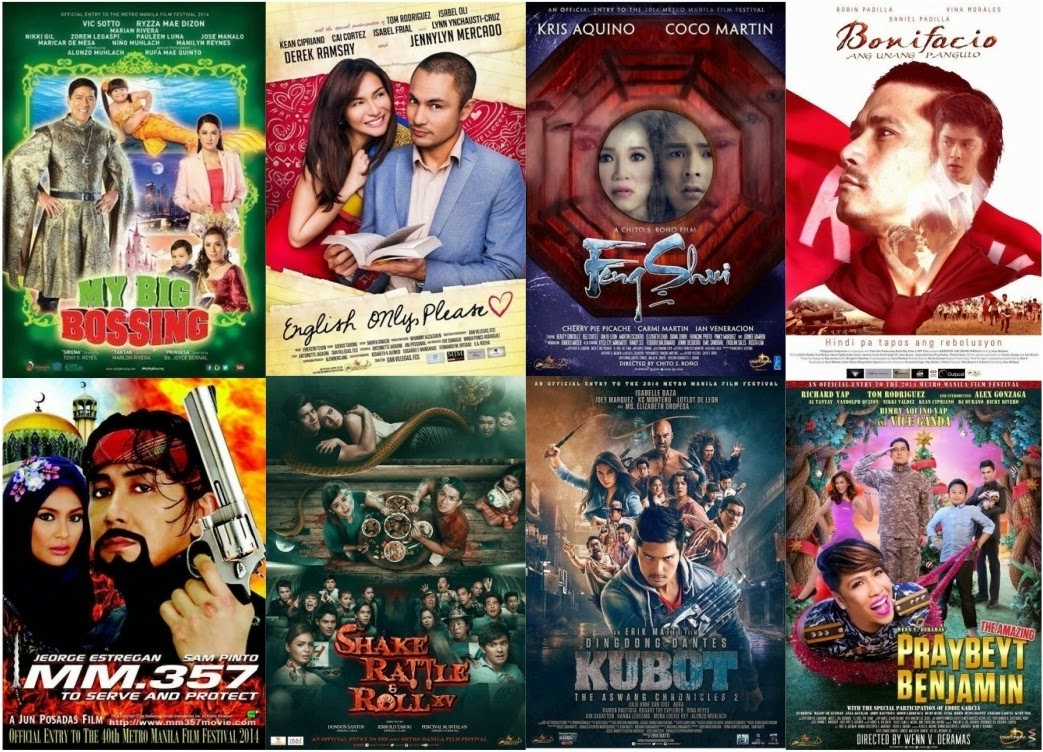 Metro Manila Film Festival (MMFF) has been a huge part of every Filipino families' holiday celebration. It has offered us a variety of local movies since 1975, and has given some of the most critically acclaimed movies like Ganito Kami Noon, Paano kayo Ngayon (1976), Burlesk Queen (1977), Himala (1982), Markova: Comfort Gay (2000) and many more.
Yearly, Filipinos flock in the cinemas to watch what local artists can offer. Even if that means watching badly directed movies, or obviously miscast actors. The thing is, MMFF is not just a celebration of Filipino movie industry, but also a perfect time for families to gather and enjoy being together during the Christmas season.
This year, MMFF entries are full of sequels and reboots of previously successful movies. Nonetheless, all the movies stepped-up their game to impress the movie goers.
Check out the competing movies this MMFF 2014:
Bonifacio: Ang Unang Pangulo
Director:Enzo Williams
Starring: Robin Padilla, Vina Morales, Daniel Padilla, Eddie Garcia, Jasmine Curtis-Smith
The movie tells the story of a Filipino revolutionary, Andres Bonifacio, through the point of view of a student reporting during his class. The movie obviously defies what our history teachers have taught us; so, it is quite intriguing how the movie will depict this hero. Period dramas are a breath of fresh air for the MMFF but it's known to perform poorly in the box office. Hopefully, Padilla's success in last year's 10000 hours will be emulated this year.
English Only, Please
Director: Dan Villegas
Starring: Jennylyn Mercado, Derek Ramsay
Everyone seems excited with this movie, who wouldn't be? The trailer alone already makes people want to hit the cinemas. The movie tells the story of a foreigner who hires a Filipino English-teacher, whom she eventually fell in love with. The story and the script are elements of a successful rom-com, but with Anj Pessumal and Antoinette Jadaone penning the script, this film will be more than just your typical formulaic movie.
Feng Shui 2
Director: Chito Roño
Starring: Kris Aquino, Coco Martin, Cherry Pie Picache
The movie resolves around a thief who unsuspectingly took a cursed bagua that made him very lucky, in exchange of the lives of the people he loves. It took 10 years before this sequel was produced, and for those who've seen the first movie, this is definitely a must see. The movie puts an end to the death cause by the, now iconic, ghost of Lotus feet.
Kubot: The Aswang Chronicles 2
Director: Erik Matti
Starring: Dingdong Dantes, Benjie Paras, Isabelle Daza,
Another sequel movie featured this year, Kubot: The Aswang Chronicles 2 tells the story of Makoy and her family after they escaped the tiktik on the previous movie. Now, they are faced with greater threats as a result of what they did. This time, the movie is set outside of a green chroma key; hence the director had more options to play with production. This is evident in the cinematic light and production design that makes the city look gritty beautiful. The movie is a must watch for people who loves action, comedy, and horror.
Magnum Muslim .357
Director: Francis 'Jun' Posadas
Starring: ER Ejercito, Sam Pinto
What's an MMFF without an action movie top-billed by ER Ejercito? No matter how bad his movie posters are, and how people see him as a miscast, the movie he produces for the festival has always been highly acclaimed by critics. This year he portrays an undercover cop in search of a kidnapped princess. It is exciting to see ER's take on this classic Fernando Poe Jr. action movie.
My Big Bossing
Director: Joyce Bernal, Marlon Rivera, Tony Reyes
Starring: Ryzza Mae Dizon, Vic Sotto, Marian Rivera
Another year, another MMFF movie for Vic Sotto. Why not? It is a family friendly movie, which everyone can enjoy – especially the kids! My Big Bossing is a follow up to last year's My Little Bossings. Ryzza Mae is natural in comedy that is why everyone seems to love her. And with the help of Vic Sotto and Marian Rivera, this movie will definitely be another box office.
Praybeyt Benjamin 2
Director: Wenn Deramas
Starring: Vice Ganda, Richard Yap, Roderick Paulate, Bimby Aquino-Yap
Following the success of the 2011 comedy movie, Vice Ganda is back again as the most fabulous soldier in the country. This time, he was demoted to a personal security officer to a high ranking official. Vice Ganda is a money-raker, think of I Love You Mare and Sisterakas, so it is not surprising if this movie will be one of the most watched movies this season. Plus, there's Richard Yap and Bimby to attract more hoards of viewers.
Shake, Rattle & Roll XV
Director: Jerrold Tarog, Dondon Santos, Perci Intalan
Starring: Dennis Trillo, Carla Abellana, Matteo Guidicelli, JC De Vera, Erich Gonzales, Lovi Poe
Apparently, the people behind Shake, Rattle & Roll thinks that MMFF will never be complete without them, so they decided to produce yet another Shake, Rattle & Roll film. This year, the horror anthology will feature a story about a famous urban legend about a twin snake, a maid that makes monsters out of the food she serves, and a dreadful encounter with a tiyanak aboard a flying plane. The intriguing stories will definitely attract a lot of movie watchers.
Invite your friend and family and watch these movies. MMFF movies will run from December 25, 2014 until January 8, 2015 in all cinemas nationwide.
Which film do you think will perform better this Christmas? What movies are you going to watch?
Kimpy Olivar is a dreamer. He dreams of being a writer, artist, dancer, teacher, scientist, billionaire, philanthropist and more. He loves to think that he is deep, funny and cool, but often it is the opposite. Given the chance, he would like to build a time machine to unveil the secrets of the world.