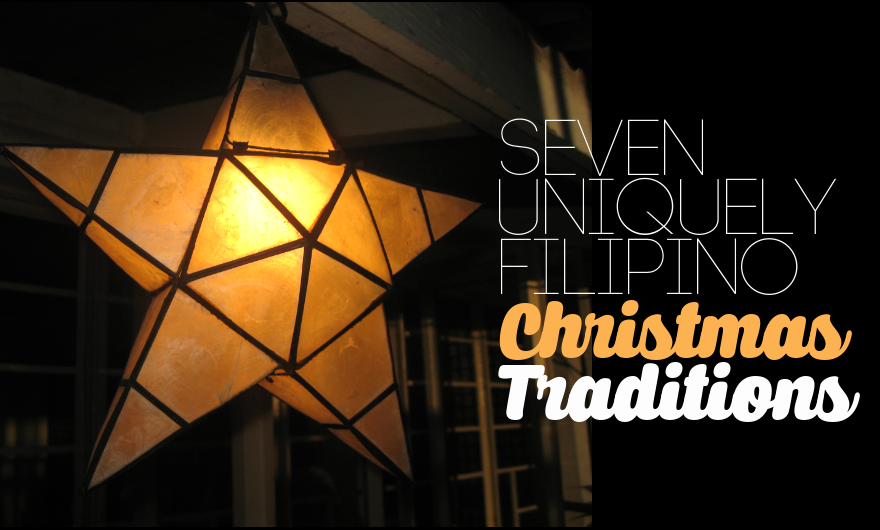 7 Uniquely Filipino Christmas Traditions
Soon, malls will be open later than usual to cater eager shoppers buying gifts for everyone. Office will be holding parties left and right, and adults and children alike will start buying clothes and presents for the most festive day of the year.
Filipino Christmas will soon be here, and even though we started the countdown months ago, the excitement for the season increases as we enter the month of December. It's the busiest, most hectic part of the year, and it's okay, because it's difficult to be on a sour mood when everything's so joyful.
Though it's a holiday celebrated in all corners of the world, some traditions are uniquely Filipino. Our Christian roots, meshed with our culture, have embraced and transformed the holiday into something we can definitely call ours.
1. The season starts as early as September
The Ber months, as we like to call it, is the start of the colder season in the country. Though we don't experience a white Christmas, a light night breeze and a drop in temperature mid-day are very much welcome. Here, we begin counting down till most Filipinos' favorite holiday, and people start taking out their Christmas decorations. As early as September, we're already blasting carols on our stereo.
There aren't that many (or almost none at all) festive holidays from the start of September onwards, so it's understandable why Pinoys can't help but anticipate Christmas this early.
2. Completing the Simbang Gabi is in almost everyone's bucket list
It's considered an accomplishment if you manage to complete the Simbang Gabi, and if you finally do, you think you deserve to make a wish.
For nine days straight, Filipinos wake up before the crack of dawn to attend the mass in preparation for Christmas. And of course, it won't be complete without eating puto bumbong and bibingka after the mass.
3. Kids go from house to house asking for aginaldo
We all have our godfathers and godmothers, and as kids, we anticipated what we would receive for Christmas. Be it some cash we could use to buy candies from the nearby sari-sari store or a toy we wanted for the longest time—we appreciate it all the same time. But many kids don't stop there. On Christmas day, they go from house after another, asking neighbors and family friends for more aginaldo. Kids can receive as little as five pesos and still walk away happy.
As adults, we can't help but pray for an aginaldo from our employers.
4. Noche Buena is often the highlight of Christmas
Once you get older, Christmas day isn't as fun because it's no longer apt to ask for aginaldo from your ninong and ninang. However, Noche Buena becomes a lot more fun, especially now that you're actually allowed to stay up later than dinner!
Food prepared during Noche Buena differ from one family to another, but ham is never missed. Be it a gift from the office or from a friend, pre-Christmas dinner is definitely not complete without the ham.
5. The Monito-Monita tradition in every Christmas party
While other countries have their Secret Santa, Filipinos have their Kris Kringle or Monito-Monita. Exchanging of gifts in school and the office is a must every Christmas. The Kris Kringle just makes it different from others, because it's a weekly giving of small gifts with special themes. From the simple one (something red) to the double-meaning themes (something hairy), Kris Kringle takes place in almost every office. For those who don't have enough time to buy gifts every week, they settle on a single exchange gift during the Christmas party.
6. The Belen is part of Christmas decorations in a Filipino household
Around Christmas time, churches and schools will re-enact Mary and Joseph's search for a place to stay and the birth of Jesus Christ (panunuluyan). While Filipino households don't hold their own reenactment, they include the Belen in their holiday decorations. Often, it's placed under the Christmas tree or displayed prominently on a table.
The Belen depicts the nativity scene of Jesus Christ in Bethlehem. Some extravagant Belen's even has a complete set of shepherds, magis, and an angel.
7. The Christmas extends till January
The Christmas tree stays up for as long as possible. That's why New Year's Day still feels like Christmas. The official end of the season in the country is the Feast of the Santo Niño on the third Sunday of January. From Christmas till then, Filipinos also celebrate Niños Inocentes (Filipinos' version of April Fool's Day), New Year's Eve, Three King's Day, and Feast of the Black Nazarene.
Considering that our Christmas starts in September, we celebrate the season for five months—almost half a year!
Filipino Christmas may sometimes feel like in the middle of summer. We neither have snow nor mistletoe. All our Christmas trees are plastic and store-bought. Still, there's no point denying we always have a jolly Christmas. This is why Filipinos the world over still say to this day, "Iba ang Pasko sa Pinas."
Jane Galvez is a ditzy daydreamer and wannabe writer from Makati. She enjoys good sci-fi and cheesy YA. You can read more of her musings on Oh My Janey. She's also a self-professed fangirl. She rants over here.