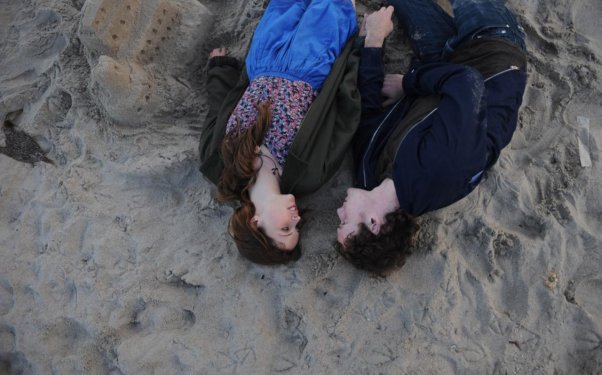 Ouch: 13 Essential Breakup Movies for the Lonely Hearts
(Photo credit: AMCNetworks.com)
Breakup is a noun that refers to an ending of a relationship. Usually, it occurs on marriages and boyfriend/girlfriend or same-sex relationships. It's a word that mostly related to love, depression, rebound, dumped, and even sex. It's an occasion when two people have to let each other go because of various reasons and circumstances.
Not only breakup happens on committed relationship. It also refers to stop going out with somebody. Ceasing whatever is happening between two people who are in the process of getting to know each other can be the most disastrous thing to experience.
Breakup also entails cheating and infidelity. Some of the worst stories of couple splitting up involve third party. No matter how justified the reasons are, cheating is still bad and the other party get hurt.
Probably the worst possible breakup comes from one-sided love affair where one gives almost everything — time, money, effort, plans — and the other one is experimenting, enjoying and non-committal.
1. Annie Hall (1977. Woody Allen)
(Photo credit: darkpassenger.tumblr.com)
Dubbed as one of the best comedies of all time that talks about love and breakup. It's funny, sweet, sentimental, and silly all at the same time.
Comedian Alvy Singer (Woody Allen) ponders on the rise and fall of his relationship with struggling nightclub singer Annie Hall (Diane Keaton). Singer speaks directly to the audience in front of a bare background. Singer tells how how he and Annie met, fell in love, and struggled with the obstacles of modern romance, mixing surreal fantasy sequences with small moments of emotional drama.
2. Chungking Express (1994. Wong Kar Wai)
(Photo credit: Imgur)
With its 8.1 rating on IMDB and 90 percent at RottenTomatoes.com, and garnering 11 nominations and 9 awards from different film festivals under its belt, Chungking Express is a must-watch movie on any given occasion. The movie uses a lot of splashes of motion and color to convey emotions.
Two melancholy Hong Kong policemen fall in love.
Cop 223 has broken up with his girlfriend of five years. To figure out if the relationship will still work or will expire on a given date, he buys a tin of pineapples with an expiration date of May 1 each day for a month. But after a night of his pineapple ritual, he met and fell in love with a drug-smuggler who is in hiding after shooting multiple street gang-members after a drug-operation goes south.
The second story involve Cop 663 who is also dealing with a breakup with his flight attendant girlfriend. He takes comfort in the coffee and conversation with a beautiful and ethereal server at a late-night restaurant he frequents.
3. High Fidelity (2000. Stephen Frears)
(Photo credit: lillimiette.tumblr.com)

Five breakups and counting? Yeah, that sounds bad!
After Laura (Iben Hjejle) walks out on him, Rob (John Cusack), a depressed record store owner, recounts his past breakups. At the same time, he begins to move forward into adulthood, which is 20 years too late. Rob wallows in self-pity and insecurity and analyzes the top five major breakups of his life to figure out the pattern on why his relationships are doomed to end in failure.
4. Eternal Sunshine of the Spotless Mind (2004. Michel Gondry)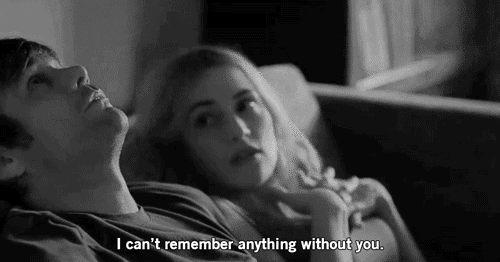 (Photo credit: Giphy)
When one asks for a recommended breakup movies, Eternal Sunshine is on the spot.
Joel (Jim Carrey) is stunned to discover that his girlfriend Clementine (Kate Winslet) has had her memories of their stormy relationship erased. Disarmed, Joel decides to then erase Clementine from his memory as well. But as the memories revert closer and closer to their first meeting, he starts to rediscover his love for Clementine. Joel finds out that not all memories are bad and it's essential to hold onto them, even when they're bittersweet.
5. Closer (2004. Mike Nichols)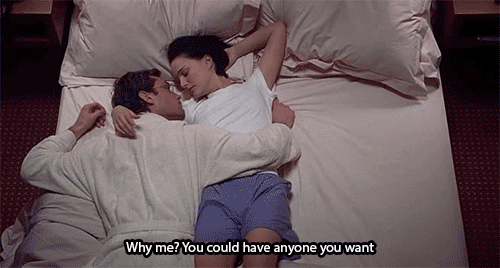 (Photo credit: Giphy)
Julia Roberts, Jude Law, Natalie Portman, and Clive Owen as the lead characters, you can't go wrong with the complicated and deceitful story of people in love.
Closer revolves around four characters. The carefree, but vulnerable young Alice, fresh in from New York where she worked as a stripper, bumps into Dan (Jude Law), an obituary writer and aspiring novelist. Their ensuing relationship comes unstuck when Dan encounters the more sophisticated, self-assured photographer Anna (Julia Roberts). Unintentionally, Dan introduces Anna to the arrogant, manipulative dermatologist Larry (Clive Owen). All four then become embroiled in a ruthless chaos of emotions and torn alliances, fatefully confused as love.
6. The Break-Up (2006. Peyton Reed)
(Photo credit: Giphy)
Breaking up with a Jennifer Aniston could be the worst thing you'll ever do. Have you seen this movie? No? It's time to get a copy and see Aniston naked.
When Brooke (Jennifer Aniston), an art dealer, and Gary (Vince Vaughn), a tour-bus driver, finally shared a condo unit together, problems like paying mortgage rise. Because of their situation, they realize that they're going to have to keep living together under the same roof as hostile roommates.
7. (500) Days of Summer (2009. Marc Webb)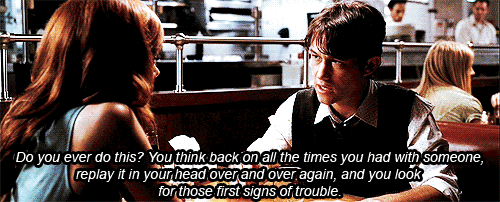 (Photo credit: Giphy)
Probably one of the best movies that tells what it feels like to be in a one-sided affair.
(500) Days of Summer is told from the viewpoint of Tom Hansen (Joseph Gordon-Levitt), who falls in love with Summer Finn (Zooey Deschanel), an administrative assistant for his boss. Summer is the girl-next-door type — cute, sweet, and a little quirky. BUT she doesn't believe in love and this becomes Tom's problem. Summer wants to enjoy the experience, have a great time, without the burden of commitment and the emotion of love. She believes that love just leads to hurt feelings and nobody wants that.
8. Breaking Upwards (2009. Daryl Wein)
(Photo credit: apathyslastkiss.tumblr.com)
This one's probably one of the best mumblecore films (a subgenre of independent film using nonprofessionals to depict mundane post-college or early adult existence) you will enjoy watching.
New York City twenty-somethings Daryl (Daryl Wein) and Zoe (Zoe Lister-Jones) love each other but are bored silly after fours of being together; the sex is rote, the daily routines irritating. Instead of breaking up bitterly, they agree to part ways slowly, by taking "days off" from their relationship before eventually beginning to see other people.
9. Like Crazy (2011. Drake Doremus)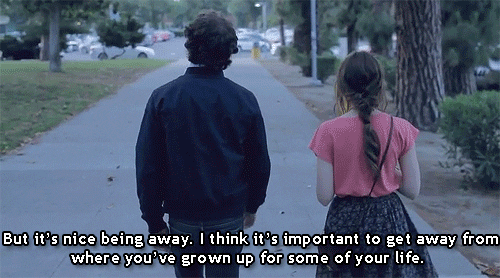 (Photo credit: Giphy)
Felicity Jones is such an eye candy!
Anna (Felicity Jones) and Jacob (Anton Yelchin) are two college students in Los Angeles who quickly become smitten with each other. As a citizen of the United Kingdom, Anna struggles to leave Jacob when her term abroad ends, and chooses to overstay her visa instead. Eventually, she return to U.K. but then is denied reentry to the United States because of the violation. Meanwhile, Jacob's thriving furniture business in the States prohibits him from moving to England.
10. Ligo Na U, Lapit Na Me (2011. Erick C. Salud)
(Photo credit: pelikula.tumblr.com)
The movie is told from Intoy's perspective with a lot of humor that comes from his ideologies, remarks on different issues, and his struggles with his appearance and financial status.
Intoy (Edgar Allan Guzman), a college student, falls in love with his classmate and friend-with-benefits Jenny (Mercedes Cabral). Together, they deal with the ups and downs of college life and complications brought about by their relationship.
11. Begin Again (2013. John Carney)
(Photo credit: knightleyfans.tumblr.com)
This one displays how two lost souls are able to meet and make beautiful music together.
Dan (Mark Ruffalo), a record label executive who hasn't broken an act in seven years, has pawned his Grammy Awards and split from his wife and teenage daughter (Catherine Keener and Hailee Steinfeld). Gretta (Keira Knightley) and her long-time boyfriend Dave (Adam Levine) are college sweethearts and songwriting partners who decamp for New York when he lands a deal with a major label.But the trappings of his new-found fame soon tempt Dave to stray, and a reeling, lovelorn Gretta is left on her own.
Dan and Greta meet at a downtown New York and starts business relationship and then a warmth friendship.
12. Drinking Buddies (2013. Joe Swanberg)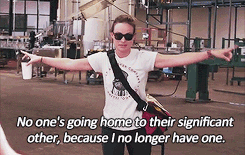 (Photo credit: Giphy)
One sure thing why one should see this movie: Olivia Wilde!
Luke (Jake Johnson) works alongside Kate (Olivia Wilde) at a microbrewery. The two have obvious chemistry; can banter with the best of them; share a laid-back, fun-loving disposition; and easily make one another laugh. However, both of them are already in committed relationships. Luke is with marriage-minded girlfriend Jill (Anna Kendrick) and Kate's boyfriend Chris (Ron Livingston), who somehow is totally opposite of her.
13. The Disappearance of Eleanor Rigby — Him, Her and Them (2013/2014. Ned Benson)
(Photo credit: mcavoys.tumblr.com)
Every breakup story has three sides: yours, theirs, and the truth.
Eleanor Rigby (Jessica Chastain) and Connor Ludlow (James McAvoy) – meeting, falling in love, and struggling to hold onto what they once had. In each movie, the characters share the screen in only a few scenes. Most of Him is about Connor. In Her, Eleanor spends time at her childhood home trying not to talk about the breakup and the reason behind it. Them is the combination of subplots of Him and Her.
Honorable mentions: She-Devil (1989), White (1994), Sliding Doors (1998), Great Expectations (1998), Someone Like You (2001), Rid of Me (2011), Lola Versus (2012).
What's your favorite breakup movie of all-time? Let's talk about it on the comment section.