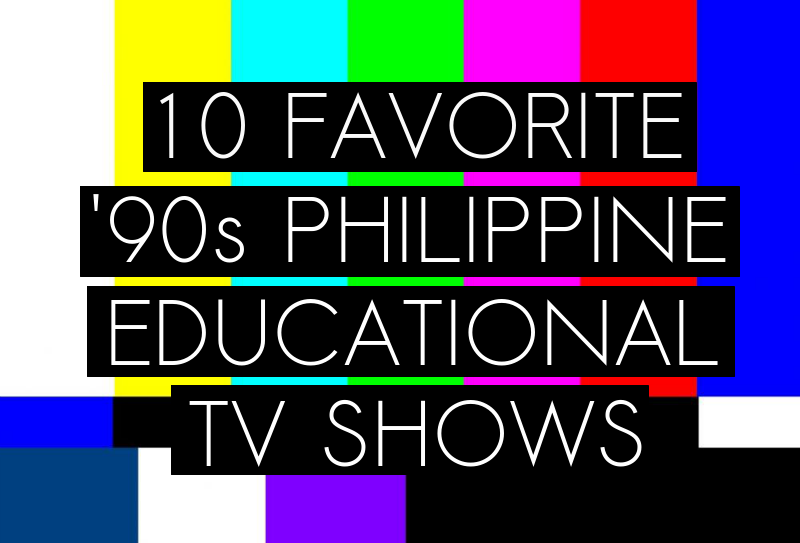 10 Favorite '90s Philippine Educational TV Shows
Growing up in the metro, television has become my best friend. When I was a kid not yet attending school, watching TV was one of my favorite past-times and until now I still practice this habit. Some may say I had a boring childhood because all I do is stay at home and watch TV. But you know what, it's not boring at all. Thanks to child-oriented educational TV shows because I enjoyed every moment of my childhood very much.
Before kids became addicted to morning and afternoon cartoons and before cable channels—Cartoon Network, Disney Channel, and Nickelodeon—arrive in the country, Filipino educational shows are the most watched programs during the '90s. Inspired by Sesame Street, the big TV stations namely ABS-CBN and GMA with the cooperation of DepEd developed their own version of educational television (ETV) programs catered to young audiences.
Let's all get nostalgic and reminisce every ETV program that molded our values, morals, and imagination when we were kids. Here's a collection of ETV programs that will bring back your most treasured childhood memories.
1. Batibot
The Filipino version of Sesame Street is popularly known as "Batibot". Every morning I would wake up early just to see Kuya Bodjie, KoKo, Kiko Matsing, Pong Pagong, Ningning, Gingging and other characters on the TV screen. Hearing the theme song will surely bring back your old childhood days. The storytelling segment is one of my favorites. I don't think my childhood will ever be complete without watching this classic children's program.
2. Sineskwela
Sineskwela made a great contribution to kids in our generation. You will not only get entertained by its main characters such as Agatom, Anatom, Palikpik, Kulitsap, Ugatpuno, Kuya Bok, and Ate Winnie; but you will also love learning and discovering more about Science. Listening to the catchy OST of the show will make you sing along, too.
3. Hiraya Manawari
Another valuable and unforgettable etv programs in the '90s is Hiraya Manawari. These words mean "reach your dreams", and I just found out about it recently (lol). Anyways, this show is an education program that aims to instill moral values and teach the greatest life's lessons to children. Each episode features a Filipino short story that was creatively done and easy to understand by children. All the stories and adventures were truly inspirational, and it created a huge impact on young minds.
4. Bayani
Want to learn about Philippine history and our country's heroes? Join Ana and Noli (the main characters of the program including Lola, of course) as they traveled back in time and learned about the life of Filipino heroes like Jose Rizal, Andres Bonifacio, Marcelo Del Pilar, Melchora Aquino, etc. This show inspires and promotes nationalism and patriotism to young viewers.
5. Math Tinik
Mathematics, for some, is a difficult subject that is why most children don't like it much. But when Math Tinik aired on the morning line-up of ABS-CBN studying numbers, fractions, and decimals became more interesting and fun. Do you still remember how Charlie and Patricia enjoyed solving Math problems with the help of their Teacher, Miss Math Tinik?
6. Epol Apple
Bodjie Pascua, who plays the role of Luis, was one of the main characters of the show including the friendly horn bill, Porfirio. This program aims to develop the English language skills, reading, and writing of Filipino children. Other characters of the show are Grace, Rap-rap, Otep, and Kenneth.
7. Atbp – Awit, Titik, Bilang na Pambata
Awit, Titik, Bilang na Pambata or most known as Atbp (At Iba pa) is similar to Batibot. It also teaches children how to count, read, and sing a song about numbers and letters. Some of the characters of this program are Ate Remy, Mang Berting, Bb. Karunungan, Kuya Miguel, Pipo at Tingting, and Kapitan Bilang.
8. Pahina
This is the first ETV show that teaches about Philippine Literature. The format of this program is the same like Bayani but the target audiences are mostly high school students. This show aims to urge youth to appreciate Filipino literary works and become familiar with Filipino writers and poets. The main character, Francisco Baltazar, or popularly known as "Balt," was played by Carlo Aquino.
9. 5 and Up
5 and Up, a tele-magazine program hosted by a group of kid reporters whose ages range from 9-12 years old, features skits and various light documentaries that interest young audiences. The first episode of this show was aired in "The Probe Team," an investigative TV program. After receiving good feedback, they decided to make a spin-off of the "junior probe team" based on the original idea and they called it "5 and Up." Some of the kid reporters before are now popular personalities like Atom Araullo, Maxene Magalona, Chynna Ortaleza, Rayver Cruz, and Rodjun Cruz.
10. Wansapanataym
Wansapanataym is an award-winning fantasy-drama anthology first aired in 1997. It was a huge hit to all types of viewers because of the magical adventure and lesson-filled stories that it offers. The pilot episode of this show was entitled "Ang Mahiwagang Palasyo" starring Judy Ann Santos and the late, Rico Yan. Up to now, you can still watch Wansapantaym every Saturday evening.
You can still watch some of these ETV shows on Knowledge Channel, an educational cable channel.
What are your favorite ETV programs during your childhood days? Did we miss something? Share them below!
Jinky is a moody human being, an Asian & hollywood films/series buff, travel enthusiast, hopeless romantic gal, bookish, and a dreamer who has so many frustrations in life.