Things That Make Us Doubt the Philippines Is a Third World Country
Crazy politics have pulled the country down to the depths of the poverty. For years, the country has been experiencing intense political turmoil that leads to slow growth of the economy. Years ago, the country is considered the economic giant in South East Asia. Countries like South Korea lauded the country for its development. Despite picking up these past few years, many Filipinos are still below the poverty line, earning minimum wage while still living in illegal lands.
Every payday, you hear Filipinos complain how low their income is, but look at their fancy lifestyle and we can't help but scratch our head in wonder. Minimum wage workers owning the latest gadgets and middle-class office employees going on luxury trips every chance they get. One can't help but wonder how Filipinos can afford to follow quite a lavish lifestyle. It can either be due to good budgeting or simply mindless spending.
Sold-out concerts
Filipinos love every form of entertainment, particularly music. That is why many of us attend concerts of local and foreign artists. Month by month, these acts are sold out, despite expensive prices. Just imagine a 26,000 worth of ticket for a one day concert. That's an estimate of two month salary for a minimum wage earner in the Metro!
Last week, the tickets for One Direction's concert in the PH quickly sold out, pushing organizers to add a second date for the event. This shows that while many Filipinos struggle to pay for tuition, thousands can easily purchase a concert ticket.
Houses loaded with the latest appliances
A quick trip around the houses of informal settlers in the country, you will be surprised at how complete their appliances are. Flat screen televisions, air conditioning units, refrigerator, and computers—name it and they have it.
Malls everywhere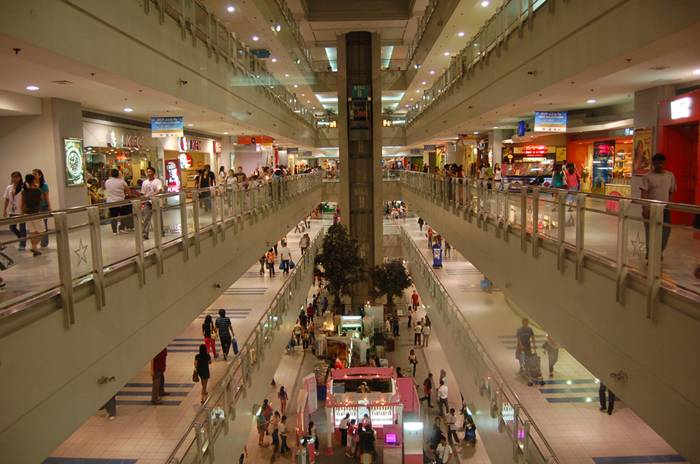 If the Guinness Book of World Records has to set a record for a country with most number of malls, Philippines might take the record. Metro Manila has so many malls, that you can actually go mall hopping in one district alone. If you can't find anything you want from one shopping mall, walk a few blocks and you might see it in its adjacent mall. Three shopping malls in Metro Manila—SM Mall of Asia, SM Megamall and SM North Edsa—are part of the top 10 biggest malls in the world.
Love for all things new
Consumerism is so strong in the country that people buy the latest items even if it washes away their savings. Imagine people camping outside a store to buy new smartphones, limited edition sneakers, or the latest game consoles. No wonder Bangko Sentral ng Pilipinas said that eight to 10 Filipino households don't have money for emergencies. Filipinos have been spending their saving on the latest items available in the market.
Condominiums in every corner of the metro
The beautiful skyline of Manila is starting to be filled with high-rise condominiums. Economists say that these constructions are indicators that the country is improving, but what we foresee are pollution, traffic congestion, and flood. These condominiums are so many, we doubt all the units will ever be sold. Try walking along a busy street anywhere in the metro and you can see a real estate agent brandishing flyers of recent condominium plans.
Obsession with food trends
If long queues in coffee shops, bars and restaurants around the country does not make you doubt that Filipinos may not be living in a 3rd world country, then look at the prices on the menu. If you ever tried buying these expensive foods, you are either so rich or just jumping onto the bandwagon
When the donut chain J.CO reached the Philippine shores on 2012, the lines were so long that people had to wait for hours just to buy their box of donuts. After 20 branches sprouting around the country, the lines still extend outside the stores.
Politicians' luxurious lifestyle
Luxury cars, luxury houses, luxury living, and luxury vacation—it seems like our political leaders, just like us, are in doubt that the country is a third world country. Maybe they see our taxes as their own money, that they are always seen gambling, driving expensive cars, traveling out of the country, and dining in fancy restaurants.  We won't mind them as long they pass a bill to give us tax exemption.
We admit, the article might sound a bit judgmental and generalized. However, these samples are based from our observations. There is nothing wrong with buying things you want, especially if it came from your hard earned money. There also nothing wrong with having an extravagant lifestyle, if you really are rich. We just can't help wonder, why would people always complain about their income, if they act as if they are in a first world nation?
(Image Source: Osmeb, ArnelPineda.Ning, Manilalife.Tistory, Daily Mail)
Kimpy Olivar is a dreamer. He dreams of being a writer, artist, dancer, teacher, scientist, billionaire, philanthropist and more. He loves to think that he is deep, funny and cool, but often it is the opposite. Given the chance, he would like to build a time machine to unveil the secrets of the world.