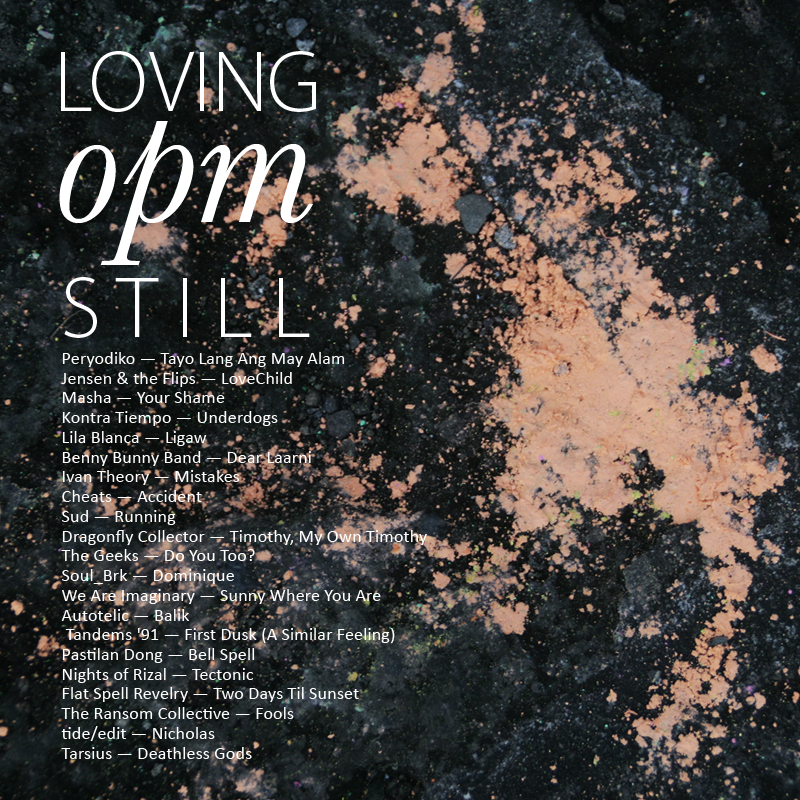 Monday Mixtape: Loving OPM Still
OPM is well and alive, and it continues to serve new sound for the delight of our fellowmen. It may not sound like the '90s, but it definitely set another standard for the Pinoy urban music. In our playlist, you can hear either beautifully combined instruments and digital mixes or poetically written lyrics with upbeat rhythm. All set for different mood and circumstances.
In this another edition of Monday Mixtape, we try to give you a variety of OPM flavor that may be part of your playlist. It's a combination of alternative rock, instrumental, movie soundtrack, indie and feel good music. The current local independent music scene tries to reach us through their craft. These local bands are persistent to make Filipino music survive.
Enough of the introduction, let's hear their music that will make your Monday easier to endure.
1. Peryodiko — Tayo Lang Ang May Alam
2. Jensen & the Flips — LoveChild
3. Masha — Your Shame
4. Kontra Tiempo — Underdogs
5. Lila Blanca — Ligaw
https://soundcloud.com/mikelila/ligaw
6. Benny Bunny Band — Dear Laarni
https://soundcloud.com/bennybunnyband/dear-laarni
7. Ivan Theory — Mistakes
8. Cheats — Accident
9. Sud — Running
10. Dragonfly Collector — Timothy, My Own Timothy
11. The Geeks — Do You Too?
12. Soul_Brk — Dominique
13. We Are Imaginary — Sunny Where You Are
14. Autotelic — Balik
15. Tandems '91 — First Dusk (A Similar Feeling)
16. Pastilan Dong — Bell Spell
17. Nights of Rizal — Tectonic
18. Flat ​Spell ​Revelry — Two Days Til Sunset
19. The Ransom Collective — Fools
20. tide/edit — Nicholas
21. Tarsius — Deathless Gods
So, any favorite local independent song? Share it with us!
Wandering mind. Exercising her feet sometimes for travel. Moderate coffee drinker. 90's music fan. Film enthusiast. Sleepy.