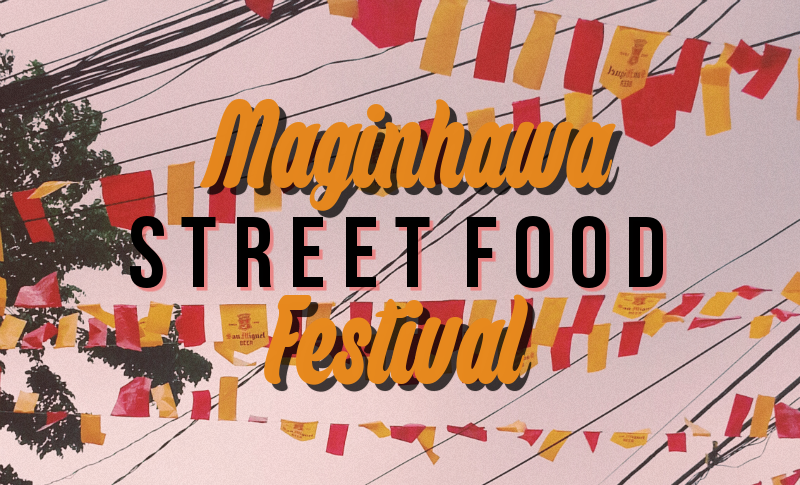 Maginhawa Street Food Festival
Maginhawa is often known as a foodie's heaven, and the Quezon City's government put that into good use with Saturday's Maginhawa Street Food Festival. It was part of the city celebration of its 75th anniversary jubilee, and other food festivals took place around the city at the same time.
Half of the team went all the way to Maginhawa so we could spend an entire day devouring pizzas, cupcakes, nachos and so much more. We arrived at around 1p.m., which wasn't the best since it was an incredibly hot Saturday. There were also food trucks offering delicacies from different countries. There were tons of free food tasting from dessert kiosks, which we adored.
Some were still setting their shops, but most of the restaurants and kiosks were already full. We were hungry so we just said that we'd eat wherever there were vacant seats. We chanced upon Box Rice and Indonyaki and though there were many diners, we grabbed an available table and set up camp.
Each of us ordered a ricebox from Box Rice, and pictured above is Seafood Alajillo (80PHP) which was a bit spicy, but I love it. We made a mistake of ordering a rice box each because it was filling! That's not the best way to go when you plan to spend an entire afternoon eating. We should have shared riceboxes so we wouldn't be too full.
We didn't plan to order the chicken at all, but most of the diners were munching on Indonyaki chicken. We ordered half an order of Ayam Goreng (120PHP) that's served with two sauces, spicy and sweet. I prefer the spicy, which was moderately spicy.
After a hearty lunch, we bought dirty ice cream to fight off the heat.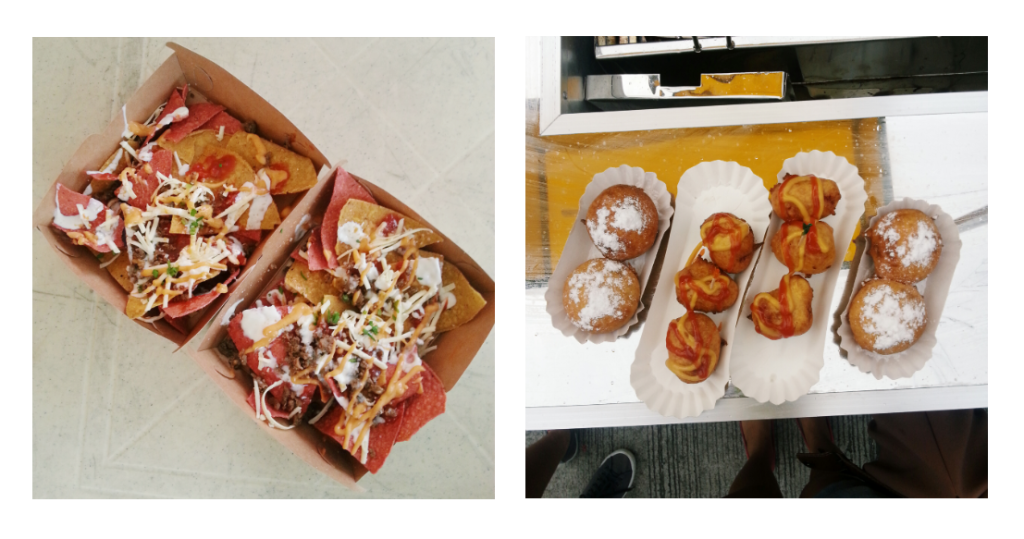 We met up with other friends, and that's when the real food trip begins!
We bought two orders of nachos (70PHP each) to be shared by six. A lot of kiosks sold nachos, but others sold it for 100PHP which was too much. To help wash down everything, we bought milk tea from Etcetera Milk Tea Shop. I tried the Almond Milk Tea, which tastes like Almond Milk Tea. Heh.
My favorite snack from the entire day is most definitely Stoner's Munchies to Go's mini corndogs (30PHP) and fried oreos (30PHP). I wish I ate more fried oreos, but then again, it's probably better that I didn't eat too much.
Our group lucked out when we chose Joreen's Express for our next (and for some, final) destination. It's located at the very end of the festival area, right next to the arc where the food festival banner can be found. The performances for the night were also performed right in front of our table. There were fire dancers and hula hoop dancers, and there were cameras! I wonder if we appeared on TV. We hope not.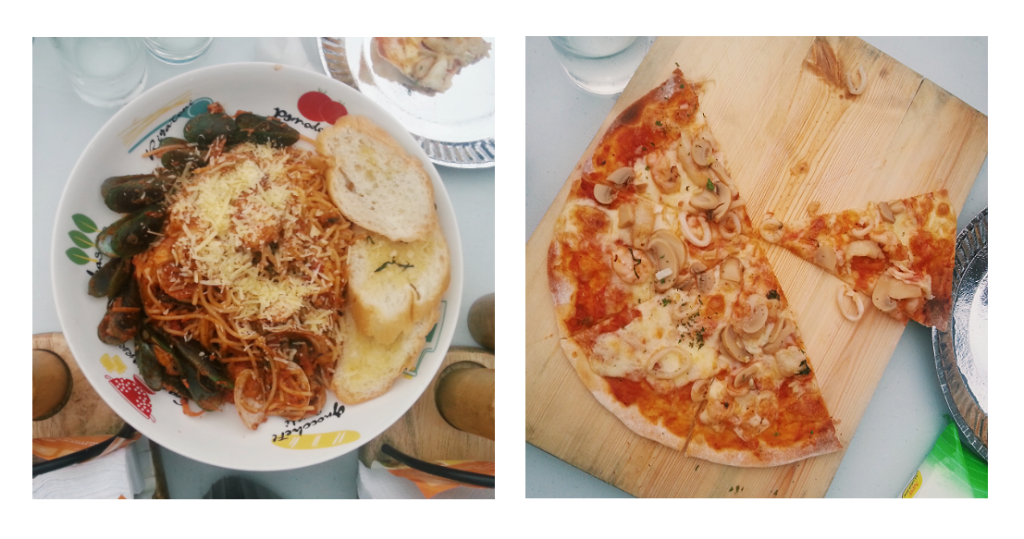 Pictured above are Joreen's Seafood Pasta and Seafood Pizza. I only tried the Seafood pizza, which was my favorite from the pizzas we ordered. Apparently the pasta's really good, too.

Our two other orders were Longaniza and Garlic Pizza, which I didn't try because I don't eat Longaniza, and Sisig Pizza, which could have been better if we ate it immediately instead of waiting around after the performance. The sisig toppings were a bit hard to chew after the pizza cooled down.
We had a pretty grand down despite the heat and the crowd. It's probably better to attend a food festival at night, since walking around with a chill is nicer than strolling under the scorching sun. Nevertheless, we enjoyed every bit of it, and I can only wish I had eaten more.
Hopefully, there'll be another Food Festival next year. We just have a few suggestions on how to make the event better.
Place trash bins visibly in the street.
For a big foodie event, it's surprising that they didn't think of these beforehand. Majority of the visitors walk around munching on food, and it's troublesome that there weren't many trash bins in the area. To minimize the waste and to make cleaning up easier, it's better if they provide bins every ten meters so the event goers wouldn't randomly throw their waste in somebody's lawn. Though the place has an abundant number of food establishments, it's still a residential area and you can't leave the cleaning to the residents.
Provide ample dining areas throughout the street.
Throughout the length of Maginhawa street, I only saw one dining area with dozens of tables and chairs for diners. It's not enough as it couldn't have possibly accommodated the thousands of people in the food fair last Saturday. This can be a concern for families who brought their kids to eat, because there's really no place to sit. Most restaurants and kiosks had seating areas, but they were always occupied.
Anticipate a huge crowd so they won't run out of food.
Many of the late-night diners complained that most stores ran out of food. The crowd size was probably overwhelming for the small-scale stores, so they didn't prepare enough to serve to thousands. It's kind of a shame, but since it's their first, it's also understandable.
There should be more first aid responders.
I honestly can't remember seeing one. If there is one, I don't think they're placed prominently enough for the visitors to know where to go when an emergency happened. In an event as large scale as this one, it's necessary for a medical response team to always be on standby.
Since it's the first time they held the event, all the missteps are understandable. We hope this won't be the last, because the number of attendees should be an indication that people love food festivals.
Did you visit the Maginhawa Street Food Festival? What did you love the most about it? Share your stories in the comments below!
Jane Galvez is a ditzy daydreamer and wannabe writer from Makati. She enjoys good sci-fi and cheesy YA. You can read more of her musings on Oh My Janey. She's also a self-professed fangirl. She rants over here.