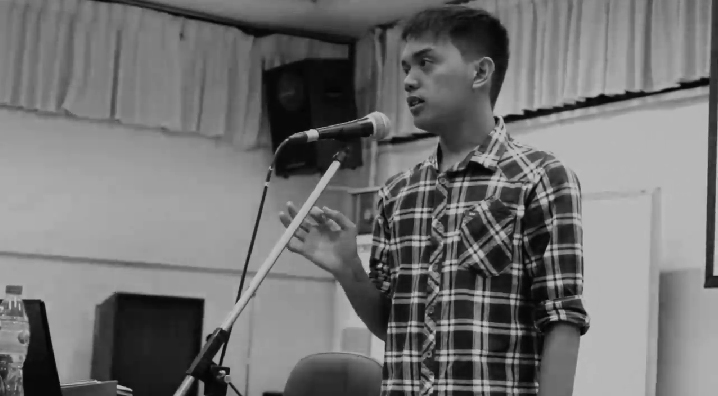 Juan Miguel Severo's "Ang Huling Tula na Isusulat Ko para Sa'yo" Will Make You Cry Buckets
It's impossible to finish watching this video with dry eyes.
A spoken word artist, Juan Miguel Severo delivers his hard-hitting poem entitled, "Ang Huling Tula na Isusulat Ko para Sa'yo."   From the very first word he uttered, you knew you'd be in for a heart-wrenching ride. Every word resonates with you, even when you haven't experienced what he had been through. But you can hear it in the timbre of his voice and you can feel it in the shaking gesture of his hands. The desperation and the sadness seep inside you. You can only sit and marvel, and applaud at the end of it.
I'm not sure where he gets the emotions to execute a wonderfully written, albeit devastating, poem. But Juan Miguel Severo needs to do more of this and leave us all feeling gutted and soulless all the time. It's the sweet kind of pain you'd watch over and over again.
To quote:
"Ayaw ko na maging mahalaga, ang gusto ko ay ang mahalin. Ang kailangan ko ay mahalin. Kailangan ko na mahalin mo ako gaya ng kape mo sa umaga. Tanggap ang tamis at pait. Kelangan para sa init pero hindi isinasantabi dahil lang nanlamig na."
Be warned that this is the most emotional thing you'll watch today, maybe ever. Prepare your tissues and your soul, because it will be crushed by the time you reach the end.

Ang Huling Tula na Isusulat Ko para Sa'yo
Performed by Juan Miguel Severo during UP PsychSoc's Hugot Only Please: A Talk on the Psychology of Hugot, held last April 24, 2015 in Palma Hall room 400.
This video deserves to be watched, shared, and re-watched a hundred times over.
You, sir, deserves all the awards.
Jane Galvez is a ditzy daydreamer and wannabe writer from Makati. She enjoys good sci-fi and cheesy YA. You can read more of her musings on Oh My Janey. She's also a self-professed fangirl. She rants over here.