Hawaii: A Taste of Paradise
Escape the scorching heat of the sun in the Philippines and embark into a whole new level of summer adventures. Hawaii is a prime summer destination and surely in everyone's travel bucket list. I've only spent over two weeks in this stunning island and I tell you there's more to experience in this tropical paradise apart from its tranquil turquoise waters and laid-back atmosphere.
About Hawaii
Hawaii has eight major islands namely Oahu, Maui, Hawaii Island (also known as Big Island), Kauai, Lanai, Molokai, Niihau, and Kahoolawe. Among the islands, Oahu, or which they called "the Gathering place" is the most famous of all. In Oahu, there are five regions to explore Honolulu, Windward Coast, Central Oahu, Leeward Coast and the North Shore where you can find epic hiking adventures, pristine white-sand beaches, awe-inspiring volcanic landscapes, and fun nightlife.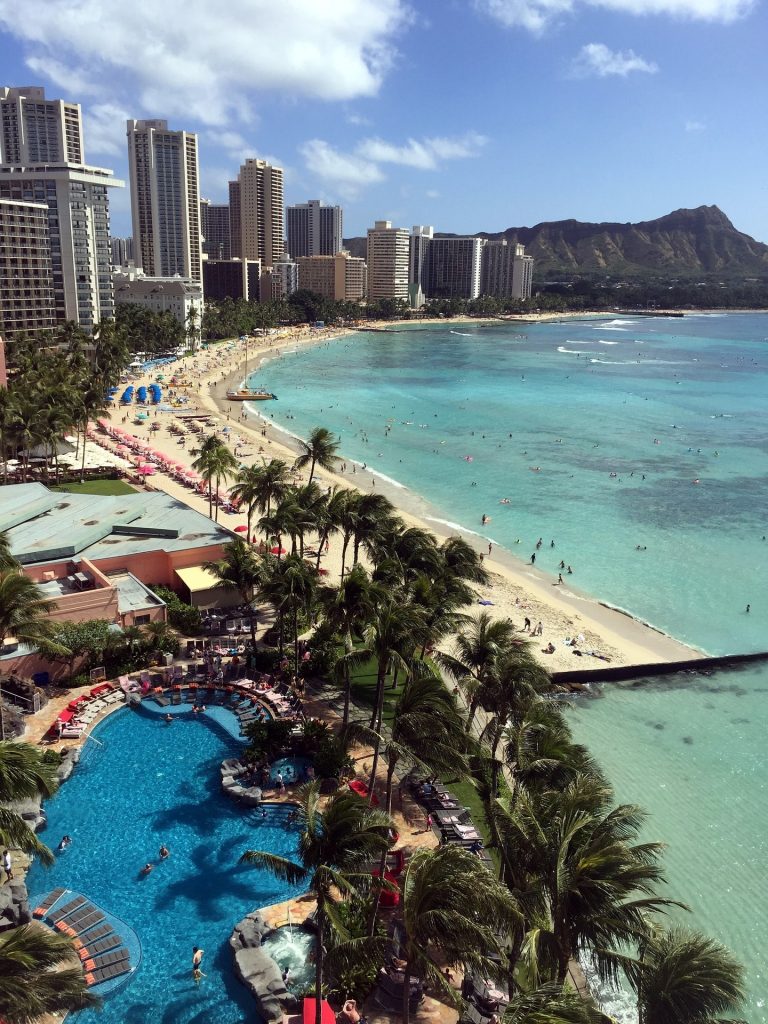 21 Attractions to Visit in Hawaii
Here are the captivating and amusing attractions that you should never miss when you are in the Aloha state.
1. Waikiki Beach
The most recognized beach in the world, Waikiki beach has pretty much of everything for everyone. It has limitless options for you to enjoy the ocean and the city life. Despite the crowd and bustling Waikiki strip, seeing the alluring sight of the Diamond Head and Honolulu and strolling along the Waikiki beach promenade give a relaxing vibe. I got to see an incredible overlooking view of the world-renowned beach from the Hyatt Regency Hotel which is located in Honolulu and just a few minutes walk from Waikiki bay.
Watching the Hilton Hawaiian Village firework presentation is an impressive attraction in Waikiki beach, it happens every Friday night at 7:45 PM. My friends and I hung out at the beachfront of the Outrigger Reef Waikiki Beach Resort and took some photos of the mesmerizing sunset while waiting for the show. The place filled up so fast with people, as expected, so I suggest you go there early so you can pick the best spot to view the fireworks.
After the show, we went to Hawaiian Brian's for drinks and to play billiards. Lucky Strike Social and Home Bar & Grill are also great bar choices if you want to experience a fun and chill nightlife in Honolulu. Make sure to bring your passport with you if you are a tourist. Lucky Strike Social won't allow you to buy a drink if you're only carrying an employment ID so better to have your passport all the time.
2. Koko Crater Railway Trail
Koko head is a popular hike in Oahu for all types of hikers and even dogs. Initially, I was hesitant to hike the 1,050 steps on old railroad ties of Koko crater trail because I'm not physically and mentally prepared for it. But since I'm already in Hawaii, why not give it a try. The original plan was to watch the sunrise at the summit but we didn't make it on time. It was already bright when we started to climb up. It took us almost an hour to reach the top, the trail was easy for the first few hundreds of steps but it gets tougher as we climb higher. The panoramic view up top is totally epic and worth the arduous thousand steps.
This strenuous hike is absolutely not for the faint-hearted. You need to be very careful in every long step you make and ensure to wear sturdy shoes as the trail can be slippery at times. Also, wear comfortable clothes and bring bottled water. Do not forget your phone for photography and music. Listening to upbeat music helped to boost my energy climbing up.
3. Pearl Harbor
Stepping into a piece of American history was a fascinating experience for me when I visited Pearl Harbor. With its historical significance in World War II, Pearl Harbor is one of the most frequented attractions in Hawaii. It has four memorials and historic parks namely USS Arizona Memorial, USS Bowfin Submarine Museum and Park, Battleship Missouri Memorial and Pacific Aviation Museum.
We only explored the USS Bowfin Submarine also known as the "Pearl Harbor Avenger". Although the submarine looks massive on the outside, the interior is completely the opposite. The USS Bowfin vessel has narrow corridors, low ceilings and small rooms where you can see how the sailors lived before. The general admission cost is $15 for adults and $7 for kids and this includes admission in the museum and free self-guided audio tour. Remember that there is a bag policy here and you are not permitted to take a bag with you in the sites.
4. Makapu'u Point Lookout
Makapu'u lookout is situated in the most south eastern point of Oahu. Getting up so early for this exquisite panoramic view of the shoreline is absolutely worth it. The sky, mountains and ocean create a tranquil ambiance. The weather is good, I mean windy when we reached there and the morning is so beautiful because the sun rises on this side of Oahu. There isn't much to do here but to stare at this wonderful sight and enjoy the cool breeze.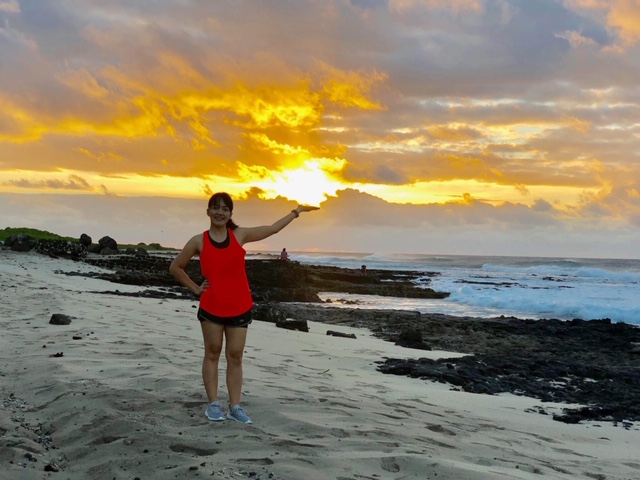 5. Sandy Beach
Before we start our journey to the windward coast, we pulled over into Sandy beach. It was such a mesmerizing sight when Mr Sun comes out in the array of clouds. It's one of the most memorable sunrises that I've seen in my life. We had the entire beach for ourselves so we were able to take as many photos and videos as we want.
6. Lava Tube & Lanai Lookout
My Ninang Rochelle brought me into a so-called little-known spot in Oahu. I must say Lava tube and Lanai lookout are my favorites. It's a bit tricky to get into the lava tube. We walked across the highway, climbed the guard rails and walked down the hill and boom; we found the entrance into the hidden oasis.
Seeing the different astonishing lava formations and vibrant blue waves crashing into the rocks was amazing. Every corner is breath-taking and the photos I took don't do justice of how surreal the place is. If you happen to be in this side of Hawaii, never ever miss the Lanai lookout and the lava tube!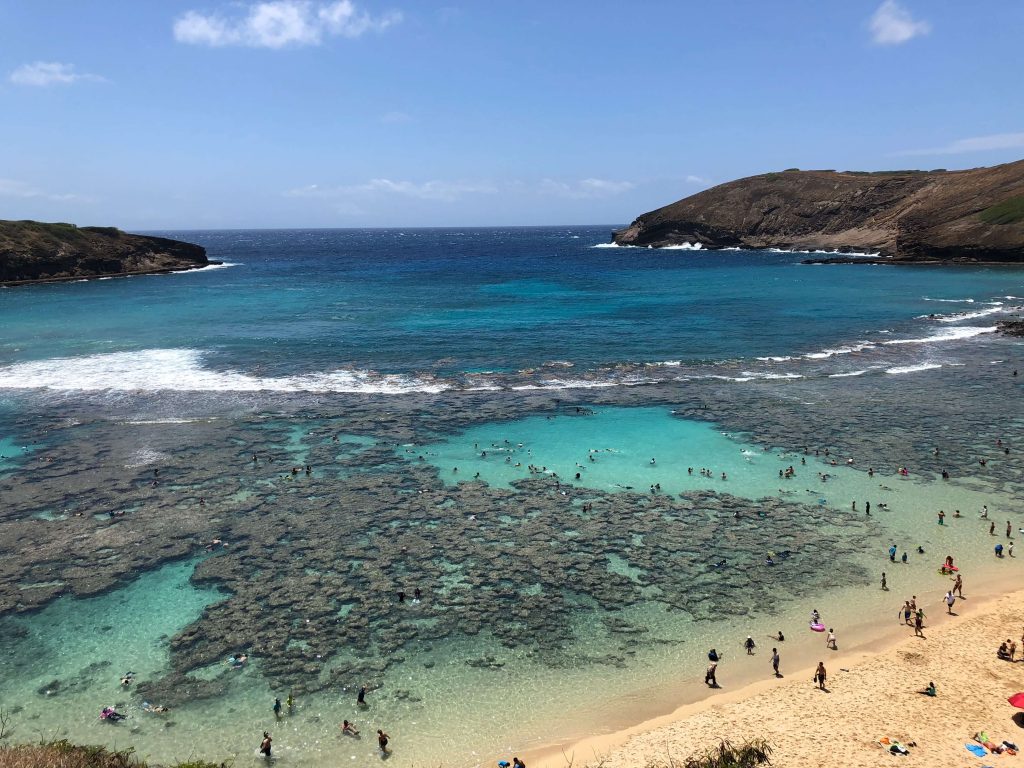 7. Hanauma Bay
Hanauma Bay is one of the major tourist attractions in Oahu. This old volcanic crater is popularly known as one of the best snorkeling spots in Hawaii as it houses hundreds of marine life species. Visitors need to pay for an entrance fee of $7.50 per person ages 13 and above but admission is free for children 12 years old and below and local residents. We arrived in the area around 8 in the morning on a weekday and the queue in the ticketing office is already long. My cousin told me that the parking lot fills up very fast so it is advisable to go early.
Before starting to do the activity, everyone is required to watch a short educational video about the preservation of Hanauma bay and what are the things that are allowed and not allowed to do here. After the 15-minute video, we went down to the bay area. It's a bit of a long steep walk but I didn't care much about it as my focus is in the idyllic view of Hanauma. You can also take a tram to head down the bay which cost around $1.00 to $1.25 per person per ride.
8. Sea Life Park
Sea Life Park is perfect for a family getaway. They have a wide variety of local sea creatures and you can have a close encounter with them which kids will surely enjoy. Apart from that, visitors can watch dolphins and sea lions shows and get to see an interactive aquarium exhibit. Aside from marine animals, Sea Life Park also has a bird sanctuary where you can feed and take photos of different native birds. The entrance fee is $39.99 per person. There is also a restaurant inside the park where you can grab some local cuisines. We had a delicious big serving of pork laulau, a traditional Hawaiian pork dish, and teriyaki beef for lunch which kept me full the entire day.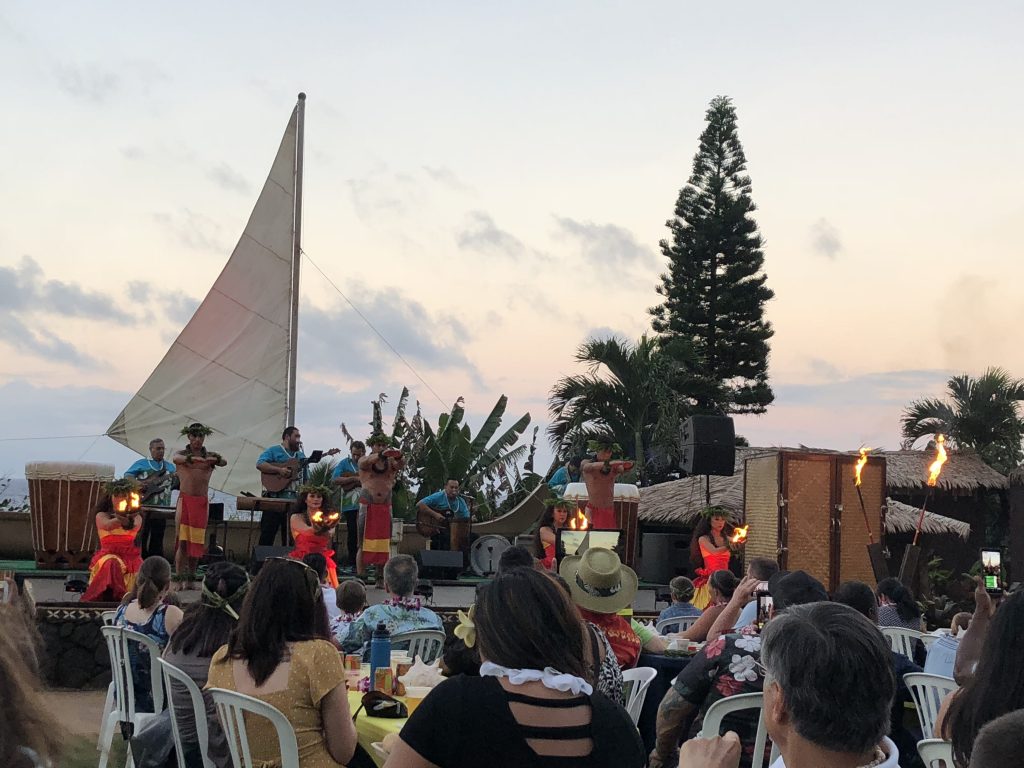 9. Ka Moana Lu'au
Another biggest attraction in Sea Life Park is the "Ka Moana Lu'au" where you can have an authentic Hawaiian cultural experience. Ka Moana Luau is a night packed with plenty of local food, drinks and island entertainment wherein guests can participate in some local traditions and activities. Once you enter the venue, they will take your group picture and then you can choose any local activities you'd like to do like hula and ukulele lessons, coconut headband weaving, getting a temporary tattoo and lei making. I tried stringing lei out of fresh flowers and joined a group of people dancing the hula.

At night, the performers staged a spectacular fire dance and hula dance shows highlighting stories and culture from different Polynesian islands. The performers/dancers, particularly the chief, are all talented and funny. You can enjoy a classic package of this Lu'au for $99 for adults, $87 for teens and $74 for kids. Yes, it's a bit costly but one of the perks of having a relative working here is getting a huge discount on our Luau package and Sea Life Park tour.
10. Kailua Beach
My friends and I decided to take a long, fun drive going to the other side of the island. We drove along Hawaii Kai then Waimanalo until we reached Kailua Beach. Surrounded by a long stretch of powdery white-sand beach and clear warm turquoise waters, Kailua beach is tagged as the second best beach in Hawaii, following Lanikai Beach.
Kailua is a picture-perfect family beach which is also an ideal spot for water activities like kayaking, paddle boarding, etc. We had a hard time finding parking on a weekend but the good thing was the beach was less crowded compared to other beaches. Moreover, there are plenty of shade trees lining the soft sand where you can simply relax and enjoy the view with your loved ones. Unlike Lanikai beach, this place has public amenities such as picnic tables, bathrooms and showers.
11. Hale'iwa Town
Going to North Shore? Never miss exploring this laid back surf hub called Hale'iwa. Even if you are not into surfing like me you will still enjoy visiting this quaint small town as it has tons of cool art galleries, surf shops and local boutiques, and restaurants. Hale'iwa town will give you a real Hawaiian lifestyle and country vibe. I've heard that the shave ice here is a must try but sadly I wasn't able to taste it because of the long queue. Next time I'll come here I will definitely spend more time to wander around this vibrant downtown.
12. Laniakea Beach
Apart from the Hale'iwa town, you might want to drop by at Laniakea beach to see the Hawaiian green sea turtle or popularly known as Honu. Although it was drizzling when we arrived in Laniakea beach, we're lucky to get a glimpse of little honus busy swimming in the water and had an up-close look (but not too close) with a big Honu basking under the sun. Take note, traffic here is crazy on weekends and so is the parking, which is just alongside the highway. I suggest you go there in the morning or on weekdays.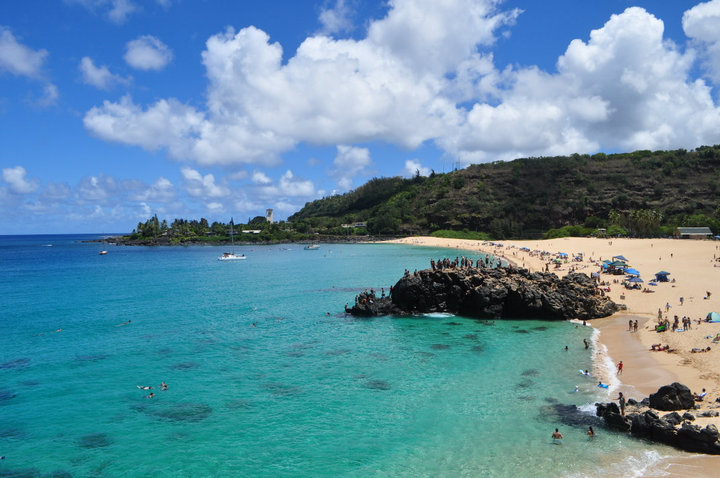 13. Waimea Bay
Waimea Bay is known as a surfer haven. Locals and tourists alike, pro surfers and not, gather here to see enormous ocean waves and watch prestigious surf competition during winter. Nevertheless, the water is very calm in the summertime which makes it a great destination for swimming and snorkeling.
You can relax, play Frisbee with your friends or if you're a thrill seeker you can also jump off at the huge rock in the shoreline. I did it together with my niece and nephew and for first timers like us; I was shaking standing at the edge of the cliff so before I change my mind I just jumped into the water. And man, that was an awesome experience! I only did it once because I have no energy to do it again (hah!). Anyway, similar to Laniakea beach parking here is also tough and it gets busy really fast.
14. Ka'ena Point State Park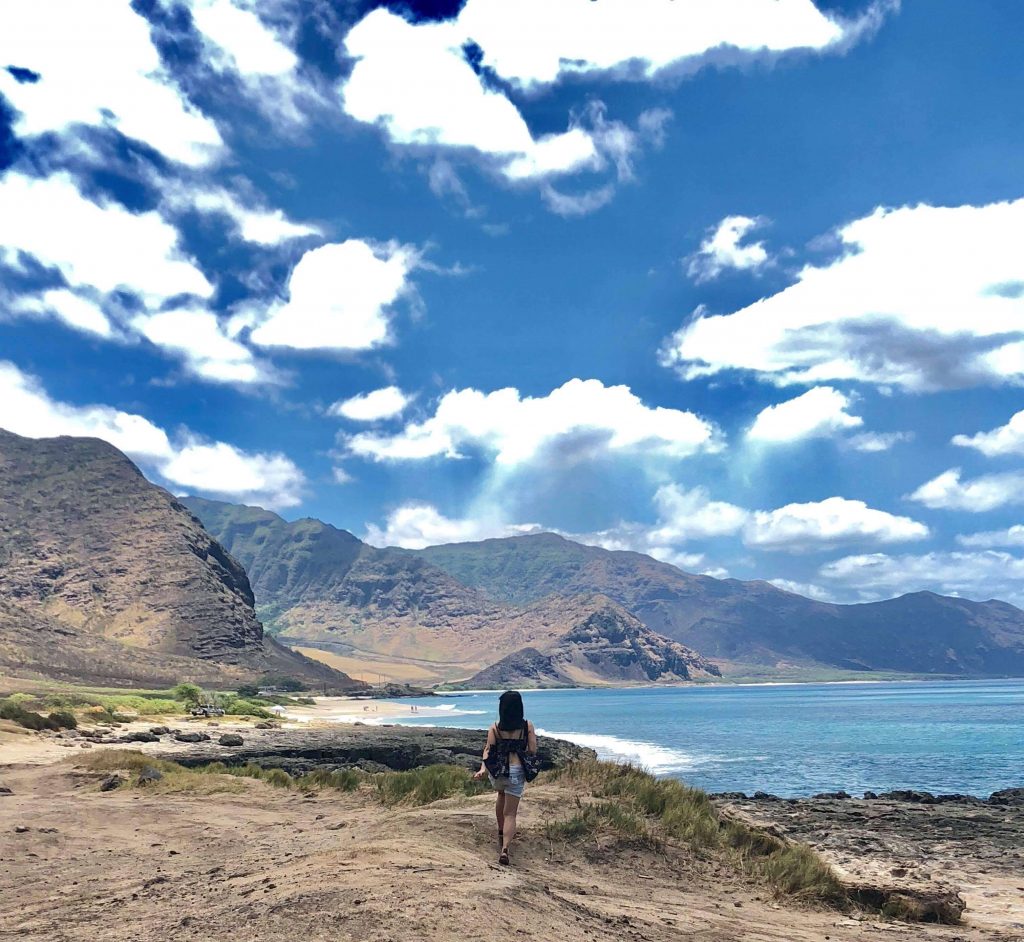 As we drove towards the Leeward coast, we passed by underdeveloped towns with picturesque and less touristy beaches and rural scenery. Ka'ena Point State Park nestled on the western north point of the island of Oahu where you can see a marvelous Pacific Ocean view perfect for your instagrammable travel post. If you plan to take a hike or leisure walk in this area, make sure to pack sunblock, a hat or an umbrella. There are nearby beaches along the way with few people swimming so you can take a dip and just enjoy the view, the water and the weather.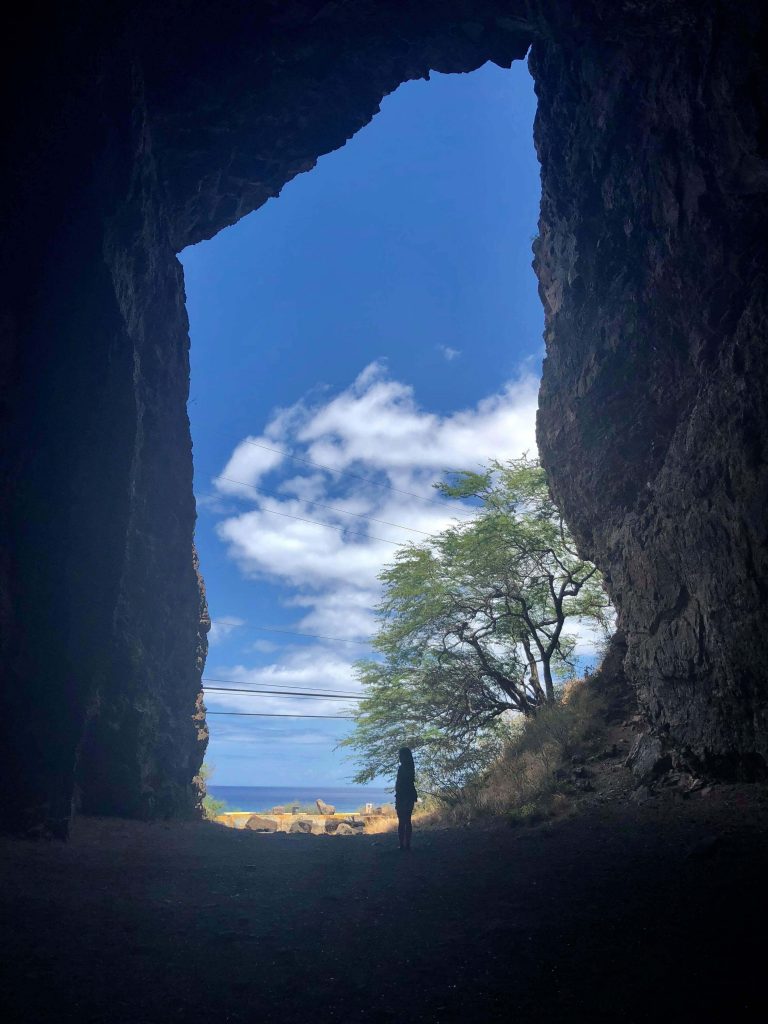 15. Kaneana Cave
Nearby Ka'ena point, you can stop over at the Kaneana cave. Based on a Hawaiian legend, this place was believed to be the home of the shape-shifting shark man named Nanaue who disguised as a man to lure people into the cave. We didn't have enough time to take a look inside the cave so we just took some photos and moved to our next destination.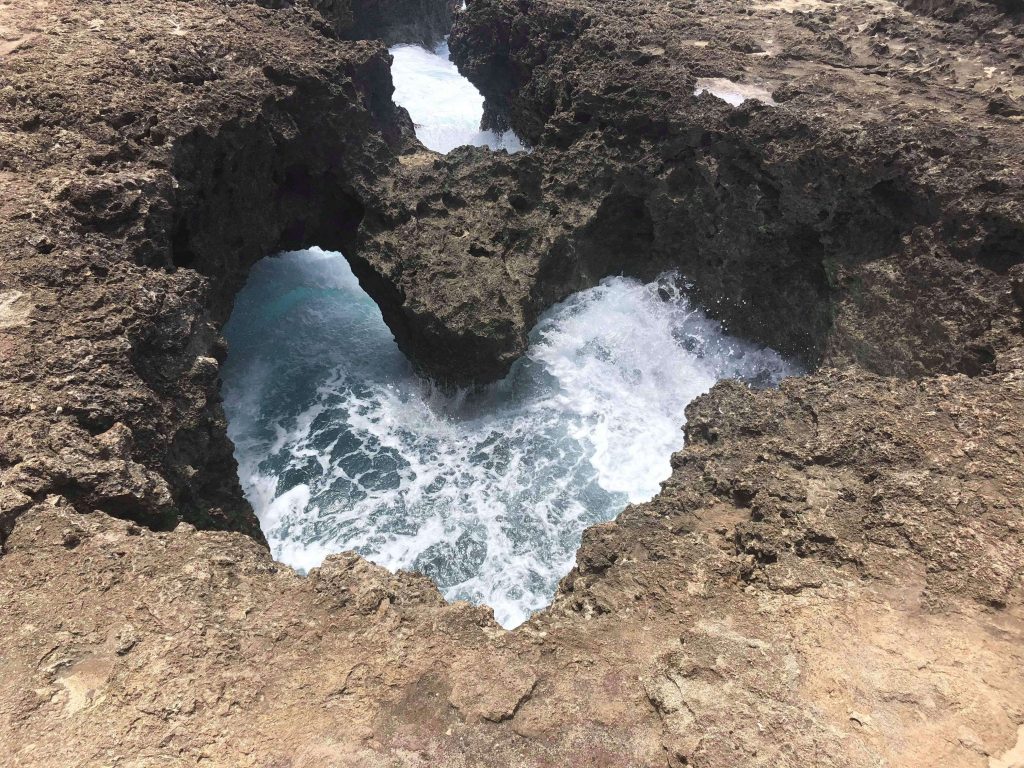 16. Waianae Heart-shaped Tidal Pool
Waianae coast remains undiscovered by most of the tourists. Only a few minutes drive from the Kaneana Cave, Waianae heart-shaped tidal pool lies at the end of the road in the West side. Taking photos in the heart-shaped tidal pool can be dangerous due to the rocky shore and big waves so be cautious. It was a bit challenging for us to find the right angle and timing to perfectly capture the heart-shaped rock together with the ocean waves. But thanks to my Ninang Rochelle for capturing my best photos.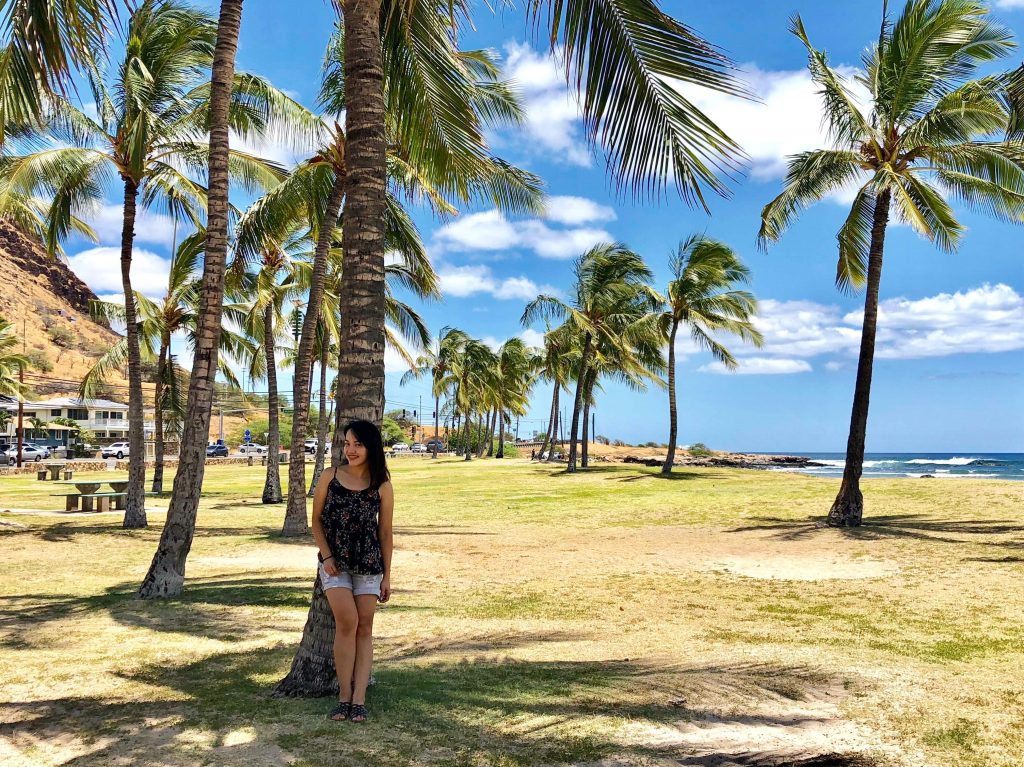 17. Maipalaoa Beach Park
While driving back home, we passed by this unspoiled, white sand beach with palm trees lining the coast. It is called Maipaloa Beach Park. We stopped by to use their restroom facility and stayed for a while to eat our lunch and take some photos.
Opposite the beach park, you will see what the locals called the Gorilla Mountain because of its resemblance to a gorilla's head. This place is ideal for a picnic with your friends or family as it has picnic tables and benches that you can use. However, the shoreline here is mostly reef hence not good for swimming. But if you want to swim and soak up the sun, you can go to Maili Beach Park which is just a couple of minutes away from Maipalaoa.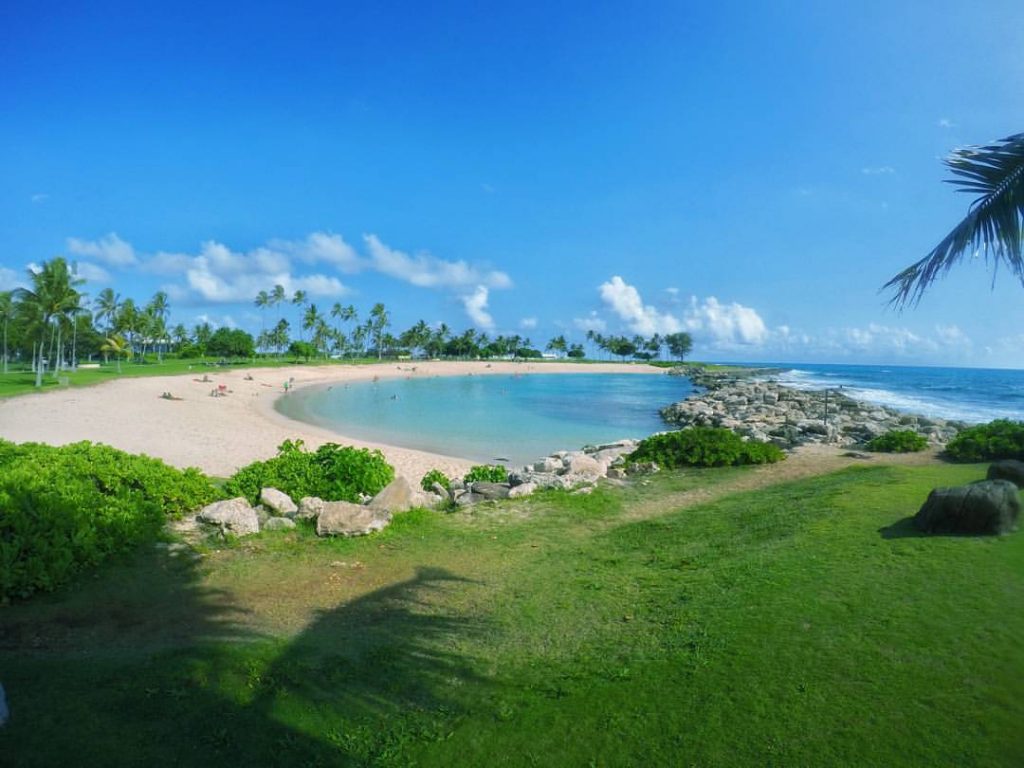 18. Ko'Olina Beach Park
Starting off early, my niece Danyka and I planned to go to Ko'Olina Beach Park. Ko' Olina is an impeccably well-designed place that has a great view of the ocean and lagoons, a perfect place to stroll and jog as it has nice walkways which connect the four lagoons. Located in Kapolei, Ko'Olina is home for the most luxurious hotels like Four seasons resort Oahu, Marriott's, and Aulani.
SHOPPING
19. Ala Moana Centre
Speaking of shopping, Ala Moana is a great place to visit as it offers a wide array of high-end brands. You probably need to spend an entire day to stroll around Ala Moana as there are so many things to do and see here. This large open-air shopping mall is packed with hundreds of stores and restaurants that you can choose from.
Ala Moana is not an outlet mall so shopping here is not cheap. You should check out Macy's Ala Moana Centre as it has heaps of top fashion brands and branded apparels, accessories, and home items.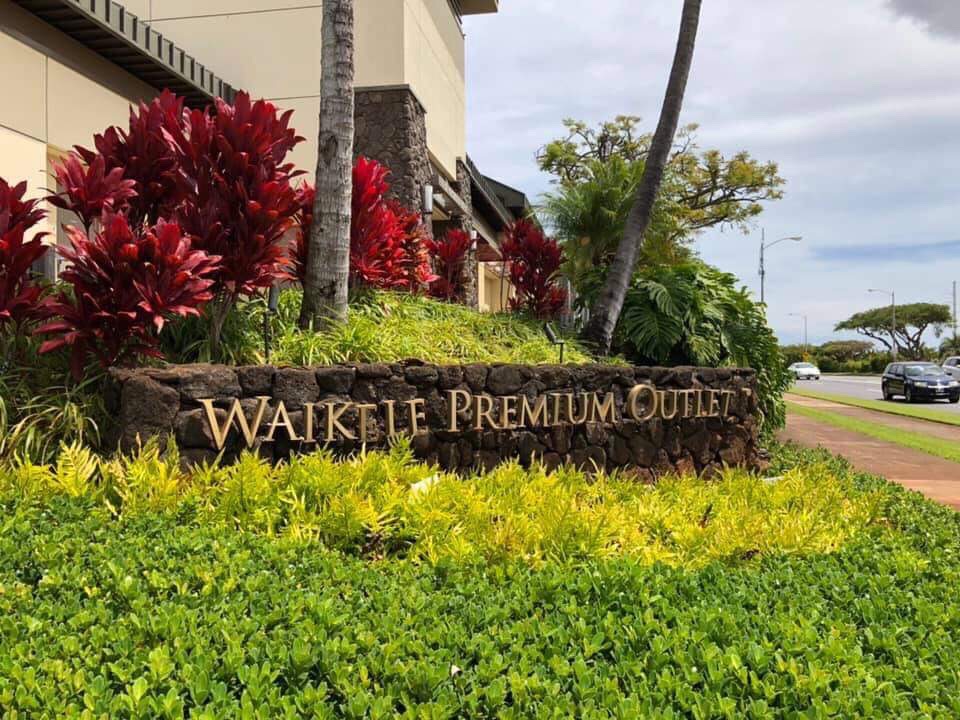 20. Waikele Premium Outlet
Located in Waipahu, Waikele outlet is home to a variety of well-known brands such as Michael Kors, Coach, Kate Spade, Ralph Lauren, Tommy Hilfiger, Calvin Klein, etc. that offers big discounts and great bargains. I cannot remember how many times I came back to this place just to buy some stuff like bags, shoes, accessories and clothes and also pasalubong for family and friends.
The outlet is easy to navigate because it's not as big as Ala Moana. Do take note that the place is crowded during weekends so expect long lines in the cashier and even in front of the stores but, guess what, some stores give better deals on weekdays. Waikele also has some stalls for refreshment although there aren't enough benches for you to rest on when you get tired of doing shopping.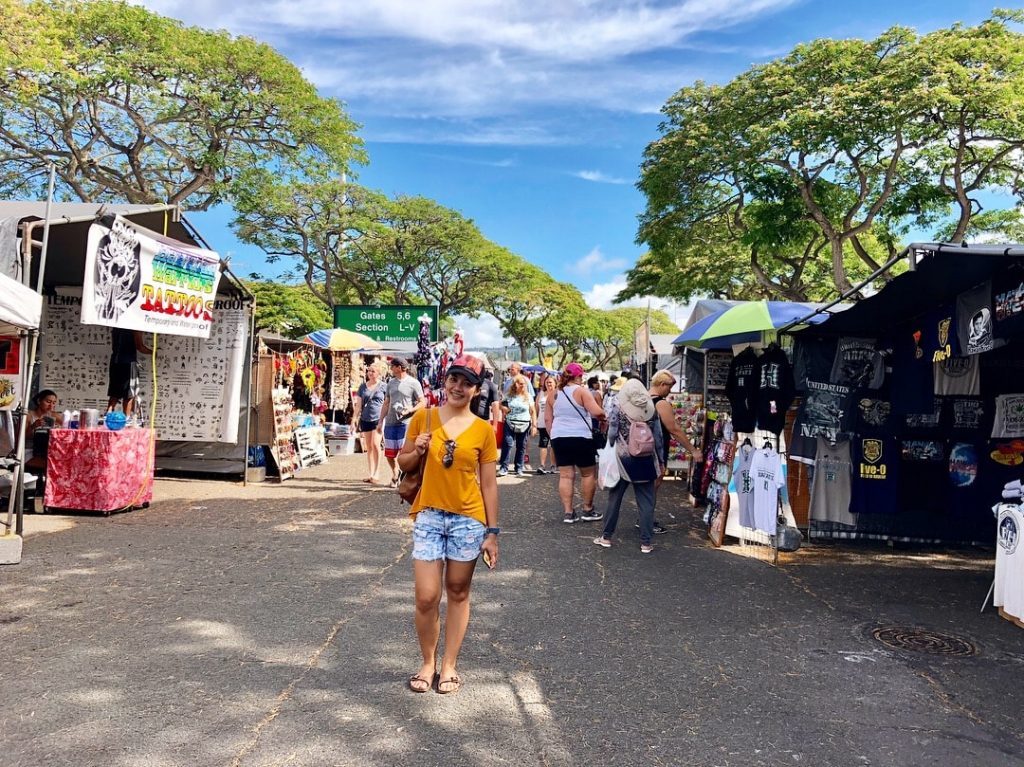 21. Aloha Stadium Swap Meet
If you want to shop without breaking the bank, hit the largest open flea market at Aloha Stadium. Swap Meet is the right place for your souvenir shopping. It opens every Wednesday, Saturday and Sunday from 8AM to 3PM. You can walk to the long stretch of a wide range of stalls that give best deals for locally hand-made crafts, accessories, Aloha shirts, kids' clothes, fruits, and street food. I bought most of my pasalubong at the Swap meet and used my bargaining skills to get more discounted items.
My Oahu adventures had all been hosted by my generous relatives and close friends. I'm grateful to my Ninang Rochelle and the whole family for the great accommodation and showing me how beautiful Hawaii is. Hawaii felt like home to me. I am so blessed to have family and friends who reside on the island and able to experience the "local" Hawaiian lifestyle and enjoy every moment of it.
Travelling to the Aloha state gave me a blissful and exceptional experience. I wish I could have stayed longer and visited the other islands as well. But nevertheless, my Hawaii trip was definitely one of the best vacations that I had so far. I will surely visit you again and that's a promise!
Mahalo Hawaii, 'til next time!
What are the places you want to visit in the Aloha state? Share in the comments below!
Jinky is a moody human being, an Asian & hollywood films/series buff, travel enthusiast, hopeless romantic gal, bookish, and a dreamer who has so many frustrations in life.