MTV Music Evolution: A Free Concert For Pinoy Hip Hop Fans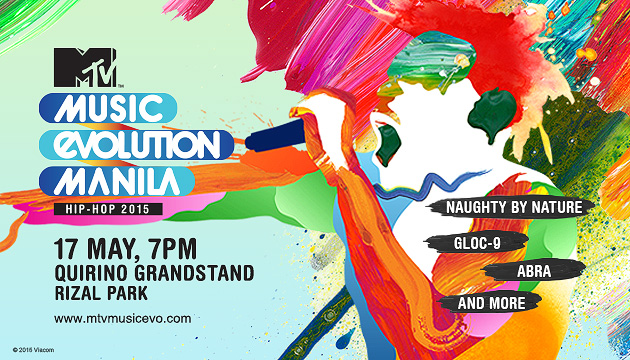 Are you ready for the Hip Hop Evolution?
The first MTV Music Evolution is finally happening this Sunday, May 17, 2015 at the Quirino Grandstand, Rizal Park in Manila. And every hip hop fan is so excited about it!
With the growing fandom of fliptop and hip hop in the country, it is not surprising that MTV chose the Philippines to kick off venue for this huge concert. The first edition of this series of concerts pays homage to hip hop, featuring the best of both local and international acts in one stage.
Performing Artists
Performing on stage are Apl.de.ap of Black Eyed Peas, Grammy award-winning American trio named Naughty by Nature, billboard chart-topper YG, cultural icon DJ Cash Money, and local favorites, Gloc-9 and Abra. In the press briefing last March, Abra said fans should expect "the unexpected" in the show.
According to MTV, the much anticipated music event "enables young people to discover how music styles have evolved over the years." MTV Asia VJ's Hanli Hoefer and Alan Wong will be hosting the event and will lead us to an exhilarating concert experience.
Free Concert With a Catch
This show is for free if you win the various fun contests opened by MTV. If you have missed the news, sad to say the games ended last April 30.
Lucky for you, Manillenials is giving away two readers, two entry wristbands each. All you have to do is go to our Manillenials Facebook  page and answer this question: Why do you want to attend the MTV Music Evolution?
In case ,you won't able to attend the event, the MTV Music Evolution 2015 will be televised to an international audience in more than 160 countries. So, you can still catch the concert on MTV World Stage global series, live.
MTV Music Evolution 2015 is sponsored by the Tourism Promotions Board (TPB), Nestle Drumstick, Nestle KitKat and supported by the National Parks Development Committee (NPDC).
Know more about the concert, and a few guidelines before entering the venue at the MTV Music Evolution website.
Are you excited for the MTV Music Evolution? Give us your best answer to our question to win free entry wristbands!
Kimpy Olivar is a dreamer. He dreams of being a writer, artist, dancer, teacher, scientist, billionaire, philanthropist and more. He loves to think that he is deep, funny and cool, but often it is the opposite. Given the chance, he would like to build a time machine to unveil the secrets of the world.