7 Must-Watch Asian Movies For Rainy Days
The summer heat is over and it's rainy season again. Although rainy days keep us indoors, we should be glad and excited about it because we have a reason to do interesting things at home that we can't always do on our usual day. As the inclement weather arrives, take advantage of it by doing fun activities with your loved ones. You can enjoy a movie marathon with friends, catch up on some good reading, snuggle on your bed the whole day, or cook some delicious and nutritious meals for the family.
Even if the weather is gloomy, it doesn't mean that you have to feel the same way too. Settling in for a movie marathon is still the best way to spend your free day when it's raining hard outside. There's a bunch of movie list and genres that you can choose from to make you feel good and to take your mind off the bad weather.
Have fun to kill time and enjoy the rainy days by devouring bags of tasty popcorn or indulging yourself with a delectable steaming hot tsokolate while watching some of the best Asian movies which have memorable rainy scenes.
A Very Special Love (2008) 
A funny love story of Laida Magtalas, a perky young naive girl who is so madly in love with the man of her dreams- her boss, and Miggy Montenegro, a moody bachelor who comes from a wealthy clan.
Memorable rainy scene:
One of the best scenes in this film is the ever-popular sun dance of Laida when she tried to impress her boss, Miggy, by doing the "sun dance" so their outdoor event won't get rained out. Unfortunately, it rained so hard that day. Another rain scene is when Miggy apologizes to Laida in the park. Then, Laida said she will only forgive him if he can stop the rain by doing the sun dance.
She's the One (2013)

A typical bestfriend story where Cat, The Girl in the Rain, is secretly in love with her bestfriend, Wacky, a Morning show host who's about to lose his job. These two ignore their true feelings with each other to avoid making their relationship complicated. But when David came into the picture, everything changes.
Memorable rainy scene:
David posts a video of Cat, whom he called The Girl in the Rain, fixing her car tires one rainy night and it became viral on the internet. When he sees Cat that night he already falls in love with her so he makes a way to locate her through a video on YouTube which got a million hits.
The Classic (2003)

This is a classic Korean romantic melodrama that tells parallel love stories of a mother, Joo hee, and her daughter, Ji-hae. It tackles both the present and the past through showing some flashbacks of the love story of Joo-Hee as Ji-hae reads her old diary and some old love letters.
Joo- hee is already engaged to Tae-su by their parents but she is in love with Tae- su's best friend, Joon-ha. Eventually, Joo- hee marries Tae- su and they had a child named Ji-hae. At present, Ji-hae has the same circumstances like her mother's first love. She is torn between her special feelings for Sang-min and her loyalty to her best friend who is also in love with the guy.
Memorable rainy scene:
The scene where Ji- hae is on her way to library but when the rain starts to pour she stops under a big tree. To her surprise, Sang- min is also running towards her. He asks her where she's going and he volunteers to take her there with his "special umbrella"—his brown coat.
A Season of Good Rain (2009)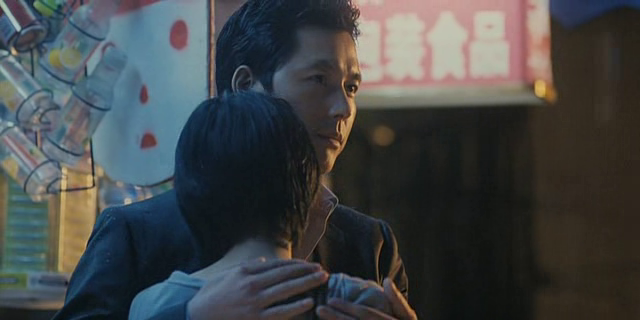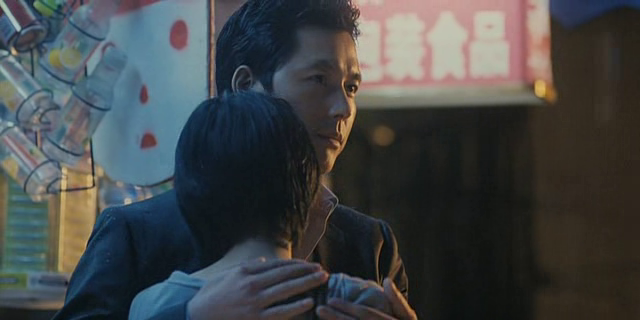 Dongha, an architect, and May, a tour guide, used to be classmates and "sort-of lovers" during their college years in the US. Years had passed, they meet again when Dongha has to attend a short business trip for a rebuilding project in Chengdu, China. While he is in Sichuan province he bumped into May, who is a Chengdu native and works for Du Fu Caotang. In a brief time that they are together, the two become drawn to each other again as they reminisce the memories that they had in the past.
Memorable rainy scene:
Dongha and May visit a park where many Sichuan natives are dancing. They talk, laugh, and dance together. But when it begins to rain, they hurriedly run in front of a store. While waiting for the rain to stop, they have a small chat and talked about Du fu poetry, Dongha's love for poetry, and the things that happened between them in the past.
3 Idiots (2009)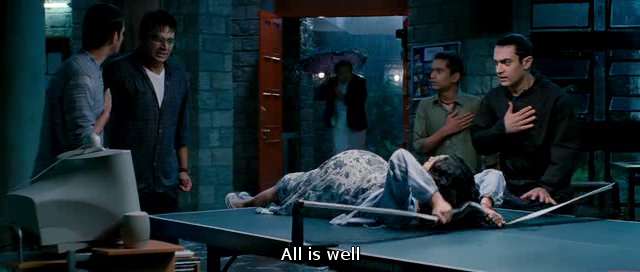 Three guy friends namely Rancho, Farhan, and Raju study engineering at Imperial College of Engineering, one of the best schools in India. These three have their own reasons why they took up the course. Rancho has a huge love for machines and Farhan pursue the course because of his father's wish while Raju has to raise his family's fortune so he has to become an engineer. But their stay in college is not that easy because they have to experience the wrath of their terror college dean, Professor Viru "Virus" Shahastrabuddhe.
Memorable rain scene:
One stormy night, Mona, Pia's sister, has to give birth to her first baby, Champ. But because of the strong rain and flood, they cannot bring her to the hospital. Thanks to the ever genius Rancho and his friends! They're able to help Mona in her child delivery through vacuum extraction using only improvised equipment. After the successful delivery, Prof. Virus gave a "very important invention," the astronaut pen, to Rancho which means that he is an extraordinary student.
Rurouni Kenshin (2012)

Rurouni Kenshin is a live-action adaptation of the popular manga series which is popularly known as Samurai X. Kenshin Himura is a legendary assassin and war's greatest warrior known as the Battousai. He gives up killing people and decides to wander Japan with a reverse-edged sword wanting to live a normal peaceful life. But when he comes across a kendo school owned by Kaoru Kamiya's father, he fights against the gang of thugs who wants to take over the school for opium production of a powerful drug lord.
Memorable rainy scene:
Kenshin is still threatened by his enemies in the past, including his violent self. It was a rainy day when he sees a young woman crying over a dead man's body. The said man is actually the one responsible for his scar on the face. It was a bloody fight night and Kenshin mercilessly kills the young man with his sword. It's the turning point for him when he questions his purpose: What will assassination bring to the new era?
Sweet Rain (2008)
Chiba is a grim reaper who loves music, which according to him is humanity's greatest invention. He's always accompanied by his partner, a black dog, whom he communicates through reading his thoughts. His job is to pass the judgment, whether to "proceed" or "pass over," after seven days to his subject, the person who is about to die unnaturally. This movie was split in three different stories. The first and last story is interconnected to each other.
Memorable rainy scene:
It always rains every time Chiba has an assignment. He even wonders why the weather is always bad and gloomy when he step out in the human world. One of the best rainy scenes in this movie is the last part when he made the 70-year old hairdresser's last wish come true and when finally he sees a clear blue sky.
Honorable Mentions:
You might also want to try other Asian films such as Love in the rain (2013), Temptation of Wolves (2004), My Rainy Days (2009) and The Grandmaster (2013). These movies also have good rainy scene on its story line.
Did we miss your favorite movies fit for rainy days? Share us other Asian films which has best rainy scenes!
Jinky is a moody human being, an Asian & hollywood films/series buff, travel enthusiast, hopeless romantic gal, bookish, and a dreamer who has so many frustrations in life.