Arts, Crafts and Stationery Stores in Manila Every Art Enthusiast Should Visit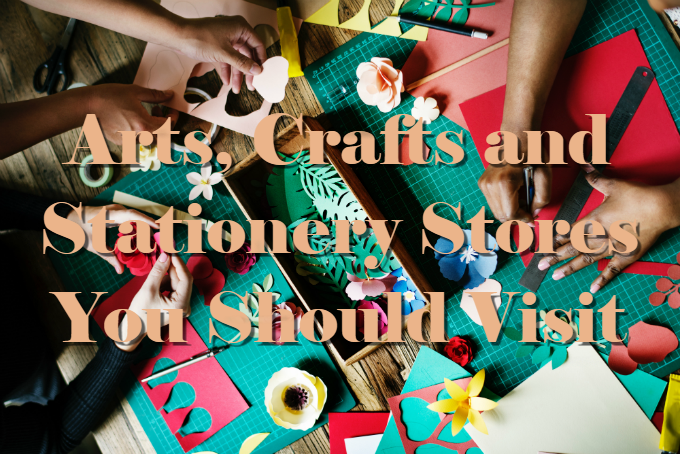 When it comes to arts and crafts, every Filipino's go-to place to buy materials is National Bookstore. While it may have a wide selection of art supplies, they don't always provide what you need. In times like these, sourcing for other shops is a great way to meet your demands and make your creative mind at peace.
There are actually many arts and crafts stores in Manila and for art lovers, these places are like heaven on earth. Some stores focus on materials like paints, pens, papers, stationeries and brushes, while others also offer products made local artists, like pouches, pins, stickers, bookmarks, amigurumi, keychains and more. Other stores also sell cute lanterns, bags, mugs, and notebooks that you often see on Pinterest boards and Instagram feeds.
Prepare your wallets because you'll definitely spend more than what you plan to. Here are the art and craft stores in Manila that you should visit:
Photo Credit: hellomnlstore
Hello MNL
Facebook: Hello Manila Store
Located near FEU and UST, Hello Manila's products are definitely a hit among millennial students. They sell craft products from different artists like pillowmallow, fandomfeelsph, laruain, myriadprintconcepts, daintycraft and more. They sell a lot of creative items, so you will definitely be overwhelmed!
Location: 864 Moret St 1008 Manila
The Craft Central
Website: The Craft Central
The Craft Central is famous for their nibs, pens, inks and other calligraphy. But they also sell local and quality products like Artisan MNL, Tokyo Finds, Zig, and Winsor & Newton. They also sell items like rubber stamps, stickers, plushies, and postcards made by local artists.
Location: Greenbelt 5, 3F Greenbelt 5, Makati City
Craft MNL
Facebook: Craft MNL
Craft MNL is famous for their monthly workshops on soap making, print screen, pottery, calligraphy jewellery making and more, but they also sell crafts made by local artists.
Location: Unit 302, Pasay Road Condominium, 926 Arnaiz Avenue (Pasay Road), Makati.
Photo Credit: thewanderspace
The Wander Space
Facebook: The Wander Space
Hip and cool, this coffee shop is not your typical Maginhawa restaurant because part of it is a craft store that sells bags, jewelry, stickers and more. They even sell the trendy Paper Cameras from Paper Shoot. This place is perfect for creative people who enjoy sitting in coffee shops for hours while trying their Reggiano sticky bun, Nutella cream cheese brownie and milkshakes.
Location: Maginhawa Street, Teachers Village East, Quezon City
Common Room
Instagram: Common Room
Built by creatives for creatives, this store is a great place for like-minded artistic people to interact. Common Room sells products from 33 local brands like paper Popjunklove, Chic Studio, Pluma and more. They also offer seminars to let you discover your creative talent.
Location: 325 F dela Rosa, Loyola Height 3, Quezon City
Hey Kessy
Facebook: Hey Kessy
Looking for 3D letters, Washi tapes, stamps, pens and bakers twine for your next art project? Head on to Hey Kessy for all the items you need and more. What started as a simple online store selling washi tapes, has now become an established arts and crafts store in the country.
Location:  Level 2, Phase 2, Urban Turf, U.P Town Center, Katipunan Avenue, Quezon City
Photo Credit: papemelroti.blogspot
Papemelroti
Facebook: Papemelroti
Who doesn't know Papemelroti? This store has become a household name thanks to Robert Alejandro and his art show, Art is Kool. Papemelroti is where people look for affordable but beautiful gifts. They have notepads, mugs, coasters, figurines, accessories, room decorations and more.
Location: Several branches around the Philippines
Craft Carrot
Facebook: Craft Carrot
The first step in making your own artwork is to have the basic art materials- paints, papers, brushes, inks and more- and these are what Craft Carrot offers to Filipino artists. Be sure to check out their Silver Brush, Zig Kurtake and Dr. Ph Martin's products.
Location: 14 E Capitol Dr, Pasig, 1603 Metro Manila
Art Bar
Facebook: Art Bar
If alcoholics stay at bars to quench their thirst, artists could visit Art Bar in BGC to quench theirs. This speciality store is affiliated with National Bookstore and offers carefully curated art materials for Filipino art makers. They have pens, markers, paints, color pastels, brushes, and more.
Location: G/F Serendra Bldg. The Fort, Taguig, Metro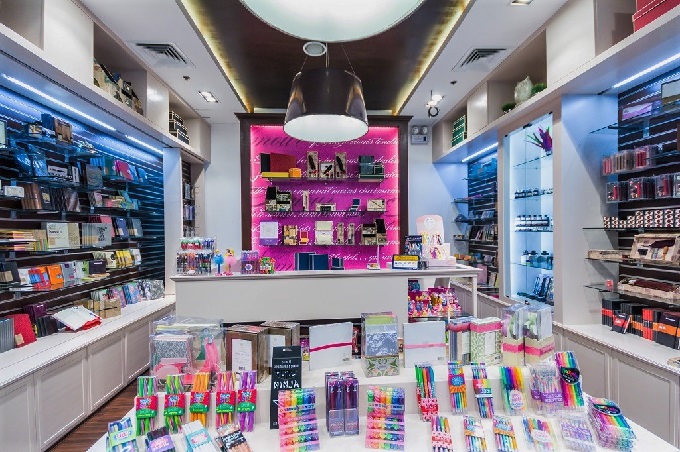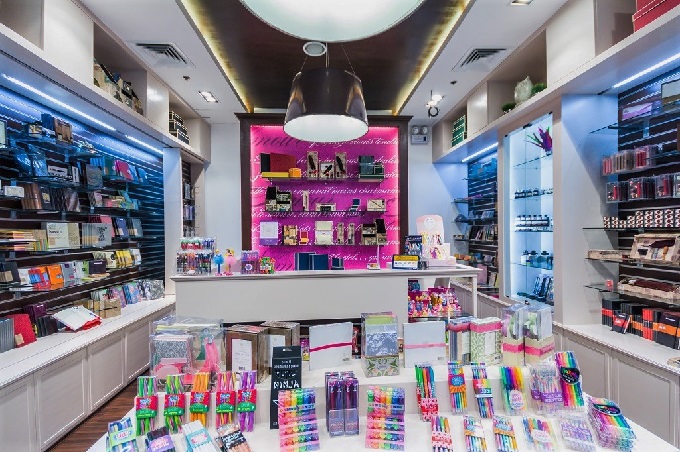 Photo Credit: jrbustamante.wordpress.com
Scribe Writing Essentials
Website: Scribe Writing Essentials
The target of Scribe is growing niche of calligraphers in the country. From inks, pens, nibs, papers, journals, to wax seals, they have become a go-to place for people who love journaling and calligraphy.
Location: Several branches around the Philippines
Typo
Facebook: Typo Shop
Typo is more of a gift shop that offers, well-designed mugs, quirky stationaries and cute bags and more. The shop also sells home decors with trendy designs (think pineapples, unicorns, dream-catchers) you'd definitely want to add inside your room.
Location: Bonifacio High Street, Bonifacio High Street, G/F Trinoma, Quezon City
The Paper Stone
Facebook: The Paper Stone Philippines
Another stationary and gift shop, The Paper Stone is a place you'd visit for cute notebooks and pens. They also sell planners, journals, and scrapbooks and doodle pads. These are perfect for sketches, daily writing, scrapbooking and more.
Location: Several branches around the Philippines
Photo Credit: beatricemalveda.blogspot.com
Welmanson
Facebook: Welmanson Beads and Accessories
Looking for cheap materials to do your own jewellery and beaded accessories? Then head on to Quiapo, at Welmanson to source for affordable materials! They have chains, earrings, rings, pins, beads and everything else you can think of to start your jewellery shop.
Location: 229 Villalobos St, Quiapo, Manila, Metro Manila
Gantsilyo Guru
Facebook: Gantsilyo Guru Selections
Are you a fan of knitting and crocheting? Then you definitely need to check out Gantsilyo Guru's wide selection of yarns. Still new to the craft? They have patterns and kits to help you start!
Location: Unit 306, Emerald Place, 604 Shaw Blvd., Brgy. Kapitolyo, Pasig
Heavenly Stitchin Moments
Website: Touch Crafts
Want to step up your skills in cross-stitching? Then find the nearest Heavenly Stitchin Moments and pick the perfect pattern. You can start with simple designs to complicated patterns. They also sell Papertole, Origami, Sand Art Kits and more.
Location: Several branches around the Philippines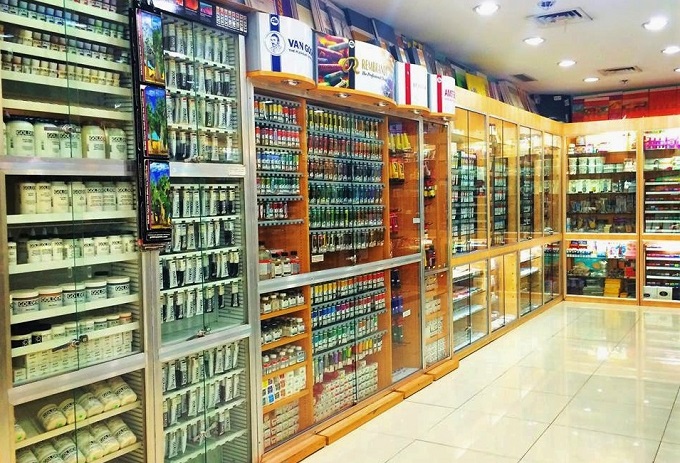 Photo Credit: DeovirArtsInc
Deovir Art Supplies
Website: Deovir Arts
Every student knows about Deovir Art Supplies. Their selection of paints, scale models, pencils, papers and other art materials have helped them build school projects. Some of the famous brands the offer are Rembrandt, Gamblin, Old Holland, Sculpey and many more.
Location: Several branches around the Philippines
Art Whale
Website: Art Whale
Looking for artist grade paints and art materials? Art Whale most definitely have them! From Holbein, Kremer, Escoda, Strathmore and more, their premium fine art materials will satisfy even the most delicate artist.
Location: Unit B1, 22 Malingap Street, Teacher's Village, Quezon City
Tabora Street, Divisoria
A haven for every craft artists, this busy street in Divisoria has fabrics, sewing materials, yarns, boxes, ribbons, feathers, masks, plastic flowers, baskets, mason jars, buttons, and so much more. If you are looking for souvenirs for your party, you can also find souvenir items sold at very cheap prices. Word of caution: the place can be overwhelming if possible tag a friend along to help you explore its wonders.
Location: Tabora St., Divisoria, Manila
These are just some of the best arts, crafts, and stationery shops in Manila. If you know more, just comment below to help your fellow art creators.
Where do you buy your art and craft materials? Share them below.
Kimpy Olivar is a dreamer. He dreams of being a writer, artist, dancer, teacher, scientist, billionaire, philanthropist and more. He loves to think that he is deep, funny and cool, but often it is the opposite. Given the chance, he would like to build a time machine to unveil the secrets of the world.